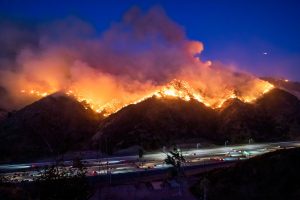 CalFire and the US Forest Service have recorded over 6,190 fires throughout the state of California so far this year. In recent months, the largest power company in the state, Pacific Gas & Electric (PG&E) conducted a series of preemptive power shut-offs – causing thousands of people to experience long-lasting, ongoing power outages, and affecting vulnerable populations. Despite this attempt to avoid sparking fires during the powerful Santa Ana wind season, it appears that PG&E equipment may have contributed to some of the current fires.  Power companies like PG&E are facing challenges to an aging electrical power grid, neglected equipment, and blackout and wildfire liabilities in other states. Combined with climate change and increased development in fire-prone regions, a deadly situation faces California and other western states  on a regular basis. What are the contributing factors to this problem, and how does the role of business matter when considering how to manage this now-constant danger and the aging infrastructure of our electrical power grid?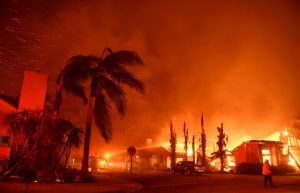 Essential Questions:
What are some consequences of one power company controlling most of the power in a state?
What factors other than the old infrastructure and practices of PG&E power company contribute to increasing fires in California and other western states?
What are the potential dangers and advantages of state governments controlling the power supply, which is currently a private corporate service?
When do health, safety, and electrical power access for people outweigh the needs of power supply companies and need for housing expansion?
How have the state regulatory agencies lived up to their duty to protect the citizens and regulate the power industry?
What rights and responsibilities to citizens of communities have when it comes to preventing and/or responding to wildfire?
Video:
California accuses PG&E of mishandling power outages:
Podcast:

Recent News Articles:
Edison once again seeks to limit liability from California fires – Los Angeles Times, Nov. 3, 2019
PG&E CEO Causes Outrage After Saying Struggling California Residents' Houses Are 'Still There' Because of Blackouts – Time Magazine, Nov. 3, 2019
Over 1,500 California fires in the past 6 years — including the deadliest ever — were caused by one company: PG&E. Here's what it could have done but didn't. – Business Insider, Nov. 3, 2019
How do wildfires start and spread? – Los Angeles Times, Oct. 29, 2019
The Hopelessness of Wildfire Season: No one knows what to do about PG&E's role in the fires – Slate, Oct. 29, 2019
Why Are There So Many Fires In California? – Popular Mechanics, Oct. 29, 2019
PG&E isn't the only company at risk in California fires – Fox Business News, Oct. 30, 2019
PG&E equipment may have started fifth Bay Area fire Sunday, utility tells state regulators – San Francisco Chronicle, Oct. 30, 2019
Days of terrifying darkness, cold and hunger amid PG&E's sweeping power blackouts – Los Angeles Times, Oct. 31, 2019
Editorials:
Editorial: Why California can't cut the cord with PG&E – San Francisco Chronicle Editorial Board, Oct. 29, 2019
Why California should take control of PG&E – Ryan Cooper, The Week, Oct. 29, 2019
Opinion: Can California Save itself from Burning? – Spencer Bokat-Lindell, New York Times, Oct. 29, 2019
Editorial: Don't just blame PG&E for Northern California Blackouts – It's Everyone's Fault – Los Angeles Times, Oct. 10, 2019
Editorial: PG&E's awful persistence – San Francisco Chronicle Editorial Board, Aug. 30, 2019
Timeline:
Timeline: California's most destructive wildfires – San Francisco Chronicle
Geography/Maps and Geography News:
Real Time California Wildfire Tracking Map – San Francisco Chronicle
Real Time California Wildfire Maps – University of California
Lexile-Level Adjustable Article from Newsela:
California trying new approaches, using military to fight wildfires – originally published by Christian Science Monitor, Sept. 9, 2019
Lesson Plans on this topic:
Wildfire Lesson plans – Penn State College of Agricultural Sciences
Educator Resources for wildfires – BrainPop
Fire Ecology Curriculum – US Forest Service
Lesson Plans regarding Media & News Literacy (general):
Media Literacy Resources – Newseum
News & Media Literacy Lessons – Common Sense
Media Misinformation, Viral Deception, and "Fake News" – University of Wyoming
Evaluating Sources in a 'Post-Truth' World: Ideas for Teaching and Learning About Fake News – New York Times Lessons