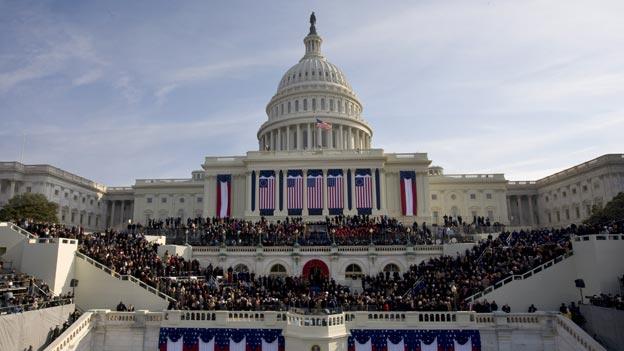 On Wednesday, January 20, 2021, Joe Biden will be sworn in as the 46th President of the United States, marking his four-year term's commencement, along with Vice President Kamala Harris. A public ceremony occurs on the West Front of the United States Capitol Building in Washington, D.C. Biden will take the oath of office as president on that day, as will Harris as vice president.
Biden will recite the following oath, as prescribed by the Constitution:
I do solemnly swear (or affirm) that I will faithfully execute the Office of President of the United States, and will to the best of my ability, preserve, protect and defend the Constitution of the United States. So help me, God.
The inauguration takes place amidst extraordinary political, public health, economic, and national security crises, including an ongoing attempt to overturn the 2020 United States presidential election. This attempt led to the storming of the Capitol and Congress's second attempt to impeach and remove outgoing President Donald Trump, at the same time that the nation struggles to deal with the ongoing coronavirus pandemic.
Typically, Inauguration Day is full of celebratory events following the president's swearing-in ceremony. However, festivities will be limited, and measures such as social distancing, wearing masks, and temperature checks will be used to prevent the spread of COVID-19.
The theme for Biden's inauguration is "America United." His inaugural address is expected to lay out his vision to gain control over the COVID-19 pandemic, to "build back better, and bring the country together," according to his inaugural committee. Biden is expected to ask Americans to wear facial coverings to prevent the spread of COVID-19 for the first 100 days of his presidency.
In this Current Event, we will explore the context and history of U.S. presidential inaugurations, along with many resources you can use to foster meaningful discussion with your students as this historic day approaches. 
Check back here for updates on resources for the 2021 Presidential Inauguration after it happens on Wednesday.
Essential Questions:
What is required by the Constitution to occur at a presidential inauguration?

What can we learn from the history of U.S. presidential inaugurations?

How does the 2021 inauguration compare to the inaugurations of the past?

What particular circumstances, if any, may affect the 2021 Inauguration of Joe Biden?
Videos:
Inauguration at the US Capitol — Architect of the Capitol
Security Arrangements for Inauguration Will Start Early, Today, Jan 12, 2021
U.S. State Capitols Brace for Right-Wing Violence Ahead of Biden Inauguration — Bloomberg Quicktake: Now, Jan. 13, 2021
America 101: What Happens on Inauguration Day? — History Channel, Nov. 7, 2016
What Happens Inside the White House on Inauguration Day — NBC News, Jan. 20, 2017
Background & History of Inauguration Day:
Inauguration at the US Capitol — Architect of the Capitol
Today in History – January 20 — Library of Congress
History of Change and Tradition on Inauguration Day — ABC News
The Constitution and the Inauguration of the President — University of Missouri Kansas City
United States presidential inauguration — Encyclopaedia Brittanica
10 Things to Know About Inauguration Day — PBS Newshour
Recent Articles about Inauguration Day:
Biden's inauguration day: What will look different, who will attend, and what will go virtual, USA Today, Jan. 12, 2021
Biden inauguration rehearsal is postponed due to security threats, Politico, Jan. 15, 2021
Trump Impeachment, Biden Inauguration, Capitol Security: Live Updates, Wall Street Journal, Jan. 15, 2021
President Trump's impeachment trial could begin on Inauguration Day, LA Times, Jan. 14, 2021
What You Need to Know About DC Inauguration Day Threats and Other Capitol Insurrection Fallout, Washingtonian, Jan. 12, 2021
Troops Flood a Rattled Washington Ahead of the Biden Inauguration, New York Times, Jan. 11, 2021
Biden inauguration to feature memorial for COVID victims, PBS Newshour, Jan. 6, 2021
State Capitals Tighten Security Amid Threat Of Armed Protests Ahead Of Inauguration, NPR News, Jan. 13, 2021
Biden Cabinet Risks Slow Start With Lag in Senate Confirmations, Bloomberg, Jan. 12, 2021
Recent Editorials in response to the Inauguration:
Trump skipping the inauguration is bad. But history shows we can move beyond it — Washington Post, Jan. 9, 2021
Trump impeachment risks bogging down early days of Biden presidency — The Guardian, Jan. 14, 2021
The best way to have a Covid-era inauguration — CNN, Dec. 12, 2020
Biden's inauguration challenge is to unite America — Herald and Review, Jan. 15, 2021
In A Polarizing Political Landscape, Joe Biden's Inauguration Will Set An Audience Record—Here's Why — Forbes, Jan. 7, 2021
Primary Sources:
Maps & Timelines:
Key Historic Dates and Details: Presidential Inaugurals — Architect of the Capitol
Map: Where roads are closed for the inauguration — Greater Greater Washington
The 'Capitol Green Zone' — Inauguration Map — Washingtonian
Political Cartoons: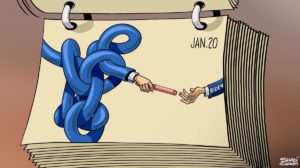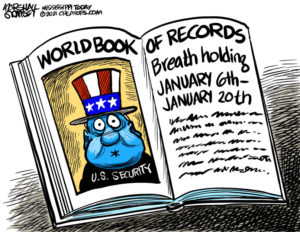 Resources for using Political Cartoons in the Classroom: 
Lesson Plans:
Lesson Plans regarding Media & News Literacy (general):
Media Literacy Resources – Newseum
News & Media Literacy Lessons – Common Sense
Media Misinformation, Viral Deception, and "Fake News" – University of Wyoming
Evaluating Sources in a 'Post-Truth' World: Ideas for Teaching and Learning About Fake News – New York Times Lessons