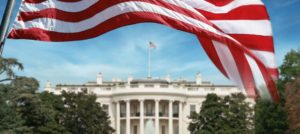 The General Services Administration (GSA) informed federal departments last Monday that it had ascertained Joseph R. Biden Jr. to be the official winner of the 2020 presidential election. The Biden team now has the full cooperation of the federal bureaucracy in charge of the presidential transfer of power. This means, the Biden team can now have contact with all federal agencies and is able to access $6.3 million in government funding that is set aside for the transition process.
The ascertainment letter was sent last Monday after Michigan formally certified its election results earlier in the day and several lawsuits filed by the Trump campaign team had been dismissed. Georgia certified its razor-thin presidential results on Friday, Wisconsin and Arizona are expected to certify their results early this week, and Pennsylvania is nearing certification of its election results, as well.
Democrats have been joined, in recent days, by Republicans and prominent business leaders in putting pressure on the GSA to issue the ascertainment in order to begin the transition process since delays meant that Biden's team was unable to access government data and could not make contact with federal agencies. In particular, many have cited the urgency of initiating the transition so that the new administration could be given access to Covid-19 data and the vaccine distribution plans in order to ensure that those processes can proceed as seamlessly as possible in the coming weeks.
The Presidential Transition Act of 1963 provides the mechanisms to facilitate an orderly and peaceful transfer of power. Under existing federal law and custom, the executive office of the President must adhere to communications guidelines and records guidelines. Between election day and inauguration, the president-elect receives the top-secret President's Daily Brief, which includes highly classified intelligence analysis, information about covert operations of U.S. intelligence agencies, and reports from the most sensitive US sources, so that they can be prepared to deal with global threats and challenges. President-elect Biden began his briefings on Monday. 
This week's Current Event resources allow you to explore and promote meaningful discussion with your students about the latest news on the Federal Transition of Government.
Essential Questions:
Videos:
Audio & Podcasts: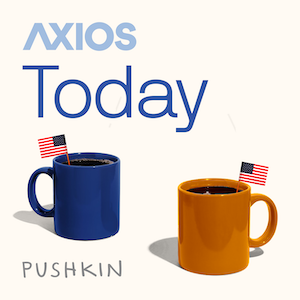 How the Transition Affects You (10 mins)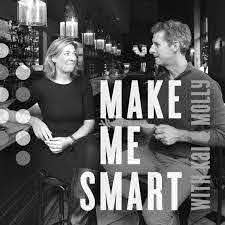 This is how presidential transitions are supposed to work (20 mins)
Recent Articles:
Recent Editorials:
Political Cartoons: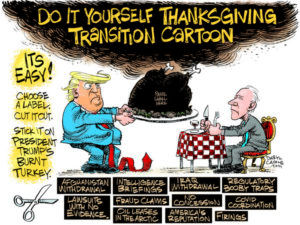 The Week — Political Cartoons
Resources for using Political Cartoons in the Classroom: 
Primary Sources:
Maps & Timelines:
Lesson Plans:
Lesson Plans regarding Media & News Literacy (general):
Media Literacy Resources – Newseum
News & Media Literacy Lessons – Common Sense
Media Misinformation, Viral Deception, and "Fake News" – University of Wyoming
Evaluating Sources in a 'Post-Truth' World: Ideas for Teaching and Learning About Fake News – New York Times Lessons