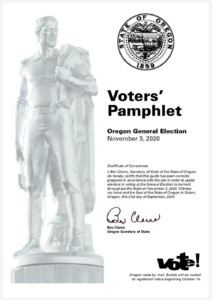 Voting Matters:  2020 Oregon Ballot Measures
In Oregon, voters are able to directly amend the Oregon Constitution or create law through approval of ballot measures.  Oregonians will encounter four statewide ballot measures on this year's ballot.
Civics Learning Project has created an entire series of materials about Election 2020.  Unit 2 pertains to ballot measures and can be downloaded from the sidebar.
Background & History
How ballot measures get to the ballot – Oregon Secretary of State
Ballotpedia Summary of 2020 Ballot Measures
Fate of Ballot Measures Often Depends on the Wording
Essential Questions
What is direct democracy and how does it operate in Oregon?
How do ballot measures get to the ballot?  Which pathway do you think is best?
What are the pros and cons of the use of ballot measures to amend and create law?
Why might direct democracy or ballot measures work better at the state level than the national level?
Statewide Ballot Measures
Measure 107 – Allowing Campaign Finance Limits
Currently, Oregon is one of five states with no limits on campaign contributions.  Laws limiting campaign contributions were ruled unconstitutional by the Oregon Supreme Court in 1997 in Vannatta v. Kiesling.  A recent decision by the Oregon Supreme Court overturned the 1997 decision, leaving the door open for localities to impose limits.  Measure 107 does not itself impose limits on political contributions or donations.  It instead, if passed, would allow localities to make laws limiting campaign contributions.
Election 2020: Oregon's Measure 107 would allow laws to limit campaign contributions  – Salem Statesman Journal, October 6, 2020.
Measure 108 – Tobacco and E-Cigarette Tax Increase
Measure 108, if passed, will impose a tax increase on traditional cigarettes of ~$0.16 per cigarette and a tax of 65% of wholesale price on e-cigarettes.  This type of tax is often called a "sin tax" as it imposes a tax on a product that the public views as harmful, such as tobacco or alcohol.  Revenue from the tax would go to the Oregon Health Authority for medical and healthcare-assistance programs, including mental health services, tribal health providers, including Urban Indian Health Program, and other programs concerning tobacco and nicotine health issues.
Tobacco, vape tax Measure 108 draws wide support, millions in funding – Salem Statesman Journal, October 5, 2020
Backers of a Tobacco Tax and Three Other Oregon Ballot Measures Are Vastly Outraising Their Foes: Big Tobacco has spent no money to fight a hike on cigarette taxes.
'Sin Taxes' Could Help States in Pandemic Budget Slump (at Least a Little Bit) – The Pew Charitable Trusts, June 26, 2020
Measure 109 – Decriminalizing the use of psilocybin (hallucinogenic substance found in fungi) in therapeutic programs
Measure 109, if passed, would create a program administered and regulated by the Oregon Health Authority under which psilocybin could be administered to people 21 years of age and older for therapeutic purposes such as the treatment of severe depression.  The OHA would have 2 years to create the program and its regulations.  The measure has been criticized as coming too soon as the substance has not yet been fully approved by the FDA for therapeutic purposes.  Psilocybin is currently illegal under both Oregon and federal law.  Even if Measure 109 were to pass, psilocybin would remain illegal under federal law, similar to marijuana.
Oregon May Soon Legalize the Use of Magic Mushrooms as Mental Health Treatment. Many Portlanders Aren't Waiting. – Willamette Week, September 22, 2020
Oregon Psychiatric Physicians Association Opposition to Measure 109
FDA Calls Psychedelic Psilocybin a 'Breakthrough Therapy' for Severe Depression – LiveScience, November 25, 2019
Measure 110 – Decriminalizing Certain Controlled Substances, including heroin, methamphetamine, and cocaine and increasing funding for drug treatment programs
Measure 110, if passed, would reclassify possession of small amounts of a Schedule I-IV controlled substance from a Class A misdemeanor to a Class E misdemeanor.  A Class A misdemeanor carries a maximum sentence of one year in prison and a fine of more than $6000 while a Class E crime has a sentence of a maximum of a $100 fine.  Measure 110 only affects possession, not sale, of controlled substances.  Measure 110 would also create a statewide drug treatment program funded by taxes on marijuana and the possible savings from reduced spending on the prosecution of drug crimes.  The conversation surrounding Measure 110 highlights two schools of thought concerning drug possession and addiction, one favoring punishment of possession vs. one treating drug possession and addiction as a health care issue.
Opinion: Measure 110 full of false promises, The Register Guard, October 9, 2020
Opinion: A 'yes' on Measure 110 will ensure Oregon treats addiction as the health care issue it is, The Oregonian, September 20,  2020
Notable Local Ballot Measures
Portland Measure 26-217
This measure came to the ballot by unanimous vote of the Portland City Council.  It would create a new Police Oversight Board in the City of Portland with the stated purposes of investigating Portland Police Bureau, imposing discipline on police personnel, and recommending policing practices and policies.
Listen:  'OPB Politics Now': Portland's Measure 26-217 reconsiders police oversight
Lesson Plans & Ideas
Civics Learning Project:  Voting Matters 2020 Election Resources
Lesson Plans regarding Media & News Literacy (general):
Media Literacy Resources – Newseum
News & Media Literacy Lessons – Common Sense
Media Misinformation, Viral Deception, and "Fake News" – University of Wyoming
Evaluating Sources in a 'Post-Truth' World: Ideas for Teaching and Learning About Fake News – New York Times Lessons