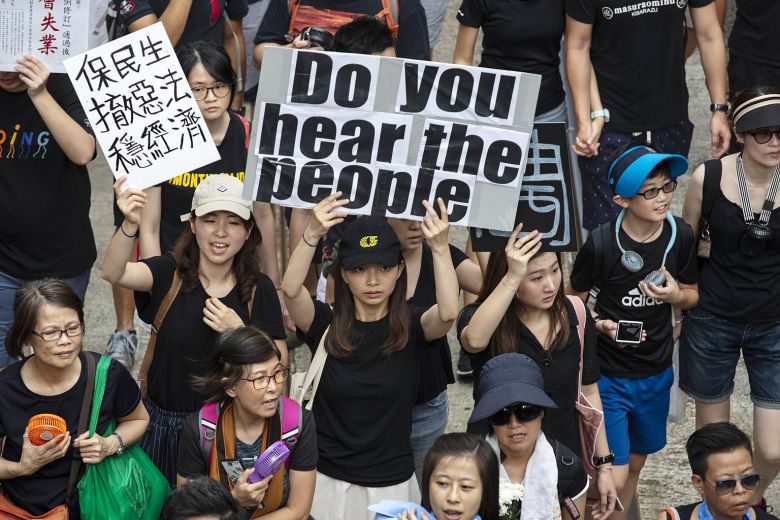 On October 4, 2019 the General Manager of the Houston Rockets, Daryl Morey, tweeted an image from his personal Twitter account in support of pro-democracy protesters in Hong Kong – sparking controversy in the NBA, and beyond. Since the Spring of 2019, tens of thousands of Hong Kong residents have been in the streets protesting for democratic rights and limits on China's legal influence over them. This week, Current Events provides you with the background on the history of the tension between China and Hong Kong here, along with resources for students to discuss how the NBA got enmeshed in that conflict. An important question to reflect on: how much free speech do we as individuals have in our work places, if our beliefs might impact the revenue of our organization? Should the organization be free to determine how "free" our political speech can be?
Essential Questions:
Why does it matter if private organizations (like the NBA) are able to limit the political free speech rights of their employees?
How was the free political speech of Daryl Morey treated differently than the speech of LeBron James, and why?
Why does it matter how an organization like the NBA interacts with countries that are not democracies?
How might doing business with dictatorships conflict with the values of the Constitution, yet still be important efforts?
How can employees of private corporations ensure their voices are heard when they disagree with their employer's business practices?
Why should we as participating members of a democracy care about what is happening in Hong Kong?
Videos:
CNN Reporter Blocked when she tried to ask NBA players about Hong Kong:
Podcasts:
Background on Hong Kong Protests:
Why Hong Kong is Still Protesting – The Daily Podcast
The NBA's relationship with China:
The Events with the NBA:
Recent News Articles:
Background on Hong Kong Protests:
A polarized city, mirrored in its diaspora – The Atlantic, Oct. 20, 2019
Why are there protests in Hong Kong? – The BBC
Hong Kong Protesters Want U.S. Law Pushing More Scrutiny of Their Conflict With Beijing. Will It Backfire? – Fortune Magazine, Oct. 11, 2019
Democracy in Hong Kong – The Council on Foreign Relations
The NBA's relationship with China:
The NBA Won't Be Able to Reset Its Relationship With China Anytime Soon – The Ringer, Oct. 21, 2019
NBA Arenas Prepare for Hong Kong Protests – Wall Street Journal, Oct. 21, 2019
How China Could Inflict 'Retribution' Against Adam Silver, NBA – Sports Illustrated, Oct. 20, 2019
How the NBA Hong Kong row reveals China's control of corporate America – The Guardian, Oct. 20, 2019
Chinese State Television demands 'Retribution' against NBA's Adam Silver – New York Times, Oct. 20, 2019
For NBA and other sports leagues, a difficult tightrope to business in China – ESPN, Oct. 19, 2019
China Conflict Mutes N.B.A.'s New-Season Buzz – New York Times, Oct. 12, 2019
American brands are trying to play both sides of the Hong Kong-China conflict – Vox News, Oct. 11, 2019
The Events with the NBA:
Hundreds Flood Brooklyn Nets Game In 'Stand With Hong Kong' T-Shirts – HuffPost, Oct. 19, 2019
Brooklyn Nets owner, Alibaba co-founder Tsai decries Houston Rockets GM's Hong Kong tweet — Reuters – Oct. 6, 2019
LeBron James weighs in on China-Hong Kong conflict, says Daryl Morey was 'misinformed' about ramifications – CBS News, Oct. 15, 2019
LeBron James faces backlash unseen since 'The Decision' – New York times, Oct. 15, 2019
LeBron James angers Hong Kong protesters with 'free speech' comments – PBS NewsHour, Oct. 15, 2019
Editorials:
The NBA Should Leave China — Tom Scocca, Slate, Oct. 7, 2019
The World's Wokest Sports League Bows to China — Bari Weiss, New York Times, Oct. 7,  2019
Opinion: The NBA was staring down a China problem with or without Daryl Morey's tweet – Brian A. Boyle, Los Angeles Times, Oct. 7, 2019
Geography/Maps and Geography News:
How Hong Kong's complex history explains its current crisis with China – National Geographic
Timeline:
A Timeline of the Complicated Controversy Between the NBA and China – Complex.com
Lexile-Level Adjustable Article from Newsela:
Why are People in Hong Kong Protesting? – original article from Bloomberg
Legal/Constitutional Connections:
Constitutional Question: How far should employee First Amendment free speech rights be curbed when doing business in non-democracies?
Analysis: The Long Arm Of China And Free Speech – NPR News
What employee speech is protected in the workplace? – Human Resources Daily
Your Free Speech Rights (Mostly) Don't Apply At Work – Forbes Magazine
What does Free Speech Mean? – US Federal Courts
Freedom Of Speech In The Workplace: The First Amendment Revisited – Findlaw legal analysis
The Supreme Court History of Freedom of Expression – ACLU
The First Amendment doesn't guarantee you the rights you think it does – CNN
Lesson Plans on this topic:
New York Times Lesson of the Day: 'Hong Kong Protests Put N.B.A. on Edge in China' – The New York Times
The Umbrella Movement: Protests in Hong Kong – The Choices Program
Study Guide: Hong Kong's Pro-Democracy protests – PBS Newshour
The Story of China – PBS Learning Media
Lesson Plans regarding Media & News Literacy (general):
Media Literacy Resources – Newseum
News & Media Literacy Lessons – Common Sense
Media Misinformation, Viral Deception, and "Fake News" – University of Wyoming
Evaluating Sources in a 'Post-Truth' World: Ideas for Teaching and Learning About Fake News – New York Times Lessons