On September 24, 2019, the Speaker of the House of Representatives, Nancy Pelosi, declared an Impeachment Inquiry open against the President of the United States, Donald Trump. In this week's Current Event Resources, we give you links to news about the impeachment and its causes, facts about what impeachment is and how it works, and constitutional, geographic, and timeline connections to the issue. Because impeachment is a political process, and not a legal one, it can be rife with political conflict, as well as confusion about what the powers of the Legislative Branch are compared to the Executive Branch. We will explore all of these ideas and give you the opportunity to consider and analyze different aspects of this process as all Americans face this new reality for our federal government.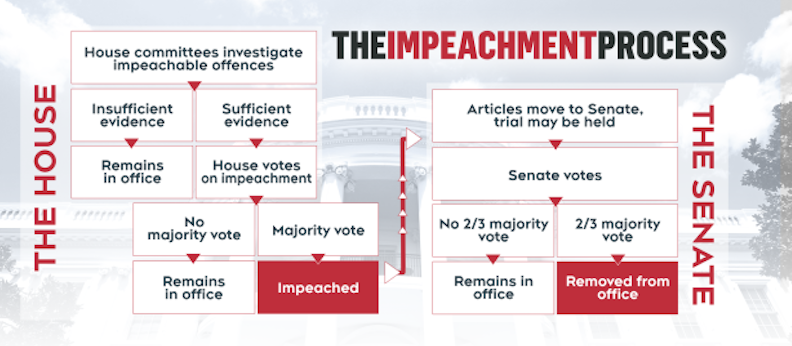 Essential Questions:
What is the impeachment process and how is it used?
Why did Speaker Nancy Pelosi start the impeachment process?
What are the advantages and the drawbacks of the impeachment process?
Why might it be dangerous to our democracy to ask a foreign government to help investigate political opponents?
What is our civic responsibility as citizens during an impeachment process?
How might an impeachment affect voter trust in government and/or voter turnout in 2020?
Video:
other video links:
Recent News:
The Impeachment Process
These Are the Key U.S. and Ukrainian Players in the Trump Impeachment Inquiry – Time Magazine, 10/3/19
Trump impeachment inquiry: The short, medium and long story – BBC, 10/3/19
Here are 5 questions about the Trump-Ukraine controversy we still don't have answers to – USA Today, updated 10/4/19
Trump, Ukraine and impeachment: Your questions answered – BBC, 9/27/19
What you need to know about the impeachment inquiry into Trump – Washington Post, 9/25/19
The Underlying Background and Law
How Trump's Ukraine call could violate campaign finance laws – Associated Press, 9/25/19
Why Trump's Ukraine Call Could Be an Impeachable Offense—Even If It's Not Illegal – Time Magazine, 9/25/19
The "Quid" is a Crime: No Need to Prove "Pro Quo" in Ukrainegate – Just Security, 9/23/19
Whistleblowers
Whistleblower Protection, Explained – PBS News Hour, 10/2/19
Trump's Whistleblower Attack 'Undermines' U.S. Global Accountability Push – Foreign Policy Magazine, 10/3/19
U.S. Intelligence Shuts Down Damning Report on Whistleblower Retaliation – Daily Beast, originally published 2/11/18, updated 9/19/19
5 of the most famous whistleblowers – Washington Post, 7/31/14
10 famous/infamous whistleblowers – Politico, 8/14/13
Editorials:
Why Nancy Pelosi should call a House vote to legitimize the President Trump impeachment inquiry –  Editorial Board, Chicago Tribune, 10/01/19
Trump Did It, but Should He Be Impeached? – Jonah Goldberg, National Review, 9/27/19
Impeachment inquiry against Trump is well worth the effort – Editorial Board, National Catholic Reporter, 9/25/19
Factual Guides about Impeachment:
The House of Representatives Role in Impeachment – House.gov
The Senate's Role in Impeachment – Senate.gov
How Does Impeachment Work: The Step-by-Step Process – Atlanta Journal Constitution
How Does Impeachment Work? – Live Science
Reading Level-Adjustable Articles from Newsela:
Democrats begin impeachment process against President Trump – Original Source: AP, 9/29/19
What you need to know about the impeachment inquiry into Trump – Original Source: Washington Post, 9/30/19
Watergate: The Scandal That Brought Down President Nixon – Original Source: USHistory.org, 3/6/17
Primary Documents:
The White House Memo of the Call between President Trump and President Zalensky on July 25, 2019
The Whistleblower's Report to the Inspector General of the Intelligence Community, August 12, 2019 
Texts between State Department diplomats concerning President's Trump & President Zalensky – From House Foreign Affairs Committee
Letter to House Speaker Nancy Pelosi from House Minority Leader Kevin McCarthy regarding Impeachment, October 2, 2019
Response letter from House Speaker Nancy Pelosi to House Minority Leader Kevin McCarthy regarding Impeachment, October 3, 2019
Contextual Primary Documents
The Constitution of the United States – Article 1
The Constitution of the United States – Article 2
Federalist 65 – Alexander Hamilton
The Articles of Impeachment: Andrew Johnson – Senate.gov
The Articles of Impeachment: Richard Nixon – Watergate.info
The Articles of Impeachment: Bill Clinton – Congress.gov
Maps & Timelines:
House Members Supporting Impeachment – 270towin
History: Map of the Andrew Johnson Impeachment Vote – Famous Trials: Andrew Johnson
A diagram of events in the impeachment inquiry of President Trump – USA Today
Trump Impeachment Inquiry: a Timeline – Los Angeles Times
A Timeline of Whistleblowers in the United States –  Government Accountability Project
Constitutional & Legal Connections:
The Constitution – Sections on Impeachment – Civics Learning Project
52 U.S. Code § 30121  The law on contributions and donations by foreign nationals – Cornell Law School
High Crimes and Misdemeanors – The Constitutional Rights Foundation
The Constitution and Impeachment – Famous Trials
Legal Discussion of Article 2, Section 4 – Findlaw
Presidential Impeachment: The Legal Standard and Procedure – Findlaw
Podcast Resources:

Other Podcasts on this current topic:
How President Trump plans to fight impeachment – NPR
I would like you to do us a favor– The Daily
The Whistle-Blower's Complaint – The Daily
The Impeachment Dilemma for Republicans – The Daily
Understanding the Context:
Slow Burn Season 1: Watergate &  President Nixon
Slow Burn Season 2: The Clinton Impeachment
Lesson Plan Ideas:
The Impeachment Process and President Trump – The Choices Program, Brown University
(this excellent resource has up to date source sets of primary quotes regarding the Trump impeachment process for a deeper dive into this current event as it happens)
Lesson of the Day: Impeachment – New York Times Current Event Lessons
Impeachment – National First Ladies Library
Impeachment Lesson Ideas – Share My Lesson
Daily Updates for Students & Lessons on Impeachment – PBS News Hour
Lesson Plans regarding Media & News Literacy (general):
Media Literacy Resources – Newseum
News & Media Literacy Lessons – Common Sense
Media Misinformation, Viral Deception, and "Fake News" – University of Wyoming
Evaluating Sources in a 'Post-Truth' World: Ideas for Teaching and Learning About Fake News – New York Times Lessons