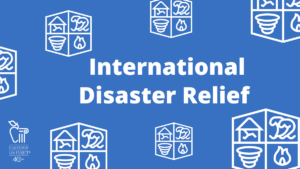 On February 6, 2023, an earthquake struck the northern and western sections of Syria, and southern and central sections of Turkey.  Roughly 45,000 people have died as a result of the quake, the majority in Turkey. Since earthquake on the 6th, numerous aftershocks rocked the region. On Monday, February 20th another earthquake shook this region; its epicenter was in the Defne district of Turkey's Hatay province, an area already devastated by the quake on the 6th. With thousands of buildings destroyed, tens of thousands of deaths, and people still unaccounted for, international aid has been making its way into Turkey, and to a lesser extent, Syria. Governments and international humanitarian relief organizations are working to supply and coordinate much needed services and supplies, such as food, tents, winter clothing, medical supplies and mattresses.
The relief efforts supporting the people of Turkey and Syria are just the latest examples of humanitarian aid being offered throughout the world. These relief endeavors are often undertaken by international organizations such as the United Nations, non-governmental organizations, and governments to provide immediate relief to those affected by natural disasters, conflicts, or other emergencies. However, geopolitical considerations play a critical role in shaping the delivery of aid, particularly in areas that are politically unstable or face security challenges.
Cultural and social factors play a role in the delivery of humanitarian aid. Aid organizations must be sensitive to the cultural norms and values of the affected region to avoid unintended consequences.  Effective aid delivery requires building trust with the affected communities and working with local leaders to ensure that these efforts are aligned with local needs and priorities. Geopolitics can also be at the forefront when it comes to the relationship between the donor country and the affected region; donor countries often provide aid to support their national interests, including strengthening diplomatic ties, promoting trade, and advancing their foreign policy goals. This may influence the distribution of aid, as donors may prioritize countries or regions that are strategically important to them.
This week's Current Events resources examine the logistics, political ramifications, and history of humanitarian/disaster relief. The resources shared provide information and context to the global relief efforts coordinated by institutions after a region or country is affected by a natural disaster.
Essential Questions, Vocabulary & Extend the Resources:
What is humanitarian relief?

Why is humanitarian or disaster relief sometimes referred to as 'soft power'?

What are some of the challenges governments face after there has been a natural or humanitarian disaster in their country? How do countries try to address those challenges?

What are some of the unintended consequences of uncoordinated humanitarian/disaster relief? How can these consequences be proper addressed? 

What are the arguments for and against countries limiting their humanitarian/disaster relief to foreign nations? 

In your opinion, should there be a global entity in charge of all coordination and execution of humanitarian/disaster relief? Explain. 

In your opinion, should the United States and other countries offer humanitarian relief to all nations, regardless of relationship? Explain.
Click here for a hardcopy of the Essential Questions and International Disaster Relief Vocabulary
Click here for a hardcopy of Extension Activities CLP suggests implementing with this content
Videos:
Podcasts:
Türkiye-Syria earthquakes – lessons learnt and what next?, Think Change, ODI, February 17, 2023
A Crisis Within a Crisis in Syria, The Daily, The New York Times, February 16, 2023
Aid groups help Turkey-Syria quake survivors amid global crises and donor fatigue, World News, NPR, February 18, 2023
It's Really Hard to Help Syria's Earthquake Victims, The Big Take, Bloomberg News, February 16, 20123
Background Resources:
Office of U.S. Foreign Disaster Assistance, USAID, United States Government
UN Disaster Assessment and Coordination (UNDAC), Office of Coordination of Humanitarian Affairs, United Nations 
The Origins of U.S. Foreign Disaster Assistance, Organization of American Historians
Sphere Handbook, Sphere
Humanitarian Relief, Non Governmental Organizations (NGO's), Berkeley Library, University of California
World Disaster Laws, IFRC Disaster Law
Recent Articles:

Oregon groups help earthquake victims in Turkey and Syria, OPB, NPR, February 16, 2023
Syria Faces "Nightmare Situation" as Aid Stalls Amid Sanctions and Earthquake Death Toll Keeps Rising, Democracy Now, February 16, 2023
Türkiye-Syria earthquake: How AI and emerging tech are helping relief effort, World Economic Forum, February 18, 2023
International Disaster: Pakistan repacks aid received from Turkey during floods, ships it back to quake-hit nation, News Heads, February 18, 2023
Turkey's 'aid diplomacy' reverberates in global quake response, Al Jazeera, February 21, 2023
India-Turkey spat over Kashmir shelved as Delhi joins effort for quake victims, RFI, February 19, 2023
Helping injured and homeless animals in earthquake-striken in Turkey, Dogs Today, February 20, 2023
Recent Editorials:
The Guardian view on the Turkish-Syrian earthquake: tragedy on tragedy, The Guardian, February 6, 2023
The world must not abandon northwest Syria (again), Al Jazeera, February 22, 2023
Responding to the Türkiye–Syria earthquake: what will it take?, The Lancet, February 18, 2023

Lesson Plans:
Looking at Foreign Aid, Choices Program, Brown University
Lesson Plan: The Devastating Earthquake in Turkey and Syria, The New York Times
Visualizing Humanitarian Crises and Interventions, The Derek Bok Center for Teaching and Learning, Harvard University
Crisis Preparation and Response, Learning to Give
Natural Disasters, Your English Pal
Dealing with Disasters, Oxfam Education
Resources for Younger Students:
Emergency Management, American Red Cross
Introduction to humanity, British Red Cross
Powerful earthquake hits Turkey and Syria, killing more than 21,000, Newsela