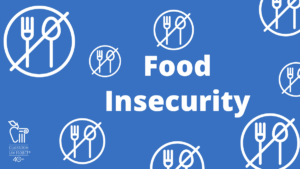 In March 2023, thirty two states joined the other 18 in reducing the bolstered food stamp benefits that began at the start of the COVID-19 pandemic. The food stamp benefit, now called the Supplemental Nutritional Assistance Program, or SNAP, is a government run program in which government-issued vouchers are used by low and no-income people in exchange for food. In response to the pandemic, which brought an unstable economy and massive disruptions to daily life and the economy, the U.S. federal government increased the SNAP benefit to those who qualified. With those funds now gone, it is estimated that more than 30 million people will face cuts to their benefits and on average, people will lose just under $100 of SNAP benefits per month.  
In November of 2022, 42 million people were receiving the SNAP benefit, which the USDA indicated was 6% higher than the amount of people who were receiving it in 2020. The causes of food insecurity, the condition of not having access to sufficient food, or food of an adequate quality to meet one's basic needs, are complex and multifaceted. Poverty, unemployment, and underemployment are some of the primary factors that contribute to food insecurity. Inadequate access to affordable and nutritious food, lack of transportation, and food deserts in rural and urban areas also contribute to the problem.
To combat food insecurity, the federal government, along with state and local governments, have implemented several programs designed to help individuals and families facing hunger. In addition to the SNAP program, there are the Women, Infants, and Children (WIC)  Program, National School Lunch Program, Child and Adult Care Food Program, and Emergency Food Assistance Program. These programs have played a critical role in reducing food insecurity in the United States. However, they do not address the root causes of the problem.
This week's Current Events resources examine food security in the United States and the programs designed to address hunger. The resources shared provide information and context to the ongoing actions taken by governments, communities and individuals to solve or alleviate food insecurity.
Essential Questions, Vocabulary & Extend the Resources:
What is food insecurity?

What is the Supplemental Nutrition Assistance Program?

What are food deserts and how do they affect communities?

Have federal and state government interventions been successful in addressing food insecurity in the United States? Explain. 

What are the arguments for and against extending the increased SNAP benefits?   

In your opinion, what role should the government play in alleviating food insecurity for people? 

In your opinion, what are the major barriers the United States face in eradicating food insecurity in it's communities? 
Click here for a hardcopy of the Essential Questions and Food Insecurity Vocabulary
Click here for a hardcopy of Extension Activities CLP suggests implementing with this content
Videos:
Podcasts:
After SNAP Benefits Expire, Some Fear a 'Hunger Cliff', Consider This, NPR, March 9, 2023
How Oregon food banks are dealing with inflation, Think Out Loud, NPR, June, 2022
How To Achieve Food Equity with SNAP, The Leading Voices in Food, January 4, 2023
Increased SNAP benefits end for families facing food insecurity, Radio Boston, March 3, 2023
Background Resources:
Introduction to the Food Access Research Atlas, U.S. Department of Agriculture
Interactive Charts and Highlights, Food Insecurity, U.S. Department of Agriculture 
Food History in the United States, Virginia Commonwealth University, February 28, 2023
The History of SNAP, Snap to Health, 2023
Food Security and Nutrition Assistance, U.S. Department of Agriculture
Recent Articles:

Low-income Americans face a 'hunger cliff' as Snap benefits are cut, The Guardian, March 17, 2023
A hunger crisis sparked by Covid rages on three years into the pandemic. Here's how you can give or get help, CNN Health, Mach 6, 2023
Pandemic food assistance that held back hunger comes to an end, OPB, NPR, March 1, 2023
Nearly half of junior enlisted spouses coped with food insecurity, Military Times, February 17, 2023
Oregon food banks forced to tighten belts as hunger swells, Mail Tribune, November 27, 2022
Can food cure high medical bills? Pilot 'food as medicine' programs aim to prove just that, USA Today, February 17, 2023
GOP state legislator opposed to free school lunch proposal says he's never met a hungry Minnesotan, NBC News, March 14, 2023
Recent Editorials:
Opinion: Food insecurity in the U.S. didn't worsen during the pandemic. Here's why., The San Diego Union-Tribune, September 27, 2021
Fund food insecurity response in WA — and demand national fix, The Seattle Times, March 6, 2023
Guest editorial | Food banks need more support in face of SNAP benefit changes, The Tribune-Democrat, February 20, 2023
A Hunger Cliff Is Looming: Time to Rethink Nutrition Assistance, Union of Concerned Scientists, January 31, 2023
Lesson Plans:
The Hunger Gap, FoodSpan
Lesson Plan: Food Insecurity, Pulitzer Center
Food Security Game, Peace Corps
Challenging Hunger in the United States, Learning for Justice
Role of Federal Food Assistance Programs, C-SPAN Classroom
Resources for Younger Students:
Eating on a Budget, Exploring Food Justice
Community fridges provide free food for people who need it, Newsela
Don't cut food stamps, doctors tell Congress, Newsela
What is Food Insecurity, ActivelyLearn