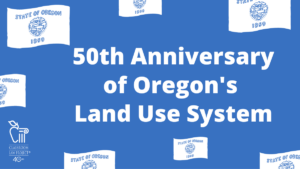 Fifty years ago, Oregon, like most of the United States, was at a crossroads. Urban sprawl, growing highway systems, and the rapid development of suburbs were changing the landscape of Oregon and the country;  this expansion encroached upon lands once occupied by farming, forests and other open spaces. Unlike many parts of the U.S., Oregon moved to contain this accelerating development with Urban Growth Boundaries. These invisible barriers separate urban and rural areas, preserving the very places threatened to be affected by the growth of residential and commercial expansion.
In 1973, Governor Tom McCall, credited as a land use leader, gave an impassioned speech calling for an environmental approach to the Oregon's policy on land use. Senate Bill 100, sponsored by Senator Hector MacPherson, a Republican farmer from Linn County, and Senator Ted Hallock, a Democrat from Portland, eventually passed, establishing a state-wide system to guide all local governments in their land use decision-making. By 1974, the newly created Land Conservation and Development Commission adopted 14 statewide planning goals with the first being a requirement of frequent public involvement at all levels of land use planning.
In the half century since this legislation, lawsuits and ballot measures have challenged the state's limitations on private property rights. In general, however, the Oregon public have demonstrated their support of the protections the land use system offers the public interest.
Oregon is facing a housing shortage and the effects of global climate change. In 2022, The Oregon Land Conservation and Development Commission developed Climate-Friendly and Equitable Communities (CFEC) rules for cities. The rules seek to improve local transportation and housing planning systems that reduce carbon emissions by providing more walkable and bike-able regions in the state's largest cities, while providing more housing within each urban growth boundary. It remains to be seen if Oregon's implementation will be as successful as it once was.
This week's Current Events resources examine the history, context, and long term impacts of Oregon's land use policies. The resources shared provide information and background on Urban Growth Boundaries and how community planning in Oregon is both unique and celebrated.
Essential Questions, Vocabulary & Extend the Resources:
What is land use policy and what is its importance of local and state communities? 

How did Senate Bill 100 change Oregon's development compared to other states?

What considerations should a society take into account when assessing the needs of public interest and private property owners?

What are the short and long-term effects of urban growth boundaries?

What are the positives and negatives of suburban development?

In your opinion, how should Oregon's land use system adapt to meet needs in the next 50 years?

Click here for a hardcopy of the Essential Questions and Oregon Land Use Vocabulary
Click here for a hardcopy of Extension Activities CLP suggests implementing with this content
Videos:
Podcasts:
How freeway builders collided with Oregon's growth management system, Growing Oregon, OPB Politics Now, Marketplace, August 5, 2022
Inside the fight between Oregon leaders to create a revolutionary growth management system,Growing Oregon, OPB Politics Now, July 22, 2022
How a 'little old lady' nearly gutted Oregon's growth rules, Growing Oregon, OPB Politics Now, August 12, 2022
Oregonians once feared their state would be wrecked by out-of-control sprawling development, Growing Oregon, OPB Politics Now, July 15, 2023
Background Resources:
Tom McCall's copy of his speech to the Oregon Legislative Assembly, 1973, Oregon History Project
Land Use Planning, Oregon Encyclopedia, Oregon Historical Society
What is Land Use?, 1000 Friends of Oregon
Urban Growth Boundary, Oregon Encyclopedia, Oregon Historical Society
Recent Articles:

A group of Oregon cities are planning to sue the state over wide-ranging climate rules, OPB, November 9, 2022
If Oregon attracts tech manufacturers, where could they set up shop?, KGW8, February 1, 2023
Kotek homebuilding target is ambitious, potentially costly and politically fraught, experts say, The Oregonian, January 30, 2023
Many Oregon cities and towns say they're short on industrial land, OPB, February 9, 2023
C.O. LandWatch seeking Deschutes County rules to sharply limit homes at any future destination resorts near Bend, News Channel 21, KTVZ, February 8, 2023
Recent Editorials:
Editorial: A pilot program for more middle income housing in Oregon, Bend Bulletin, February 2, 2023
Opinion: Undoing urban growth boundary isn't the answer to our housing crisis, The Oregonian, December 4, 2022
Community Input Is Bad, Actually, The Atlantic, April 29, 2022
Cancel Zoning, The Atlantic, June 21 2022
Lesson Plans:
Earth as an Apple & Soil Conservation, Oregon Agriculture in the Classroom Foundation
Where Should Development Go?, Oregon Agriculture in the Classroom Foundation
Mapping the Physical & Social Features of Oregon's Counties, Oregon Agriculture in the Classroom Foundation
8 Classroom Lesson Plans for Teaching About Urban Land Use, Population Education
Junior Citizen Planner Curriculum, Michigan State University Extension