March is Women's History Month! Learn about the history of this month and how it is celebrated today in this week's CLP Current Event.
Brought to teachers by Susie Marcus, CLP consultant, with CLP staff.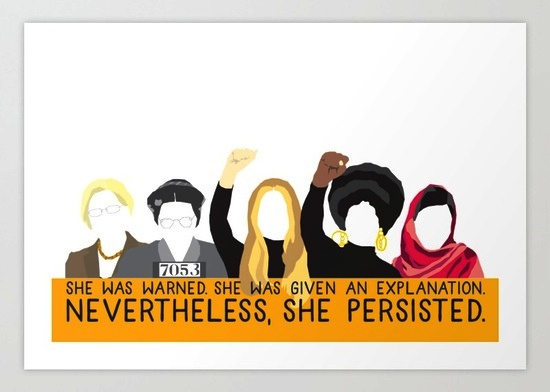 News Sources
On International Women's Day, celebrate progress and continue work toward equality, by Editorial Board, Democrat & Chronicle, March 8, 2018
"International Women's Day and its 2018 theme, #PressforProgress, provides the perfect opportunity to take some time to reflect on our progress as a society and the work that remains on the topics of gender parity, discrimination and sexual violence."
CLP: Opinion
McDonald's Is Flipping Its Arches for Women's Day and People Are Mad, by Raisa Bruner, Time, March 8, 2018
"McDonald's flipping its arches is not the only way a brand is making a statement in honor of the holiday, of course: already, Barbie has released a line of commemorative dolls representing history-making women, and Google is making its own play for telling women's stories."
CLP: Great discussion point for students: Are companies benefiting from celebrating and supporting Women's History Month?
Civil Rights Icon Launches Women's History Month, Oakdale Leader, March 7, 2018
" 'We are extremely thankful to Dolores Huerta for inspiring our students with her courage, commitment, and passion for social justice and equity for all people," said Delta College Superintendent/President Dr. Kathy Hart. "Her presence here at Delta made the screening of "Dolores" even more meaningful. We will invite her to return to the campus soon so that we can properly honor her and invite the larger community.'"
Women's History Month: Meet the Jeter sisters, inventors of digital toaster and staple machine, by Farida Dawkins, Face2Face Africa, March 6, 2018
"As part of Face2Face Africa's commitment to informing and connecting black people around the world, we have resolved to devote each day of the month of March to celebrate black women inventors and to highlight their inventions."
'Me too' movement renews Equal Rights Amendment push, by Nicole Guadiano, USA Today, November 18, 2017
"Equal Rights Amendment advocates think this could be their moment. As women increasingly come forward with stories of sexual assault and harassment, advocates are seeing the "me too" movement as an opportunity to renew their push for Constitutional protections against sexual discrimination."
The new women warriors: Reviving the fight for equal rights, by Jessica Ravitz, CNN, April 16, 2015
"Though first introduced in 1923, the last time the country really paid attention to the ERA was in the 1970s and early '80s, before Hager was even born. That was when feminist activists brought the issue to a boil. But after failing to secure the required number of state ratifications to pass the ERA by its 1982 deadline, the campaign was reduced to a low simmer."
A Short History of Male Feminism, by Noah Berlatsky, The Atlantic, June 12, 2014
"Is it possible for a man to be a feminist? A number of writers, including me, have addressed this question recently, generally in theoretical terms. The arguments tend to focus on whether it makes ideological sense for men to call themselves feminists, or whether the terms of feminism are inclusive to men. But there typically isn't much discussion of the historical place of men in the feminist movement."
Questions to Consider
What is Women's History Month?
What is Women's History?
"Nevertheless, She Persisted: Honoring Women Who Fight All Forms of Discrimination Against Women" What does this 2018 theme mean?
The International Women's Day 2018 campaign theme is #PressforProgress. What progress is most important?
Why does Women's history matter?
What role have men played in the fight for women's rights? What role could they play? Are women's and men's rights interconnected?
Why is the right to vote the centerpiece of the Woman's movement?
Is equality for women connected to equality for everyone? How and why?
What are the challenges for women and girls in 2018?
What are gender studies? How is perspective important to understanding history?
Why is there an increase in women candidates for office? How might women change politics?
What is the Equal Rights Amendment? Why has it failed to pass?
Is there a connection between the "Me Too " Movement and an equal rights amendment?
How is the right to equal pay related to equal rights in general?
What are the terms "sexism" and "feminism"?
Why are women's rights controversial?
Much of the discussion has moved beyond the issue of equal rights and into territory that is controversial, even among feminists. To name a few:
Women's reproductive rights. Whether or not women can terminate pregnancies is still controversial twenty-five years after the Supreme Court ruling in Roe v. Wade affirmed women's choice during the first two trimesters.
Women's enrollment in military academies and service in active combat. Are these desirable?
Women in leadership roles in religious worship. Controversial for some, natural for others.
Affirmative action. Is help in making up for past discrimination appropriate? Do qualified women now face a level playing field?
The mommy track. Should businesses accommodate women's family responsibilities, or should women compete evenly for advancement with men, most of whom still assume fewer family obligations?
Pornography. Is it degrading, even dangerous, to women, or is it simply a free speech issue?
Sexual harassment. Just where does flirting leave off and harassment begin?
Surrogate motherhood. Is it simply the free right of a woman to hire out her womb for this service?
Social Security benefits allocated equally for homemakers and their working spouses, to keep surviving wives from poverty as widows.
Background and More
Why March is National Women's History Month, National Women's History Project
"As recently as the 1970s, women's history was virtually an unknown topic in the K-12 curriculum or in general public consciousness. To address this situation, the Education Task Force of the Sonoma County (California) Commission on the Status of Women initiated a "Women's History Week" celebration for 1978."
History of the Women's Rights Movement, National Women's History Project
"Women themselves made these changes happen, very deliberately. Women have not been the passive recipients of miraculous changes in laws and human nature. Seven generations of women have come together to affect these changes in the most democratic ways: through meetings, petition drives, lobbying, public speaking, and nonviolent resistance. They have worked very deliberately to create a better world, and they have succeeded hugely."
CLP: This site has great information about Women's History Month, including links to help find speakers in your state.
Remembering the Seneca Falls Convention, Theresa Kaminski, July 20, 2016
"The Seneca Falls Convention was daring in its insistence on focusing on issues of gender. It couldn't solve all of the problems women faced; it couldn't completely grasp how race, class, and sexuality affected women's lives. But it provided a starting point, an important step in any movement."
Hillary Clinton Declares Women's Rights are Human Rights", Washington Week
" 'If there is one message that echoes forth from this conference, let it be that human rights are women's rights and women's rights are human rights, once and for all,' Clinton declared in September 1995."
Teaching and Learning About Women's History With The New York Times, by Katherine Schulten, The New York Times, March 8, 2018
"In this collection of five of our best related teaching resources, we suggest ways for students to shape their own inquiries into any aspect of women's history that interests them, from women's suffrage to 'emoji feminism.'"
Women's History Month 2018, by Jill Salahub, Colorado State University, March 1, 2018
"Celebrated in March to coincide with International Women's Day on the 6th, Women's History Month highlights the contributions of women to events in history and contemporary society. This year's national theme is "Nevertheless She Persisted: Honoring Women Who Fight All Forms of Discrimination Against Women" and here on the blog, similarly to how we celebrated Black History Month, we'll be honoring speakers, screenwriters, authors, poets, teachers, and activists."
Lesson Plans
Women's History Month, Grades 6-8, by Phil Nast, National Education Association
Women's History Month, Grades 9-12, by Phil Nast, National Education Association
http://www.nea.org/tools/lessons/50888.htm
Women's History Month: A Collection of Teaching Resources, Scholastic
CLP: Grades 3-5, 6-8, 9-12
Quiz: How Well Do You Know Women's History?, by Eliza Berman & David Johnson, Time, March 18, 2016
"Test your knowledge of famous women in history with these questions about the activists, entertainers, entrepreneurs and scientists who helped shape the 20th century."
Constitutional and Legal Connections
Congressional Resolution Designating the Month of March as Women's History Month, Scholastic
"Whereas American women of every race, class, and ethnic background have made historic contributions to the growth and strength of our Nation in countless recorded and unrecorded ways;"
President Donald J. Trump Proclaims March 2018 as Women's History Month, The White House
"NOW, THEREFORE, I, DONALD J. TRUMP, President of the United States of America, by virtue of the authority vested in me by the Constitution and the laws of the United States, do hereby proclaim March 2018 as Women's History Month.  I call upon all Americans to observe this month and to celebrate International Women's Day on March 8, 2018, with appropriate programs, ceremonies, and activities."
Supreme Court Justice Ginsberg argues for gender equality, Jewish holidays, by Dan Schere, Pittsburgh Jewish Chronicle, February 7, 2018
"'I take out my pocket Constitution and say, 'I have three granddaughters,'" she told an audience of 1,400 people who packed Washington, D.C.'s Adas Israel Congregation on Feb. 1. 'I point to the First Amendment guaranteeing freedom of speech, press, religion. I would like them to see in the Constitution a statement that men and women are persons of equal citizenship stature.'"
United States v. Virginia, Justia US Supreme Court
"Military training facilities that segregate men from women without a compelling reason violate the Equal Protection Clause of the Fourteenth Amendment, even if the women's facility is roughly comparable to the men's facility."
Oregon & the Northwest
Women's History Month Proclamation, Oregon.gov
A look at women in Oregon and America to celebrate Women's History Month, by Lynne Palombo, The Oregonian, March 7, 2017
March: Women's History Month, The Oregon Encyclopedia
Oregon State Social Science Standards
8.8 Evaluate information from a variety of sources and perspectives.
8.26 Examine a controversial event, issue, or problem from more than one perspective.
8.27 Examine the various characteristics, causes, and effects of an event, issue, or problem.
8.28 Investigate a response or solution to an issue or problem and support or oppose, using research.
HS.1 Evaluate continuity and change over the course of world and United States history.
HS.2 Analyze the complexity and investigate causes and effects of significant events in world, U.S., and Oregon history.
HS.9 Identify historical and current events, issues, and problems when national interests and global interest have been in conflict, and analyze the values and arguments on both sides of the conflict.
HS.33 Explain the role of government in various current events.
HS.57 Define, research, and explain an event, issue, problem or phenomenon and its significance to society.
HS.58 Gather, analyze, use and document information from various sources, distinguishing facts, opinions, inferences, biases, stereotypes, and persuasive appeals.
HS.59 Demonstrate the skills and dispositions needed to be a critical consumer of information.
HS.60. Analyze an event, issue, problem, or phenomenon from varied or opposing perspectives or points of view.
HS.61 Analyze an event, issue, problem, or phenomenon, identifying characteristics, influences, causes, and both short- and long-term effects.
HS.63. Engage in informed and respectful deliberation and discussion of issues, events, and ideas.
We the People Lesson Connections
Middle School, Level 2
Unit 6, Lesson 29: What are the rights and responsibilities of citizenship?
Unit 6, Lesson 30: How might citizens participate in civic affairs?
High School, Level 3
Unit 6, Lesson 35: How have civil rights movements resulted in fundamental political and social change in the United States?
Unit 6, Lesson 37: What key challenges does the United States face in the future?