The upcoming summit between the U.S. and North Korea is a historical first. Learn more about how it came to be with this week's CLP current event.
Brought to teachers by Susie Marcus, CLP consultant, with CLP staff.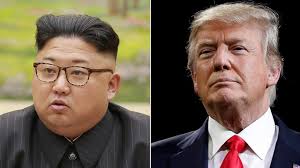 News Sources
North Korea reportedly cancels meeting with South Korea, threatens to ditch summit with US over military drills, CNBC.com, May 15, 2018
N. Korea to destroy nuclear site ahead of US summit: KCNA, Yahoo, May 13, 2018
"Dialogue brokered by Seoul has seen US-North Korea relations go from trading personal insults and threats of war last year to a summit between Kim and Trump due in Singapore on June 12.
But skeptics warn that Pyongyang has yet to make any public commitment to give up its arsenal, which includes missiles capable of reaching the United States."
Trump – Kim Jong-un summit set for Singapore on June 12, BBC News, May 10, 2018
"In March, Mr Trump stunned the world by accepting an invitation to meet Mr Kim for an unprecedented sit-down.
The pair had previously exchanged insults and threats. The breakthrough came after landmark talks between North and South Korea.
Mr Trump's announcement came hours after he welcomed home three US detainees released by North Korea."
North Korea frees 3 American prisoners ahead of a planned Trump-Kim summit, by Carol Morello, Anna Fifield, and David Nakamura, The Washington Post, May 9, 2018
"Trump had not made the freeing of the three Americans, Kim Dong-chul, Tony Kim and Kim Hak-song, a prerequisite for the summit. But the move was viewed in Washington as a necessary trust-building measure ahead of the hard-knuckle negotiations over North Korea's nuclear weapons and ballistic missile programs."
N. Korea's Kim meets China's president ahead of Trump summit, by Christopher Bodeen, AP News, May 8, 2018
"North Korean leader Kim Jong Un met with Chinese President Xi Jinping in a northern Chinese port city and pledged his continuing commitment to denuclearization ahead of his expected summit with U.S. President Donald Trump, state media said Tuesday.
The meeting Monday and Tuesday in Dalian is the second between Xi and Kim in recent weeks, following Kim's March visit to Beijing — his first since taking power six years ago."
US 'provocation' threatens peace, says North Korea, BBC News, May 6, 2018
"North Korea regularly criticises the US – but there have been few attacks in recent weeks, amid plans for the summit.
This latest statement is a reminder that discussions between the two countries will not be easy, says BBC Asia editor Michael Bristow.
The North Korean official, quoted by state news agency KCNA, said that Washington was "misleading public opinion" by saying the denuclearisation pledge resulted from sanctions and other pressure."
North Korea changes its time zone to match south, BBC News, May 5, 2018 "Until now, it was on Pyongyang Time, which is half an hour behind South Korea and Japan.
It introduced the extra 30 minutes in 2015 as a stand against "wicked Japanese imperialists", because its hours were changed to match Tokyo's when the Korean peninsula was under Japan's rule."
South Korean president Moon Jae-in to visit US ahead of Trump's N. Korea visit, by Mark Osborne, ABC News, May 4, 2018
"South Korean President Moon Jae-in will be making a visit to the White House later this month ahead of the historic summit between President Donald Trumpand North Korean leader Kim Jong Un.
The White House made the announcement Friday evening. Moon is scheduled to arrive in Washington, D.C. on May 22."
Trump: N. Korea summit plans set; troop drawdown not on table, Lowell Sun, May 4, 2018
"Trump said that withdrawing U.S. forces from South Korea is "not on the table." Some 28,500 U.S. forces are based in the allied nation, a military presence that has been preserved to deter North Korea since the war ended in 1953 without a peace treaty."
Trump says date, place set for North Korea summit, by Steve Holland & Roberta Rampton, Reuters, May 4, 2018
"President Donald Trump on Friday said the date and location have been set for a meeting with North Korean leader Kim Jong Un, building suspense for the unprecedented talks, as South Korea said it would oppose a withdrawal of U.S. troops from the area."
Ahead of the U.S. – North Korea Summit, Who's In the Driver's Seat?, NPR, April 30, 2018
"Well, I think for some time now the North Koreans have been in the driver's seat. We see Mr. Kim setting both the pace and the agenda for these talks – and, of course, the South Koreans as well led by Mr. Moon. So I think this is a moment that the Trump administration needs to play some catch-up. And with the summit coming up in the next several weeks, this is a chance to do it."
CLP: Interview transcript
Questions to Consider
What is a summit?
What is the history of U.S. North Korea relations?
What does N Korea want from a summit?
What does the U.S. want from a summit?
To which branches does the U.S .Constitution assign treaty making?
How might the recent summit between North and South Korea be a forecast for the U.S. North Korea Summit? Is unification of Korea possible?
Does a summit include only the U.S. and North Korea? Which other countries need to support any decisions that are made? What is the role of South Korea in a U.S.- N Korea summit? What is the role of China? What is the role of Japan? What is the role of Russia?
Is there a connection between the United States' withdrawal from the denuclearization treaty with Iran and potential agreements with North Korea
What is denuclearization?
What additional topics might be discussed at the Summit?
How significant are potential trade agreements?
What is a hermit kingdom? How do past misunderstandings affect our ability to talk to North Korea?
What are the dangers of a U.S.-North Korea summit?
How much do the personalities of the two leaders matter?
What does the North Korean decision to release of three U.S. prisoners mean?
From Trump-Kim summit: Will it happen and other key questions, USA Today
Are there conditions that North Korea must follow?
Where will they meet?
What about the American captives?
What's the next step?
From Decision Point: Understanding the U.S.'s Dilemma Over North Korea, The New York Times
Does North Korea seem to want war with its neighbors and the United States?
Is it possible something else is going on?
What could be motivating North Korea's behavior?
Background and More
Ties with US, N. Korea make Singapore an optimum summit site, CNBC, May 10, 2018
"'Singapore is an ideal site for the summit because Singapore historically has been an honest broker between East and West. Singapore has been a great friend to the U.S. but also Singapore has carefully worked to be a friend to all, which has earned it trust in capitals around the world,' former U.S. Ambassador to Singapore David Adelman said."
Trump to meet Kim Jong Un by May 1st for U.S. – North Korea summit, Kyodo News, May 9, 2018
"Many countries welcome the historical decision, expressing hope that their dialogue will contribute to peace and stability in the Asia-Pacific region, but skepticism lingers about whether Pyongyang will really take concrete steps toward denuclearization."
CLP: How do other countries view the upcoming summit? Chronological listing of events leading up to the announcement of the summit.
Profile: North Korean leader Kim Jong-un, BBC, April 26, 2018
"Immediately after his father's death, the younger Kim was hailed as "the great successor". He was named head of the party, state and army within a fortnight of his father's death.
Since then, he has shown he is committed to the advancement of North Korea's weapons programme, ordering four nuclear tests and several missile tests.
He has also shown himself to be ruthless with the purge of his powerful uncle and the murder, widely attributed to an order from him, of his half-brother."
What to do if the talks with North Korea succeed, by Sam Nunn and Richard Lugar, The Washington Post, April 23, 2018
"A successful summit, if it can be achieved, will be only the start of a long and complicated process. Eliminating the nuclear threat and achieving stability and security on the Korean Peninsula will require unconventional thinking and steps that are much broader than denuclearization. Just as we should prepare for the summit to go wrong, we should also prepare for it to 'go right.'"
CLP: Opinion
What Iran can teach us about North Korea summit, by Ilan Berman, USA Today, March 12, 2018
"Rather, in the face of escalating pressure on the part of the United States, Tehran calculated that nervousness over the potential for real military conflict would inexorably nudge Washington and its diplomatic partners toward the nuclear negotiating table as long as the Iranian side appeared ready for compromise."
CLP: Opinion
A U.S. – North Korea summit: What could possibly go wrong?, by Evans J.R. Revere, Brookings, March 9, 2018
"A clear understanding of its meaning will show that North Korea's vision of "denuclearization" bears no resemblance to the American understanding of that term."
It's Not a Hermit Kingdom, and 4 Other Myths About North Korea, by Joel S. Wit and Jenny Town, The Atlantic, March 29, 2013
"Actually, a myth-based policy helps explain in part why we are in this mess to begin with. During its first term, the Obama administration pursued an approach called "strategic patience," based on the flawed assumption that isolating a weak North would convince it to stop behaving badly."
Lesson Plans
Use this study guide with your students ahead of the U.S. – North Korea summit, PBS Newshour
CLP: Middle & high school
Conflict with North Korea, Scholastic
CLP: Middle school
Kim's Nuclear Gamble, OPB
CLP: High School; great simulation
Constitutional and Legal Connections
Article 2, US Constitution, Legal Information Institute
How Does the United States Ratify Treaties?, Convention on the Rights of the Child
Oregon State Social Science Standards
8.8 Evaluate information from a variety of sources and perspectives.
8.21 Analyze important political and ethical values such as freedom, democracy, equality, and justice embodied in documents such as the Declaration of Independence, the United States Constitution, and the Bill of Rights.
8.26 Examine a controversial event, issue, or problem from more than one perspective.
8.27 Examine the various characteristics, causes, and effects of an event, issue, or problem.
8.28 Investigate a response or solution to an issue or problem and support or oppose, using research.
HS.1 Evaluate continuity and change over the course of world and United States history.
HS.9 Identify historical and current events, issues, and problems when national interests and global interest have been in conflict, and analyze the values and arguments on both sides of the conflict.
HS.27. Examine functions and process of United States government.
HS.31. Describe Untied States foreign policy and evaluate its impact on the United States and other countries.
HS.33. Explain the role of government in various current events.
HS.35 Examine the pluralistic realities of society (e.g., race, poverty, gender, and age), recognizing issues of equity, and evaluating need for change.
HS.57 Define, research, and explain an event, issue, problem or phenomenon and its significance to society.
HS.58 Gather, analyze, use and document information from various sources, distinguishing facts, opinions, inferences, biases, stereotypes, and persuasive appeals.
HS.59 Demonstrate the skills and dispositions needed to be a critical consumer of information.
HS.60. Analyze an event, issue, problem, or phenomenon from varied or opposing perspectives or points of view.
HS.61 Analyze an event, issue, problem, or phenomenon, identifying characteristics, influences, causes, and both short- and long-term effects.
HS.63. Engage in informed and respectful deliberation and discussion of issues, events, and ideas.
We the People Lesson Connections
Middle School, Level 2
Unit 6, Lesson 28: What is the relationship of the United States to other nations in the world?
High School, Level 3
Unit 4, Lesson 23: What is the role of the president in the American constitutional system?
Unit 6, Lesson 37: What key challenges does the United States face in the future?
Unit 6, Lesson 38: What are the challenges of the participation of the United States in world affairs?