Student protest has a long history of making change in America. Will those following the tragedy at Marjory Stoneman Douglas High School continue to make change? Help students understand how and why with this week's CLP current event.
Brought to teachers by Susie Marcus, CLP consultant, with CLP staff.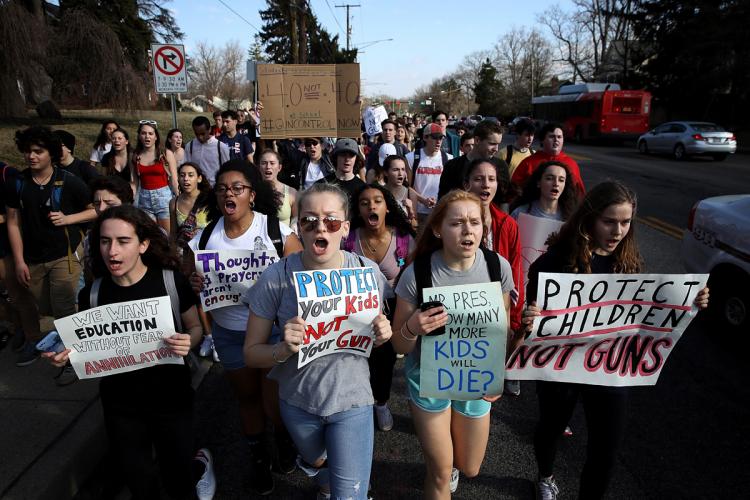 "Amidst the despair and horror of yet another school shooting, I find a glimmer of hope."
The student survivors of the Marjory Stoneman Douglas High School massacre are telling us theirs will be the last school shooting. May it be so.
"It's time we listen to the young people who are speaking out, standing up, and demanding that we have the backbone to keep future generations safe from gun violence."
News Sources
Students Who Lived Through Florida Shooting Turn Rage into Activism, by Brian Mann, NPR, February 18, 2018
"'We want to be the voices not only for them but for any student or teacher affected by acts of cowardice like this,' he adds."
Why are the Florida students leading on guns? Because kids make great activists, by Sally Kohn, The Washington Post, February 23, 2018
"There's a whiff of surprise and condescension in the way that some Americans, in the media and in general, are responding to the wave of student activism in the wake of the school shooting in Parkland, Fla. Writing in the New Yorker, for instance, Troy Patterson described the Stoneman Douglas student activists as "telegenic" and "polished" and "articulate" and suggested that one of the students, David Hogg, "offered a media presence without exact precedent." Which is of course to an extent true — this moment is unlike any other in the history of the gun debate."
Santa Fe students, officials consider whether – and how – to participate in planned walkouts on guns, by Robert Nott, The New Mexican, February 21, 2018
"As students walked out of dozens of high schools across the nation Wednesday in a social media-driven protest of gun violence and what many teens are decrying as lax gun-control laws, the Santa Fe school board was considering how the district should respond if students and teachers here participate in nationwide school walkouts planned in March and April."
CLP: Shows one district's struggle to find the balance between allowing students to exercise First Amendment rights and schools expectations.
Florida Students Anti-Gun Rally Spreads, VOA News, February 21, 2018
"The mass shooting also has sparked a wave of rallies elsewhere in Florida and in other areas of the country in an attempt force local and national leaders take action to prevent such attacks."
Students across the US walk out of class Wednesday to protest gun violence, by Associated Press, OregonLive, February 21, 2018
"Hundreds of students from Maryland schools left class to rally at the U.S. Capitol. Hundreds more filed out of their schools in cities from Chicago to Pittsburgh to Austin, Texas, often at the lunch hour."
US students protest over gun laws, Trump considers arming teachers, by Jeff Mason & Zachary Fagenson, Reuters, February 21, 2018
"Students galvanized by the deadly mass shooting at a Florida high school confronted lawmakers on Wednesday with demands to restrict sales of assault rifles, while President Donald Trump suggested arming teachers as a way to stop more U.S. rampages."
A superintendent threatens to suspend students protesting gun laws. But that's not legal., by Eli Rosenberg, The Washington Post, February 21, 2018
"The superintendent of a Texas public school district is drawing harsh criticism after issuing a written threat Tuesday to suspend any students who take part in demonstrations about gun violence after the school shooting in Florida last week."
Hong Kong student protest leader Joshua Wong released on bail, by Reuters Staff, Reuters, January 23, 2018
"Hong Kong student protest leader Joshua Wong was released on bail on Tuesday, less than a week after he was jailed for a second time for the 2014 pro-democracy protests that blocked the Chinese-ruled city's major roads for months."
CLP: Students around the world protest for change
Questions to Consider
What is a protest? How is the right to protest guaranteed in the First Amendment?
Does the right to protest protect juveniles? If not, why not?
Why are adults concerned about youth protests?
What are the regulations concerning the public schools' right to discipline students for protests?
What are school district responsibilities when students protest?
What are some ideas presented to prevent gun violence? Does action to prevent gun violence result in the denial of other rights?
Is mental health a cause of gun violence?
Will legislators listen to students? Should lawmakers listen to students?
Is there a connection between democracy and the right to protest?
What are the limits on peaceful protests?
What role can students play in making changes? Gun safety and other issues?
What does it mean to be a "change agent"?
What role do teachers and school personnel play in mentoring students to be active citizens?
What is the role of social media in facilitating protests?
How can teenagers and adults work together to make our country a better and safer place?
Who are the people you think of as models of making positive changes?
From Defining Activism, Teaching Tolerance
What is activism and what are the results of activism?
What is community?
How does activism relate to community building?
Background and More
Students Calling for Gun Control Can't Vote Yet. But Age Hasn't Stopped Young Activists in the Past , by Olivia Waxman, Time, February 22, 2018
"With the U.S. national voting age at 18, such actions are one of the few ways available for most high-school students to make their voices heard at the national political level. As Amy Campbell-Oates, a 16-year-old who organized a protest at South Broward High School near Parkland, told the New York Times, 'Some of us can't vote yet but we want to get to the people that can.'"
CLP: A great reminder for students that there are ways to make change when you can't do it in the voting booth.
When Youth Protest: The Mississippi Civil Rights Movement, 1955-1970, by Dernoral Davis, Mississippi History Now, August 2001
"Elderly and young Americans were active in the movement as well; however, students from middle school through college came to the struggle much later than most. Not until the 1960s did a substantial number of America's youth join and contribute their efforts to the struggle."
CLP: Easy to understand history of youth involvement during the Civil Rights Movement in Mississippi
We wouldn't be America without student activists, by Peniel Joseph, CNN, February 22, 2018
"Right now, amid demonstrations by high school students who are speaking out about gun violence, it's worth remembering that students, teens and younger have been part of the anatomy of social justice movements since the end of World War II, most notably the civil rights movement of the 1960s."
CLP: Opinion
Students: The Original American Revolutionaries, by Cari Zall, The Educator's Room, February 21, 2018
"This week is a sobering reminder to us that adults so easily become inured to injustice, carry on as if true change is impossible, and as a result, allow travesties to continue – with young people the most harmed victims. "
Student Activism is Serious Business, Roxanne Gay, The New Republic, November 11, 2015
"Student activism is widespread, because some students are making the most of their college experience. They understand that this may very well be the last moment in their lives when they can confront real issues in an environment where they are forced to encounter people who don't look like them, who don't think like them, environments where change is still possible."
CLP: A look at activism and protests on a college level
Student Activism Worldwide, by Philip G Altbach & Manja Klemencic, Inside Higher Ed, April 14, 2014
"There is an iron law of student political activism. Students can often bring public attention to political issues and, when there is an undercurrent of discontent, may help to create political movements that may destabilize or even defeat regimes. As a social group, students tend to have the leisure of time to exchange and develop ideas and organize within the tightly knit university environment; and the public tends to be sympathetic to students' concerns."
What to Know About the Protests in Iran, by Dr. Sanam Vakil, Chatham House, January 5, 2018
"The youth are deeply angry over their prospects within the Islamic Republic and many feel they have nothing to lose. Unemployment among youth is officially 25% and job creation has been a significant challenge for the government."
Lesson Plans
Civic engagement and ways for students to get involved, PBS Newshour
CLP: Middle and high school appropriate
Defining Activism, Teaching Tolerance
CLP: Middle and high school appropriate
Ruby Bridges: A Simple Act of Courage, Scholastic
CLP: Grades 6-8
What about students' free speech rights?, Civics Learning Project
CLP: Middle and high school appropriate
Constitutional and Legal Connections
Will adults listen to the Parkland high school students?, by Kathryn Schumaker, Chicago Tribune, February 21, 2018
"Many news outlets seemed surprised that young people would seize the opportunity to assert themselves as leaders. They shouldn't be. Students have long been at the forefront of social movements, risking punishment both inside and outside schools for their activism."
CLP: Opinion; background on how the courts have dealt with student protests
Is There a Right to Peaceful Protest?, FindLaw.com, February 14, 2018
"Protesting — the time-honored practice of publicly speaking out against perceived injustices and urging action — is a form of assembly and thus protected by the Constitution. But while there is a right to peaceful protest in the U.S., "peaceful" being the operative word, there are limits."
Can Schools Discipline Students for Protesting?, by Vera Eidelman, ACLU, February 22, 2018
"In the last few days, many people have asked whether schools can discipline students for speaking out. The short answer? It depends on when, where, and how the students decide to express themselves."
Constitutional Topic: Student Rights, U.S. Constitution
"Generally speaking, the Constitution applies equally to everyone, regardless of age, color, race, religion, or any other factor. However, minors are a special category of person, and in many cases, the rights of minors can be suppressed in ways that the rights of adults simply may not be."
Oregon & the Northwest
High school walkouts in Springfield, Eugene mirror student protests nationally on Wednesday, by Alisha Roemeling, The Register-Guard
"At Springfield's A3, students walked out the front door of the school, located on Main Street in the heart of downtown Springfield, shortly after noon and gathered at Springfield City Hall, about a half-block away."
Oregon State Social Science Standards
8.8 Evaluate information from a variety of sources and perspectives.
8.14 Explain rights and responsibilities of citizens.
8.21 Analyze important political and ethical values such as freedom, democracy, equality, and justice embodied in documents such as the Declaration of Independence, the United States Constitution, and the Bill of Rights.
8.26 Examine a controversial event, issue, or problem from more than one perspective.
8.27 Examine the various characteristics, causes, and effects of an event, issue, or problem.
8.28 Investigate a response or solution to an issue or problem and support or oppose, using research.
HS.1 Evaluate continuity and change over the course of world and United States history.
HS.2 Analyze the complexity and investigate causes and effects of significant events in world, U.S., and Oregon history.
HS.9 Identify historical and current events, issues, and problems when national interests and global interest have been in conflict, and analyze the values and arguments on both sides of the conflict.
HS.24 Analyze and critique the impact of constitutional amendments.
HS.30 Analyze the roles and activities of political parties, interest groups and mass media and how they affect the beliefs and behaviors of local, state, and national constituencies.
HS.35 Examine the pluralistic realities of society (e.g. race, poverty, gender and age), recognizing issues of equity, and evaluating need for change.
HS.57 Define, research, and explain an event, issue, problem or phenomenon and its significance to society.
HS.58 Gather, analyze, use and document information from various sources, distinguishing facts, opinions, inferences, biases, stereotypes, and persuasive appeals.
HS.59 Demonstrate the skills and dispositions needed to be a critical consumer of information.
HS.60. Analyze an event, issue, problem, or phenomenon from varied or opposing perspectives or points of view.
HS.61 Analyze an event, issue, problem, or phenomenon, identifying characteristics, influences, causes, and both short- and long-term effects.
HS.63. Engage in informed and respectful deliberation and discussion of issues, events, and ideas.
We the People Lesson Connections
Middle School, Level 2
Unit 6, Lesson 29: What are the rights and responsibilities of citizenship?
Unit 6, Lesson 30: How might citizens participate in civic affairs?
High School, Level 3
Unit 5, Lesson 30: How does the First Amendment protect freedom to assemble, petition, and associate?
Unit 6, Lesson 34: What is the importance of civic engagement to American Constitutional Democracy?
Unit 6, Lesson 35: How have civil rights movements resulted in fundamental political and social change in the United States?
Unit 6, Lesson 37: What key challenges does the United States face in the future?