CLP Current Event: September 25, 2018
Protesting has a long history in the United States. Sporting events have been used by a variety of athletes to protest inequality and social injustice. Learn more about the most recent athletic protests in this week's CLP Current Event.
Brought to teachers by Susie Marcus, CLP consultant, with CLP staff.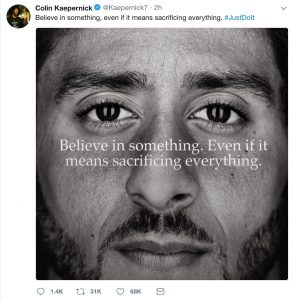 "While no human rights instrument or national constitution grants the absolute right to protest, such a right to protest may be a manifestation of the right to freedom of assembly, the right to freedom of association, and the right to freedom of speech."
How important is this right? How do we encourage people to speak out for their most basic beliefs? Are we responsible for helping others to speak even if we disagree with what they say?
News Sources
Harvard awards Colin Kaepernick top honor for African and African American studies, by Jacob Bogage, The Washington Post, September 20, 2018
"Kaepernick will be awarded the W.E.B. Du Bois medal in October along with seven other honorees, including comedian Dave Chappelle, artist Kehinde Wiley (who painted the official portrait of former president Barack Obama) and Equal Justice Initiative founder and executive director Bryan Stevenson."
Controversy Sells: Nike Sold Out of More Items After the Colin Kaepernick Ad, Even as It Cut Discounts, by David Meyer, Fortune, September 20, 2018
"Now there's more data to back up the Kaepernick effect: Thomson Reuters' research arm looked into the data on Nike's online sales in the 10 days following the campaign's launch, and discovered a 61% rise in the amount of sold-out merchandise compared with the 10 days before the launch."
With a Life Told in Reverse, Nike Once Again Powerfully Celebrates an Embattled Athlete, by David Griner, Adweek, September 11, 2018
"The newest spot in the 30th anniversary of Just Do It tells a brief life story of Caster Semenya, the South African middle-distance runner who took gold at the 2016 Olympics. Her career, especially after a period of dramatic improvement on her personal bests, has been beset by scrutiny of her sex and testosterone levels since Semenya was 18 years old."
CLP: This site requires a login for to read the entire article.
Wood calls Nike's ad featuring Kaepernick 'beautiful', by Nick Menta, Golf Channel, September 7, 2018
"This is the second time in the last three events that Woods has been asked to comment on social issues outside of golf. A Puliter Prize-winning reporter from the New York Times asked Woods at The Northern Trust to comment on his relationship with Trump and on Trump's impact on race relations in the U.S."
Nike takes on Donald Trump, risks backlash, in Colin Kaepernick campaign, by Jeff Manning, The Oregonian, September 4, 2018
"For a company known for outrageous, funny and even inspiring advertisements, the new 30th anniversary "Just Do It" campaign has put Nike in an unprecedented position: effectively picking a fight with a sitting president and his millions of supporters. Donald Trump repeatedly blasted Kaepernick after the former 49er began kneeling during the playing of the national anthem. He did so to protest social injustice and police violence against African Americans."
Here's Nike's full ad featuring Colin Kaepernick, Lebron James, Serena Williams and other athletes, by Lauren Thomas & Jessica Golden, CNBC, September 5, 2018
"Despite Kaepernick's appearance in it, the new Nike commercial isn't overtly political. It makes no reference to 'taking a knee.' Instead, it sticks to the inspirational tone that Nike's 'Just Do It' campaign is famous for."
Louisiana Mayor Orders Nike Boycott Over 'Political' Ad, by Laignee Barron, Time, September 11, 2018
"The day after Nike announced Colin Kaepernick as the face of its new ad campaign, a Louisiana mayor reportedly banned the company's products from booster clubs and recreation facilities."
Serena's U.S. Open Tirade Creates A Challenge For Nike, by Patrick Rishe, Forbes, September 9, 2018
"And with Nike just authoring a poignantly provocative commercial in recent days which prominently includes Serena near the end of the spot, they cannot be happy with her antics from Saturday night…as her behavior conveyed an air of elitism, entitlement, and poor sportsmanship inconsistent with Nike's core mores, ethos, and brand virtues."
Colin Kaepernick's Nike Campaign Keeps N.F.L. Anthem Kneeling in Spotlight, by Kevin Draper and Ken Belson, The New York Times, September 3, 2018
"Now, with just one tweet, the former N.F.L. quarterback and Nike have set the world alight, causing a flurry of stories in major publications, inspiring a top trending hashtag across social media and possibly even contributing to a broader decline in the stock market."
Colin Kapernick's '#ImWithKap' jerseys sell out just hours after going on sale, by Chris Cwik, Yahoo Sports, September 10, 2018
"Demand was high, and Kaepernick knew it. Kaepernick's new Nike ad may have made some angry, but a fair amount of people said they were more willing to buy from the company after seeing his commercial. That's exactly what happened, as the jerseys quickly sold out."
Nike Returns to Familiar Strategy With Kaepernick Ad Campaign, by Kevin Draper, Julie Creswell, and Sapna Maheshwari, The New York Times, September 4, 2018
"Nike has long relied on controversy in marketing an image of edgy youthfulness. The company had Charles Barkley declare that he was not a role model and Tiger Woods remind people that some country clubs would turn him away because of his skin color. It dressed the tennis player Andre Agassi in jean shorts."
Nike 'Just Did It' With Colin Kaepernick, And You Should Applaud, by Terence Moore, Forbes, September 4, 2018
"We believe Colin is one of the most inspirational athletes of this generation, who has leveraged the power of sport to help move the world forward," Gino Fisanotti told ESPN, and he is Nike's vice president of brand for North America. He joined his colleagues in checking off on Kaepernick's portion of their campaign that stresses this message to young people: "Believe in something. Even if it means sacrificing everything."
Colin Kaepernick Hasn't Played an NFL Game in 2 Seasons, but He Just Keeps Winning, by Sean Gregory, Time, September 4, 2018
"Kaepernick's fate is not tied to Nike's. Even if the company's sales slump, Kaepernick could make millions from the endorsement deal. Nike is featuring an athlete who is effectively suing a league with which it recently extended an official apparel partnership through 2028. Nike has picked both sides. Kaepernick doesn't need the NFL to make a very fine living."
LeBron James: 'I couldn't let' Trump use sports to try to divide us, by Andrew Joseph, USA Today, July 30, 2018
"'For me, I have a voice, I have a platform. And I have so many kids — not only kids, but also adults and everybody that kind of look for guidance and look for someone to kind of lead them in a time where they feel like their voice isn't powerful. And when you see something that's unjust or you see something that's wrong, see something that's trying to divide us as a race or as a country, then I feel like my voice can be heard and speak volumes.'"
Athletes Protest Hate: Kareem Abdul-Jabbar, Bilie Jean King Team Up for ADL's New Sports Council, by Stav Ziv, Newsweek, September 29, 2017
"Sports have always bumped up against political and social issues, from Muhammad Ali to Colin Kaepernick. Now, a new initiative aims to help professional athletes, team owners and others in the industry leverage their influence for good. The Anti-Defamation League (ADL) announced a new Sports Leadership Council on Thursday 'to promote positive social change and combat hate, bullying and discrimination in our society.'"
Colin Kaepernick-Nike Relationship Changes The Entire National Anthem Debate, by Vincent Frank, Forbes, September 14, 2018
"No matter where we stand on the now two year National Anthem debate since former San Francisco 49ers quarterback Colin Kaepernick started the protest back in August of 2016, it's a divisive topic. There's no real wrong opinion outside of those who believe that the First Amendment doesn't exist. It's divided this nation on sociopolitical and racial lines."
Questions to Consider
Who is Colin Kaepernick?
What is the NFL?
Do employers have the right to demand certain behaviors from their employees?
What influence does Nike have on sports?
What does Nike say in the 30th anniversary advertisement?
Do athletes have the right to protest during a game? Do athletes have an obligation to protest? Do athletes have special status in our society?
What does, "Believe in something, even if it means sacrificing everything", mean?
What is the "something" that is worth "sacrificing everything"?
What is racial injustice? What is police brutality?
Why are athletes protesting during the National Anthem?
What are the athletes protesting?
What is collusion? How has the NFL dealt with Colin Kaepernick?
What do supporters of the Kaepernick ad say? What do opponents of the Kaepernick ad say?
From Discussing #TakeAKnee in Class, Teaching Tolerance
Why might an athlete choose to participate in this form of protest? Why might an athlete choose not to participate?
Is there a "proper" time or place for engaging in collective action? What's the significance of this action taking place at sporting events?
The concerns raised by Colin Kaepernick aren't new, so why are these protests sparking such attention now?
How does this form of collective action connect to past movements?
What role might empathy play in helping people to understand the oppression at the center of these protests?
What could people do beyond taking a knee to help address the concerns behind that action?
Background and More
The Green Beret who inspired Colin Kaepernick to kneel instead of sit during the anthem would like to clear a few things up, by Sam Framer, Los Angeles Times, September 17, 2018
"Seeing as he had a foot in both worlds, pro football and the military, several publications approached Boyer to write an editorial about Kaepernick. He declined, reasoning he wasn't going to change any minds. It wasn't until the Army Times came to him a second time that Boyer agreed, as long as he could write it as an open letter."
The Deafening Silence of Colin Kaepernick, by Benjamin Hoffman and Talya Minsberg, The New York Times, September 4, 2018
"Kaepernick's ability to remain in the public spotlight — and at the heart of the N.F.L.'s protests — stems largely from his use of social media, where an audience in the millions follows him on multiple platforms and tracks his public appearances."
Protests in sports aren't new at all, by Lonnie Bunch and David Skorton, The Washington Post, September 28, 2017
"The history of protest in sports, much like that across society, holds many lessons for us that we can apply to the rancor that currently engulfs the nation. Sport has always been a canvas used to challenge convention, prove the worthiness of a marginalized group and prod the nation to live up to its stated ideals."
CLP: Opinion
National Anthem Protests by Black Athletes Have a Long History, by Zach Johnk, The New York Times, September 25, 2017
"Such acts of protest, often by black athletes and carried out recently by quarterback Colin Kaepernick and others who have knelt for the anthem at N.F.L. games, have a long history in the United States and an equally lengthy tradition of angering mostly white fans, sports officials and politicians."
Also see CLP Current Event on Colin Kaepernick from September 26, 2017.
Lesson Plans
Teaching About Activism in the NFL, Caucus of Working Educators
CLP: Resources for middle and high school
Athletes, Protest, and Patriotism, Teaching for Change
CLP: Resources showing multiple perspectives on protest from a variety of sports legends.
Discussing #TakeAKnee in Class, Teaching Tolerance
CLP: Discussion questions listed in Questions to Consider; middle or high school
Colin Kaepernick's National Anthem Protest and Frederick Douglass's 'What to the Slave is the 4th of July?", by Kate Harris and Tracey Barrett, The New York Times
CLP: High School
Constitutional and Legal Connections
The First Amendment and restricting professional athlete protests, by Scott Bomboy, Constitution Daily, September 25, 2017
"Almost all NFL franchises are considered private companies and NFL players belong to unions that negotiate contracts on behalf of their members.  However, pro football players also perform on game day at sports stadiums that are financed by public, tax-payer money. Would a protesting athlete have First Amendment free speech protections standing (or kneeling) on a field that is a quasi-public forum?"
CLP: Probing questions
Oregon Connections
Damian Lilliard Likens Attempts to Silence Athlete Protests to Slavey, by Sophia June, Willamette Week, October 2, 2017
"Lillard has been vocal about the role of athletes in politics, after hundreds of NFL players took a knee, locked arms or stayed in the locker room during the National Anthem last weekend to protest police brutality."
Oregon State Social Science Standards
8.8 Evaluate information from a variety of sources and perspectives.
8.14 Explain rights and responsibilities of citizens.
8.26 Examine a controversial event, issue, or problem from more than one perspective.
HS.28 Evaluate how governments interact at the local, state, tribal, national, and global levels.
HS.33 Explain the role of government in various current events.
HS.59 Demonstrate the skills and dispositions needed to be a critical consumer of information.
HS.60. Analyze an event, issue, problem, or phenomenon from varied or opposing perspectives or points of view.
We the People Lesson Connections
Middle School, Level 2
Unit 5, Lesson 23: How does the Constitution protect freedom of expression?
Unit 6, Lesson 29: What are the rights and responsibilities of citizenship?
Unit 6, Lesson 30: How might citizens participate in civic affairs?
High School, Level 3
Unit 5, Lesson 29: How does the First Amendment protect free expression?
Unit 6, Lesson 33: What does it mean to be a citizen?
Unit 6, Lesson 34: What is the importance of civic engagement to American constitutional democracy?