The presidential pardon is often cheered and questioned at the same time. How do presidents decide who to pardon? Find out this week!
Brought to teachers by Susie Marcus, CLP consultant, with CLP staff.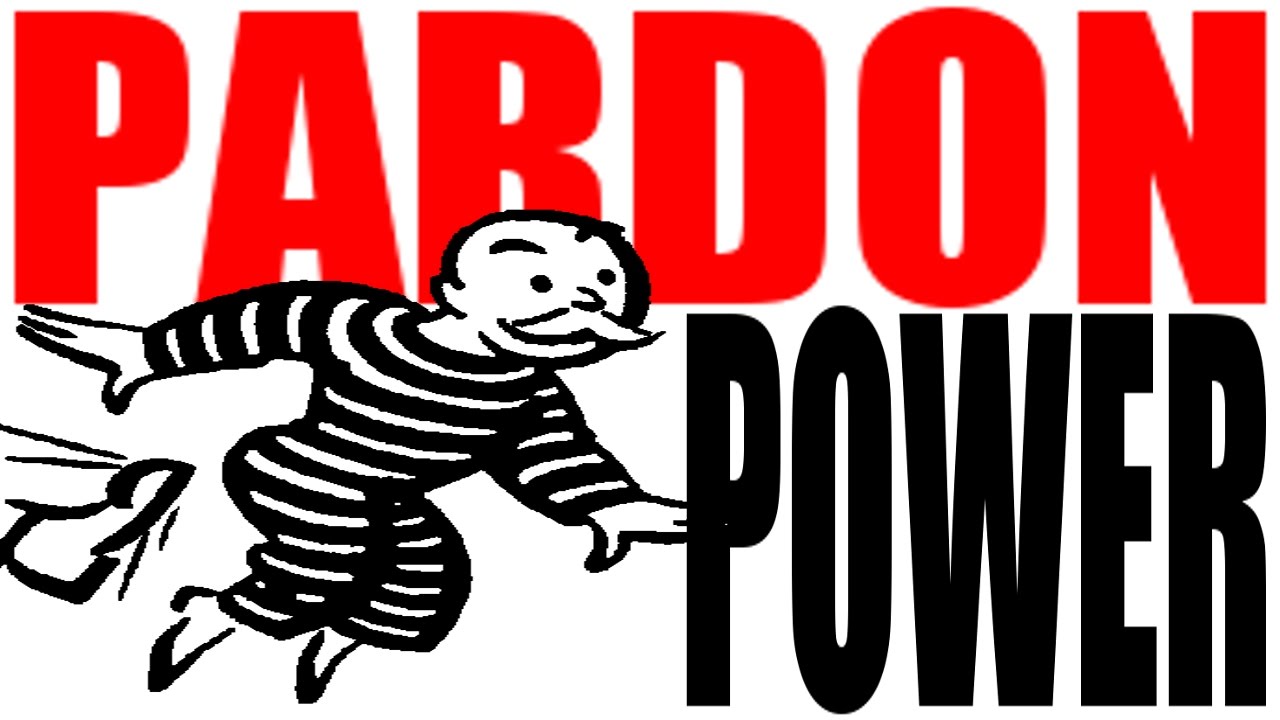 News Sources
New York Attorney General Seeks Power to Bypass Presidential Pardons, by Danny Hakim & William K. Rashbaum, The New York Times, April 18, 2018
Attorney General Eric T. Schneiderman of New York is moving to change New York state law so that he and other local prosecutors would have the power to bring criminal charges against aides to President Trump who have been pardoned, according to a letter Mr. Schneiderman sent to the governor and state lawmakers on Wednesday.
Pardon Me, President Trump, But Don't Forget Dinesh D'Souza, by Arthur Schaper, Townhall, April 17, 2018
"In 2014, the young conservative writer and speaker was arraigned in a Manhattan federal court for a $20,000 campaign violation, as he had exceeding arbitrary limits. How? After reaching his own limit, D'Souza asked a friend to donate to a friend, then D'Souza paid back her friend. Honestly, why is this a crime to begin with? This case highlights how criminal law has lots its basis in mens rea, or criminal intent. People are going to jail for breaking laws they know nothing about!"
CLP: Opinion
Who was Jack Johnson, the boxer who may be pardoned by Trump?, by Darin Adone, CNN, April 2, 2018
"In 1913, Johnson was convicted of taking his white girlfriend across state lines. He was convicted under the Mann Act, a law that was meant to prevent human trafficking and protect women against prostitution, but its critics say the law was used in racially motivated prosecutions of African-Americans and to punish political dissidents."
Trump pardons Scooter Libby: Who he is and what did he do?, by Shelly Lin Erdman, Cox Media Group National Content Desk, April 12, 2018
"Libby, a lawyer whose full name is I. Lewis Scooter Libby Jr., was indicted by a federal grand jury on five charges related to the leaking of CIA officer Valerie Plame Wilson's identity. In 2007, he was convicted of four felonies, including perjury and obstruction of justice."
Commentary: Trump's pardon of Arpaio sets a dangerous course, by Raja Krishnamoorthi, Chicago Tribune, September 17, 2017
"President Donald Trump's recent pardon of former Arizona Sheriff Joe Arpaio — who was convicted of criminal contempt for ignoring a federal court order to stop racially profiling Latinos — has been widely criticized by Democrats and Republicans."
Questions to Consider
What is a pardon?
What is a reprieve?
Why did the Framers include the right to pardon in the Constitution?
Who has the right to pardon?
Where is the right to pardon found in the Constitution?
Is a pardon a statement about punishment? Is a pardon a political statement? Is the pardon essential to the separation of powers? Is the pardon a comment about the criminal justice system?
What does a pardon say about responsibility for the offense?
How does pardoning impact the way we relate to other people?
What was the intended purpose of granting the power of pardoning to the president?
What is the danger of this power? What other purposes might it be used for, if a president so chooses?
What impact does this power have on the authority of the legislative & judicial branches?
Five Questions about the Scope and Limits of the President's Pardon Power
Can the president pardon himself?
Can a pardon cover future crimes?
Can a pardon cover offenses against state law?
Can a pardon be invalid because it violates another constitutional provision or criminal statute?
Can a future president "un-pardon" someone who has been pardoned?
Background and More
The six most controversial acts of clemency by US presidents, by David Smith, The Guardian, April 18, 2018
A look at the president's pardon power and how it works, by Associated Press, PBS Newshour, August 26, 2017
"Article II, Section 2, Clause 1 of the Constitution says: "The President … shall have Power to grant Reprieves and Pardons for Offences against the United States, except in Cases of Impeachment." The president's power can only be used to pardon someone for a federal crime, not a state one."
A Clear and Present Constitutional Danger: Why the Arpaio Pardon Matters, by Andrew Grainger, wbur.org, August 9, 2017
"The Trump pardon under these circumstances removes the court's ability to enforce a judicial interpretation of the federal Constitution. Perhaps more than any of the other steps Trump has taken that demonstrate a fundamental disregard for our system of government, this act contains the potential for the greatest and most durable systemic harm."
CLP: Opinion
10 famous people who have received presidential pardons, by NCC staff, Constitution Daily, January 18, 2017
"The President has pardon or clemency power under Article II, Section 2, Clause 1, of the Constitution, under the Pardon Clause. The clause says the President "shall have Power to grant Reprieves and Pardons for Offenses against the United States, except in Cases of Impeachment." The Office of the Pardon Attorney, which is part of the Justice Department, has handled such matters for the President since 1893, and it has a detailed description of the pardon and clemency process on its website."
61 — Proclamation 4311 — Granting Pardon to Richard Nixon, by President Gerald R. Ford, The American Presidency Project, September 8, 1974
Lesson Plans
Pardon me, Mr. President, Bill of Rights Institute
CLP: Middle & High School
Watergate and the limits of presidential power, PBS Newshour Extra
CLP: Middle & High School
Are you in favor of presidential pardons?, Debate.org
CLP: Not so much a lesson plan, but a poll with solid explanations backing up opinions. Could be used as a model in the classroom.
Constitutional and Legal Connections
No Pardon for You, Michael Cohen, by Jed Shugerman, Slate, April 17, 2018
"Any of Trump's pardons (or firings) wouldn't be likely to save Cohen, just as they wouldn't be likely to save Paul Manafort or Michael Flynn. That's because, as I've written before, presidential pardons only apply to federal charges, and there are ways for federal prosecutors to craft their charges so as to leave the door open for state charges that wouldn't violate double jeopardy in case of pardons or firings."
Is Trump's pardon of Scooter Libby a warm-up for a constitutional crisis?, by Jennifer Rubin, The Washington Post, April 16, 2018
"Indeed if the president cannot escape bribery charges if he receives cold hard cash in exchange for a pardon, it is inconceivable that he could be allowed to get something far more valuable than cash: help evading prosecution. The motive, in other words, is critical when you are looking at crimes such as obstruction of justice for which a "corrupt intent" is required. It is hard to imagine a more corrupt intent than pardoning someone to escape your own prosecution."
CLP: Opinion
If Trump tries to pardon himself, one of our most important forefathers may be responsible, by Taylor Wofford, Business Insider, July 26, 2017
"Whether or not Hamilton thought the president should be able to pardon himself, he did argue for as few restrictions on the pardoning power as possible. "Humanity and good policy conspire to dictate, that the benign prerogative of pardoning should be as little as possible fettered or embarrassed," Hamilton wrote in Federalist Paper No. 74."
Can the president pardon himself? 4 questions about the presidential pardon, by Louis Jacobson & John Kruzel, Politifact, July 21, 2017
"With news reports suggesting that the Trump White House and their legal advisors are taking a close look at the president's pardon power, we decided to review the rules ourselves. We've asked a dozen legal experts for their views on four questions related to presidential pardons."
Presidential pardon powers 101: The Precedents, by Scott Bomboy, Constitution Daily, July 21, 2017
"Debates about presidential pardon powers come up on a regular basis, but in some ways they are among the most misunderstood aspects of executive powers granted by the Constitution."
Oregon & the Northwest
Oregon Governor Pardons Ex-Gang Member Who Became Mentor, by Associated Press, U.S. News, February 12, 2018
"Dondrae "Choo" Fair pleaded guilty to first-degree robbery and other crimes after committing a carjacking at age 19. He returned to gang life after prison and was shot in the chest while leaving a funeral in 2000. That proved a turning point. Fair stopped his gang activity and later became a mentor, using his experience to educate young people and encourage them not to repeat his mistakes."
Oregon State Social Science Standards
8.21. Analyze important political and ethical values such as freedom, democracy, equality and justice embodied in documents such as the Declaration of Independence, the United States Constitution, and the Bill of Rights.
8.26. Examine a controversial event, issue, or problem from more than one perspective.
8.27. Examine the various characteristics, causes and effects of an event, issue, or problem.
HS.27. Examine functions and processes of United States government.
HS.33. Explain the role of government in various current events.
HS.59. Demonstrate the skills and dispositions needed to be a critical consumer of information.
HS.60. Analyze an event, issue, problem or phenomenon from varied or opposing perspectives or points of view.
HS.61. Analyze an event, issue, problem or phenomenon, identifying characteristics, influences, causes, and both short- and long-term effects.
We the People Lesson Connections
Middle School, Level 2
Unit 3, Lesson 16: How much power should be given to the executive and judicial branches?
Unit 5, Lesson 27: How does the Constitution protect the right to due process of the law?
High School, Level 3
Unit 4, Lesson 23: What is the role of the president in the American Constitutional system?