CLP Current Events examines Time magazine's selection of its Person of the Year: The Silence Breakers. Who are they and how did they change the course of the news over the past year? Who were Time's runner-ups? Explore the materials and find the Oregon connection.
Brought to teachers by Susie Marcus, CLP consultant, with CLP staff.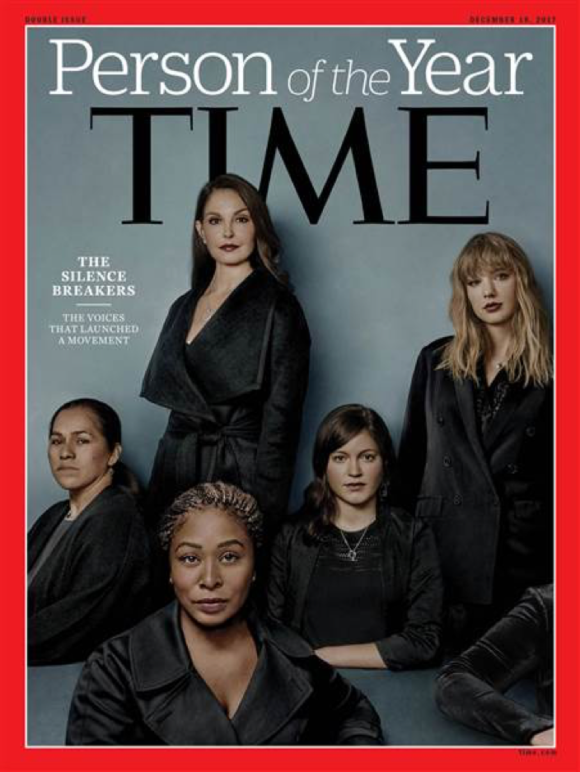 Person of the Year is an annual issue of the news magazine Time that features and profiles a person, a group, an idea, or an object that "for better or for worse… has done the most to influence the events of the year".
News Sources
TIME Person of the Year 2017: The Silence Breakers
by Stephanie Zacharek, Eliana Dockterman, and Haley Sweetland Edwards, TIME, Dec. 6, 2017
"(About sexual misconduct) … This reckoning appears to have sprung up overnight. But it has actually been simmering for years, decades, centuries. Women have had it with …"
CLP: this is TIME's article announcing its Person of the Year; not short but worth every word.
The Silence Breakers are TIME's 2017 Person of the Year
by Eun Kyung Kim, Today, Dec. 6, 2017
TIME magazine's editor-in-chief Edward Felsenthal explained,"… 'The galvanizing actions of the women on our cover … along with those of hundreds of others, and of many men as well, have unleashed one of the highest-velocity shifts in our culture since the 1960s,' …"
CLP: the story about the story; helpful explanation of TIME's choice for Person of the Year
Who Are the 'Silence Breakers' Featured as 'Time' Person of the Year?
by Ashley May, USA Today, Dec. 6, 2017
"…This is the fastest-moving social change we've seen in decades, and it began with individual acts of courage by hundreds of women, and some men, who came forward to tell their own stories of sexual harassment and assault,…"
CLP: Lists some of the Silence Breakers and their stories including Oregon Sen. Sara Gelser.
Yes, Taylor Swift Is a 'Silence Breaker' – and This Is Why
by Alice Vincent, Telegraph (UK), Dec. 6, 2017
"The magazine has profiled a number of women … But the most recognizable face, and name, among them is Taylor Swift.  In August, after a lengthy court case, she won a symbolic dollar from former radio DJ … she stated her aim was 'to help those whose voices should be heard'."
Person of the Year: Time Magazine Explains Mystery Arm
"…'She is faceless on the cover and remains nameless inside Time's red borders, but her appearance is an act of solidarity, representing all those who are not yet able to come forward and reveal their identities,' Time says…"
CLP: powerful, especially for those who cannot yet speak out
The Shortlist for Time Magazine's 2017 Person of the Year
by SBG San Antonio, Dec. 4, 2017
CLP: helpful one-sentence descriptions of runner's ups in TIME's list.
TIME Announces 2017 Person of the Year Shortlist in Today Show
by Time Staff, TIME, Dec. 4, 2017
"…Since 1927, TIME has identified the Person of the Year, recognizing the person or group of people who most influenced the news during the past year, for better or for worse…In alphabetical order, the 10 finalists selected by TIME editors this year are…"
CLP: ask students to explore the list, click on faves, make their own suggestions, etc. Runner-ups include: Jeff Bezos, Dreamers, Patty Jenkins, Kim Jong Un, Colin Kaepernick, #MeToo Movement, Robert Mueller, Crown Prince Mohammed bin Salman, Donald Trump, and Xi Jinping.
Why Xi Jinping Should Be Named 'Person of the Year' (FEATURE)
by Michael Harris, Ph.D., Kokomo Perspective, Nov. 28, 2017
CLP: another perspective
Questions to Consider
What is Time magazine?
What determines who is chosen the Person (newsmaker) of the Year? (Since 1927, TIME has identified the Person of the Year, recognizing the person or group of people who most influenced the news during the past year, for better or for worse.)
What does "influenced the news" mean?
What criteria would you add or subtract in making the choice?
Who would you add to the list? Why would you add them?
Does the person make the news or does the news make the person?
Why are groups or movements or inanimate objects included on this list?
Should the name of this recognition be changed to avoid thinking of this as an honor rather than a recognition as a change agent?
Is gender equity a consideration in nominating candidates? Only one woman appears in the 2017 short list? Should that matter?
Is criticism of Time magazine that they are using this Person of the Year to enhance its circulation fair?
What do we learn from recognizing people who have been featured in the news this year? Do we want to honor the Person of the Year rather than analyze her/him?
What is a "silence breaker"? Why is speaking out an important component in creating an equitable society? What does the cover of Time magazine say to us? Is the empty space in the portrait left for the next silence breakers? What about the faceless arm in the foreground?
How does the change in the way we consume news affect the impact of news in a magazine as opposed to news available through social media?
Is there a legal obligation to report harassment? Is there a moral duty to report misconduct? What are the risks of reporting bad actions of others? What are the risks of failing to report misconduct? Is there a difference between one's duty to report if you are a victim or if you are a witness?
Do the Silence Breakers signal a cultural change in the way we think about gender respect and the role of women in the workplace? What other changes might we expect as a result of this movement? How do respectfulness and recognition of boundaries enrich our lives?
Background and More
TIME Has Been Picking a Person of the Year Since 1927. Here's How It All Started
by Lily Rothman, Time, Dec. 5, 2017, updated Dec. 6, 2017
"…The choice is in no way an accolade, nor a Nobel Prize for doing good. Nor is it a moral judgment. (Al Capone was runner-up in riotous, bootleg 1928.) The two criteria are always these: who had the biggest rise in fame; and who did the most to change the news for better (like Stalin in 1942) or for worse (like Stalin in 1939, when his flop to Hitler's side unleashed this worldwide war)…"
CLP: interesting back story and clarification of Time's intent
Who Should Be TIME's Person of the Year for 2017?
Time Staff, Nov. 17, 2017, updated Dec. 4, 2017
"Voting on TIME's person of the year reader's choice poll …"
Everything You Wanted to Know About TIME's Person of the Year
by Kelly Conniff, /time, Dec. 9, 2014
CLP: very informative FAQ-style article
What Makes a Story Newsworthy? From MediaCollege.com
"… what makes news newsworthy? There is a list of five factors…"
CLP: great list!
Lesson Plans
Time Person of the Year, lessonplansdarrin
"… Imagine that you have been chosen for Time Magazine's Person of the Year. Create a poster depicting yourself on the cover of this prestigious magazine…"
CLP: elementary or higher level; allows for personalizing choices.
Facebook Creator is Time Person of the Year (December 16, 2010), from Breaking News English
CLP: use as a template for your own Person of the Year lesson.
Constitutional and Legal Connections
Jury Rules in Favor of Taylor Swift in Groping Case
by Sanbdra Gonzalez, Scott McLean, Sara Weisfeldt and Topher Gauk-Roger
"…He will be required to pay $1 in damages to Swift…"*
CLP: Swift's case explained here.
*Update: DJ Sends Taylor Swift $1 Sacagawea Coin to Settle Groping Case
by Associate Press, page SixDec. 6, 2017
Guilty Until Proven Innocent: Was #MeToo Appropriate?
by Jaya Harrar, Lawyer Monthly, Dec. 1, 2017
"…when is sexual harassment 'wrong'?…has social media given a voice to victims?…"
CLP: good questions are raised.
Oregon & the Northwest
Oregon Senator Included in Time's Person of Year's 'Silence Breakers'
by Lizzy Acker, the Oregonian/OregonLive, Dec. 6, 2017
"… on that list is an Oregon state senator, Sara Gelser, a Democrat from Corvallis who has served in the Legislature since 2007. In October, Gelser came forward with her story that another senator, Jeff Kruse, a Republican from Roseburg who has served since 1997, had been inappropriately touching her for years, even after she reported his behavior to the Legislature's human resources and legal staff…."
Oregon State Social Science Standards
8.8 Evaluate information from a variety of sources and perspectives.
8.14 Explain rights and responsibilities of citizens.
8.20 Analyze the changing definition of citizenship and the expansion of rights.
8.21 Analyze important political and ethical values such as freedom, democracy, equality, and justice embodied in documents such as the Declaration of Independence, the United States Constitution, and the Bill of Rights.
8.25 Critique data for point of view, historical context, distortion, or propaganda and relevance.
8.26 Examine a controversial event, issue, or problem from more than one perspective.
8.27 Examine the various characteristics, causes, and effects of an event, issue, or problem.
8.28 Investigate a response or solution to an issue or problem and support or oppose, using research.
HS.1 Evaluate continuity and change over the course of world and United States history.
HS.6 Analyze ideas critical to the understanding of history, including, but not limited to: populism, progressivisim, isolationism, imperialism communism, environmentalism, liberalism, fundamentalism, racism, ageism, classism, conservatism, cultural diversity, feminism, and sustainability.
HS.27 Examine functions an process of United Sates government.
HS.30 Analyze the roles and activities of political parties, interest groups and mass media and how they affect the beliefs and behaviors of local, state, and national constituencies.
HS.33 Explain the role of government in various current events.
HS.34 Explain the responsibilities of citizens (e.g., vote, pay taxes).
HS.57 Define, research, and explain an event, issue, problem or phenomenon and its significance to society.
HS.58 Gather, analyze, use and document information from various sources, distinguishing facts, opinions, inferences, biases, stereotypes, and persuasive appeals.
HS.59 Demonstrate the skills and dispositions needed to be a critical consumer of information.
HS.60 Analyze an event, issue, problem, or phenomenon from varied or opposing perspectives or points of view.
HS.61 Analyze an event, issue, problem, or phenomenon, identifying characteristics, influences, causes, and both short- and long-term effects.
HS.63. Engage in informed and respectful deliberation and discussion of issues, events, and ideas.
We the People Lesson Connections
Middle School, Level 2
Unit 6, Lesson 29: What are the rights and responsibilities of citizenship?
Unit 6, Lesson 30: How might citizens participate in civic affairs?
High School, Level 3
Unit 6, Lesson 34: What is the importance of civic engagement to American constitutional democracy?
Unit 6, Lesson 37: What key challenges does the United States face in the future?