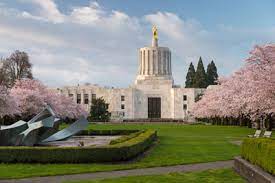 In 2010, Oregonians voted that the Oregon Legislature would meet annually; the Legislature meets for a maximum of 160 days in odd-numbered years and 35 days in even-numbered years.  This year, the Oregon Legislature, composed of the House and the Senate, is meeting to discuss and vote on hundreds of bills in that 160 days.  Unfortunately, some of those hearings have been delayed by positive tests for COVID-19 among legislators and their staff. In response, Governor Brown created an opportunity for all Oregon legislators to receive a COVID-19 vaccine.
Also slowing the process was a decision by House Republicans to require that each bill be read in full, in protest of the Capitol being closed to the public because of COVID-19 concerns.  However, last Wednesday, the two parties came to a compromise, as legislative Democrats agreed to increase Republican representation in the process of redrawing the state's political districts in exchange for a commitment from Republicans to discontinue the bill-reading requirement that has been preventing proposed legislation from moving ahead in a timely manner.  
Among the hundreds of bills that the Oregon Legislature will hold hearings for, and vote on during the session are education bills like an effort to require Civics Education for all Oregon students, as well as a bill extending overtime pay to farmworkers, and a bill to create a new category of dentists to cover dental care for more Oregonians.  The Senators and Representatives are working on creating new laws that they think will benefit all Oregonians.  Some of the bills are contentious, all of them have supporters and detractors, and many will be of keen interest to your students as they directly impact different aspects of their lives. 
Don't miss the podcast we have included with an interview of the Chief Clerk of the House, Tim Sekerek, that presents a non-partisan view of how the Oregon Legislature works, as it is his job to ensure the rules are followed. His comments on the importance of civil discourse and civics education are particularly relevant.
This week's Current Event explores the 2021 Legislative session in Oregon.  While we have included articles on legislation we believe will be of high interest for your students, we have also included a link to the Legislature website for your students to get more information on the legislative process here in Oregon, as well as research other pending legislation. Consider finding a bill of high interest, researching both the support for and the opposition to that bill, and use our structured academic controversy method to have a "committee hearing" about the bill in class.  Or, have your students research bills of interest, present those to the class, and then follow them to see if and how they are passed.
Essential Questions
:
What is the process for moving a bill through the Oregon Legislature, and how does that differ from how bills move through the United States Congress?

How does the geography of Oregon impact the bills being discussed and passed?

Why is it Oregonians' responsibility to remain informed about the workings of the Oregon Legislature?  How can Oregonians become involved in the legislative process?

How are these bills going through the Oregon Legislature ensuring Oregonians' rights to "life, liberty, and the pursuit of happiness"?
Video:
Podcast: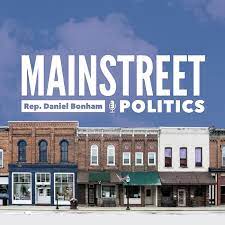 Recent Articles:
Plan to increase access to dental care up for debate in Oregon Legislature- again, OBP, April 15, 2021
Oregon lawmakers reach deal to end delay tactics slowing session, OPB, April 14, 2021
Oregon Legislature lurches into the second half of the 2021 session, Corvallis Gazette Times, April 13, 2021
Measure 11 reform bill stays alive in Oregon Legislature but committee formed to discuss revisions, The Oregonian, April 13, 2021
Oregon Legislature has until September to redraw district maps, Statesman Journal, April 12, 2021
Oregon House votes to make Juneteenth an Oregon state holiday, OPB, April 9, 2021
Oregon Senate votes to make passing civics a graduation requirement, The Oregonian, April 7, 2021
In a bi-partisan effort, Oregon House committee passes package of police reform bills, The Oregonian, April 6, 2021
Bill banning firearms from Oregon's state buildings passes Senate, East Oregonian, updated April 1, 2021
Salem professionals support legislation to make telemedicine a more routine part of healthcare, Salem Reporter, April 1, 2021
Oregon Legislature debates extending overtime pay to farmworkers, Salem Reporter, March 24, 2021
Recent Editorial:
Our view: Voters need to remain engaged in legislative activity, Blue Mountain Eagle, April 13, 2021
Article for Younger Grades:
How government works: a look at state and local governments, Newsela, Feb. 15, 2017
Websites:
Oregon Legislature: How an idea becomes a law
Lesson Plans:
Oregon State Legislature Lesson Plans (4th grade)
Oregon State Capitol Foundation
Lesson Plans regarding Media & News Literacy (general):
Media Literacy Resources – Newseum
News & Media Literacy Lessons – Common Sense
Media Misinformation, Viral Deception, and "Fake News" – University of Wyoming
Evaluating Sources in a 'Post-Truth' World: Ideas for Teaching and Learning About Fake News – New York Times Lessons