There is no net, and everyone seems to be for it or against it with little to no neutral space between. So what is net neutrality? A federal agency's ruling in December will have impact across the country and perhaps the world. Access this week's CLP Current Event to explore News Sources, Background, and more for everything from FAQs to who is suing whom.
Brought to teachers by Susie Marcus, CLP consultant, with CLP staff.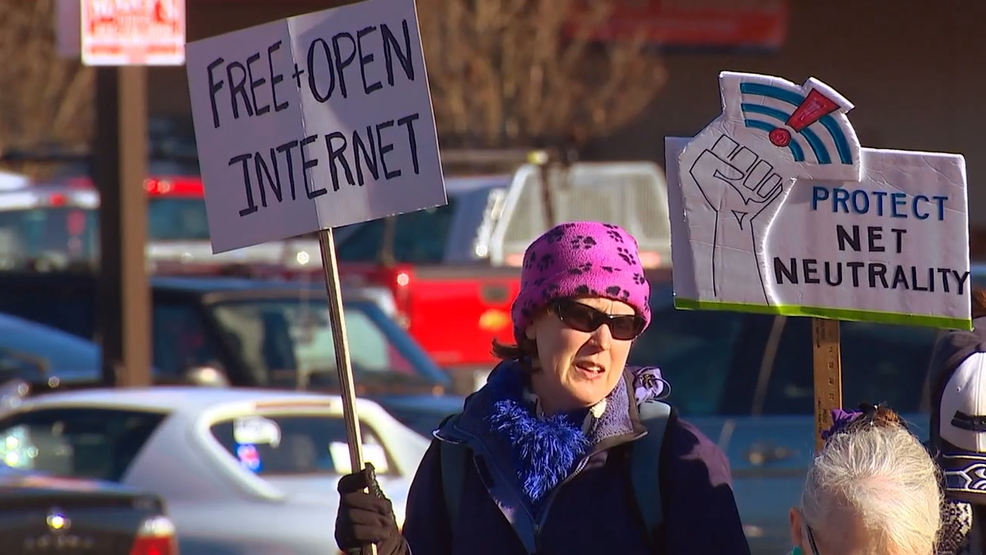 News Sources
Net Neutrality Repeal: What Could Happen and How It Could Affect You, by Steve Lohr, New York Tmes, Nov. 21 2017
(Updated: On Thursday, the Federal Communications Commission voted to repeal net neutrality, rules that regulated the businesses that connect consumers to the internet.)
"For you and me, the repeal of net neutrality can be boiled down to two questions: What might happen? And whom do you trust? Here's our guide for internet users looking for answers…"
CLP: This is helpful!
F.C.C. Repeals Net Neutrality Rules, by Celia Kang, the New York Times, Dec. 14, 2017
"The (FCC) dismantle(s) rules regulating the businesses that connect consumers to the internet, granting broadband companies the power to potentially reshape Americans' online experiences… "There is a lot of misinformation that this is the 'end of the world as we know it' …" Comcast's senior executive vice president, David Cohen, wrote in a blog post this week. "Our internet service is not going to change." But with the F.C.C. making clear that it will no longer oversee the behavior of broadband providers, telecom experts said, the companies could feel freer to come up with new offerings, such as faster tiers of service for online businesses willing and able to pay for it…"
CLP: START HERE for an overview of what happened. Though published under Technology section, not Opinion, it is critical of the FCC decision.
As FCC Prepares Net-Neutrality Vote, Study Finds Millions of Fake Comments, by Brian Naylor, National Public Radio, Dec. 14, 2017
"It seems like a lot of Americans are interested in the net-neutrality debate. Some 22 million public comments have been filed with the Federal Communications Commission on the issue of whether all web traffic should be treated equally… But, it turns out, much of that public input is not what it appears. The Pew Research Center took a close look at the comments… 94 percent of the comments 'were submitted multiple times, and in some cases those comments were submitted many hundreds of thousands of times.'"
CLP: IMPORTANT. Consider the implications of Americans' public comments to government agencies being hacked.
Right and Left React to the F.C.C.'s Vote on Net Neutrality Rules, by Anna Dubenko, Nw York Times, Dec. 15, 2017
CLP: NYT's selection of differing perspectives of how left and right view net neutrality. Consider using to study reasoning of both.
Net Neutrality is Vital for People of Color — and That's One More Reason Congress Needs to Make It Law, by Brian Woolfolk, Business Insider, Dec. 18, 2017
"Preserving an open internet is important to ensure that people of color and those without money or influence don't lose a pathway to economic success…"
CLP: Raises questions about disproportionate impact on minorities
26 Senators Are Supporting a Resolution to Undo the FCC's Net Neutrality Repeal, by Colin Lecher, the Verge, Dec. 20, 2017
"…Senators who have signed on to the resolution now include Ron Wyden (D-OR), Chuck Schumer (D-NY), and Elizabeth Warren (D-MA). But the resolution may still be a longshot …
Meanwhile, Rep. Marsha Blackburn (R-TN) has introduced legislation in the House, but supporters of past net neutrality protections have widely criticized the bill as insufficient."
Net Neutrality Is Gone For Now. But Here's Everything That's Next, by Harold Stark, Forbes, Dec. 31, 2017
CLP: Tech writer explains new, tech-based solutions but returns to old-school, contact-your-representatives approach.

California Lawmakers Now Have Two Net Neutrality Bills Before Them, by Benny Evangelista, San Francisco Chronicle, Jan. 4, 2018
Questions to Consider
What is net neutrality? Why does it matter to me?
What is the FCC?
What are the arguments to keep net neutrality?
What are the arguments to abolish net neutrality?
What might change if fraud was committed in the FCC comment process?
Why is net neutrality a partisan issue? Why is net neutrality a religious issue?
Why is net neutrality a business issue? Why is net neutrality a regulatory issue?
Why is net neutrality an equal access issue?
How can supporters of net neutrality demonstrate their concern about the
recent FCC decision? Can Congress change this decision? What role might the courts play?
What is "throttling"? Should users be aware of internet speeds?
How is net neutrality handled in other countries? Why is this a global discussion?
What's going to change when these rules are adopted?
If nothing would happen to the Internet if these new rules were not adopted, why should I care?
If everyone agrees on the rules, why are we still talking about this?
Why is the FCC taking this drastic measure to reclassify broadband?
Will a new classification for broadband change anything?
Will Feb. 26 mark the end of this battle? (Sadly, no. https://www.cnet.com/news/net-fix-8-burning-questions-about-net-neutrality/ )
How has the Internet influenced the democratic process? Why is Net Neutrality such an important issue to Joan Blades of MoveOn and Michelle Combs of the Christian Coalition? Why does Mike MCurry, a lobbyist for broadband network providers, think government regulation is not necessary? http://www.pbs.org/moyers/moyersonamerica/netatrisk_lesson.html
Discussion questions from PBS NewsHour:
Essential question:  How does net neutrality affect people who use the internet?
Why do many consumer groups and some tech companies support net neutrality and government regulations? Why are large companies like Verizon, AT&T and Comcast against net neutrality rules?
What options will consumers have to avoid paying more for internet services if net neutrality is scrapped?
Do you think you will be personally affected if net neutrality rules are abolished? Explain your response.
Do you think net neutrality regulations should be dismantled? Why or why not?
Media literacy question: Kim Hart of Axios news discusses how tech companies like Facebook and Google had been more vocal in the past in their opposition to rolling back net neutrality rules. What brought on this change, according to Hart? Why is it important to know the types of organizations involved in the net neutrality debate, including tech companies, internet service providers and consumer groups?
And more from PBS NewsHour:
Essential question: How did the issue of net neutrality become so controversial?
Why did the issue of net neutrality turn political? Why did Republicans on the FCC vote to end net neutrality rules and Democrats vote to maintain them?
Why is net neutrality also referred to as the open internet?
A recent poll showed 83 percent of Americans favor net neutrality rules, including 75 percent of Republicans, 89 percent of Democrats and 86 percent of independents. Why did the FCC officials choose to make a decision knowing that it was going to be unpopular?
How will this change affect the next five years of the internet?
Background and More
Why the FCC's Proposed Internet Rules May Spell Trouble Ahead (ANALYSIS), OPB/PBS NewsHour, Nov. 21, 2017
As the proposal to reverse the Obama-era Open Internet Order, a key question consumers and policymakers alike are asking is: What difference do these rules make? …"
CLP: technical background of net neutrality
The FAQs: What You Should Know About Net Neutrality, by Joe Carter, the Gospel Coalition, Dec. 16, 2107
"What just happened?… What is net neutrality?… What is the basic argument in favor of net neutrality regulation?… What is the basic argument against net neutrality regulation?…"
CLP: Christian source; solid on the main issues.
What Does the End of U.S. Net Neutrality Mean for the World?, by CNN Wire, Dec. 16, 2017
"The vote to roll back net neutrality rules in the U.S. could have major global implications… experts say the U.S. risks surrendering its role as the champion of a free and open internet… Countries where data plans are too expensive for most of their citizens are especially vulnerable…"
For more, see "Canada Doubles Down on Net Neutrality…" and "As the US Moves to Gut the Open Internet, Will Other Democratic Countries Follow?"
After the Death of Net Neutrality, What Will the Internet Look Like? (OPINION), by Fred 
Benenson, LA Times, Dec. 18, 2107
"The year is 2020, and enough time has past for the Federal Communication Commission's repeal of net neutrality rules to have changed the way we communicate online. What's it like to use the internet?…"
CLP: opinion but a look at the future.
Lesson Plans
Net neutrality: Game over? (VIDEO), from PBS Newshour Extra, Dec. 15, 2017
"Video Summary: Watch the first 45 seconds of the video for the latest news on repealing net neutrality. See videos… explaining both sides of the net neutrality debate…"
The Net Neutrality Debate, Lesson from Moyers on America
Should the Government Regulate the Internet?, Bill of Rights Institute
Is Net Neutrality Free Speech or Monopoly Abuse?, from Global Projects Center – Stanford University
Constitutional and Legal Connections
Here Are the States That Are Planning to Sue to Protect Net Neutrality, by April Glaser, Future Tense – Slate, Dec. 15, 2017
CLP: Oregon Attorney General Ellen Rosenblum includes Oregon in the fight.
Title II Is the Key to Net Neutrality—So What Is It?, by Fran Berkman and Andrew Coults, May 20, 2014
"At the core of this debate is Title II of the Communications Act of 1934. Title II is the legal foundation on which the FCC enacted the Open Internet Order of 2015, which established rules for internet service providers (ISPs) regarding net neutrality…"
CLP: good for your legal nerds!
Federal Communications Commission (FCC), AllGov – Everything Our Government Really Does
"(FCC is) an independent government agency responsible for regulating the radio, television and phone industries. The FCC regulates all interstate communications, such as wire, satellite and cable, and international communications originating or terminating in the United States…"
California Lawmakers Now Have Two Net Neutrality Bills Before Them, by Benny Evangelista, San Francisco Chronicle, Jan. 4, 2018
"… That would put the commission at legal odds with both of the proposed California measures…"
CLP: Two bills pending before the California state senate to undo what the FCC did, but the FCC says states can't do that!
Oregon & the Northwest
As Net Neutrality Heads for Repeal, Oregon's Walden and Wyden Lead Opposite Ends of the Debate, by Mike Rogoway, The Oregonian/OregonLive, Nov. 21, 2017
"… Oregon Rep. Greg Walden, R-Hood River, chairs the powerful Energy and Commerce Committee, which has oversight authority for online communication. He hailed Thursday's action, declaring that it shows the FCC 'understands the importance of making sure the internet continues to flourish under a light-touch regulatory regime,'… Democratic Sen. Ron Wyden decried Tuesday's ruling as a giveaway to big telecom companies… Democratic Sen. Ron Wyden decried Tuesday's ruling as a giveaway to beg telecom companies…"
Oregon Will Join Lawsuit Against FCC on Net Neutrality, by Nigel Jaquiss, Willamette Week, Dec. 14, 2017.
"Attorney General Ellen Rosenblum and her peers previously warned FCC it was acting based on fraudulent public input…"
Jeff Merkley Says Someone Impersonated Him to Weigh in Against Net Neutrality, by Hillary Borrud, The Oregonian/OregonLive, Dec. 18, 1017
"U.S. Sen. Jeff Merkley said on Monday that someone used his identity to submit fake comments against net neutrality to the Federal Communications Commission…"
Oregon State Social Science Standards
8.8 Evaluate information from a variety of sources and perspectives.
8.13 Explain how current and historical technological developments, societal decisions, and personal practices influence sustainability in the United States.
8.14 Explain rights and responsibilities of citizens.
8.20 Analyze the changing definition of citizenship and the expansion of rights.
8.25 Critique data for point of view, historical context, distortion, or propaganda and relevance.
8.26 Examine a controversial event, issue, or problem from more than one perspective.
8.27 Examine the various characteristics, causes, and effects of an event, issue, or problem.
8.28 Investigate a response or solution to an issue or problem and support or oppose, using research.
HS.1 Evaluate continuity and change over the course of world and United States history.
HS.5 Examine and evaluate the origins of fundamental political debates and how conflict, compromise, and cooperation have shaped national unity and diversity in world, U.S., and Oregon history.
HS.9 Identify historical and current events, issues, and problems when national interests and global interest have been in conflict, and analyze the values and arguments on both sides of the conflict.
HS.27 Examine functions an process of United Sates government.
HS.28 Evaluate how governments interact at the local, state, tribal, national and global levels.
HS.30 Analyze the roles and activities of political parties, interest groups and mass media and how they affect the beliefs and behaviors of local, state, and national constituencies.
HS.33 Explain the role of government in various current events.
HS.34 Explain the responsibilities of citizens (e.g., vote, pay taxes).
HS.57 Define, research, and explain an event, issue, problem or phenomenon and its significance to society.
HS.58 Gather, analyze, use and document information from various sources, distinguishing facts, opinions, inferences, biases, stereotypes, and persuasive appeals.
HS.59 Demonstrate the skills and dispositions needed to be a critical consumer of information.
HS.60. Analyze an event, issue, problem, or phenomenon from varied or opposing perspectives or points of view.
HS.61 Analyze an event, issue, problem, or phenomenon, identifying characteristics, influences, causes, and both short- and long-term effects.
HS.63. Engage in informed and respectful deliberation and discussion of issues, events, and ideas.
We the People Lesson Connections
Middle School, Level 2
Unit 6, Lesson 29: What are the rights and responsibilities of citizenship?
Unit 6, Lesson 30: How might citizens participate in civic affairs?
High School, Level 3
Unit 6, Lesson 34: What is the importance of civic engagement to American constitutional democracy?
Unit 6, Lesson 37: What key challenges does the United States face in the future?