A memorial to the victims of lynchings in the United States has opened with mixed reactions. Find out more in this week's CLP Current Event.
Brought to teachers by Susie Marcus, CLP consultant, with CLP staff.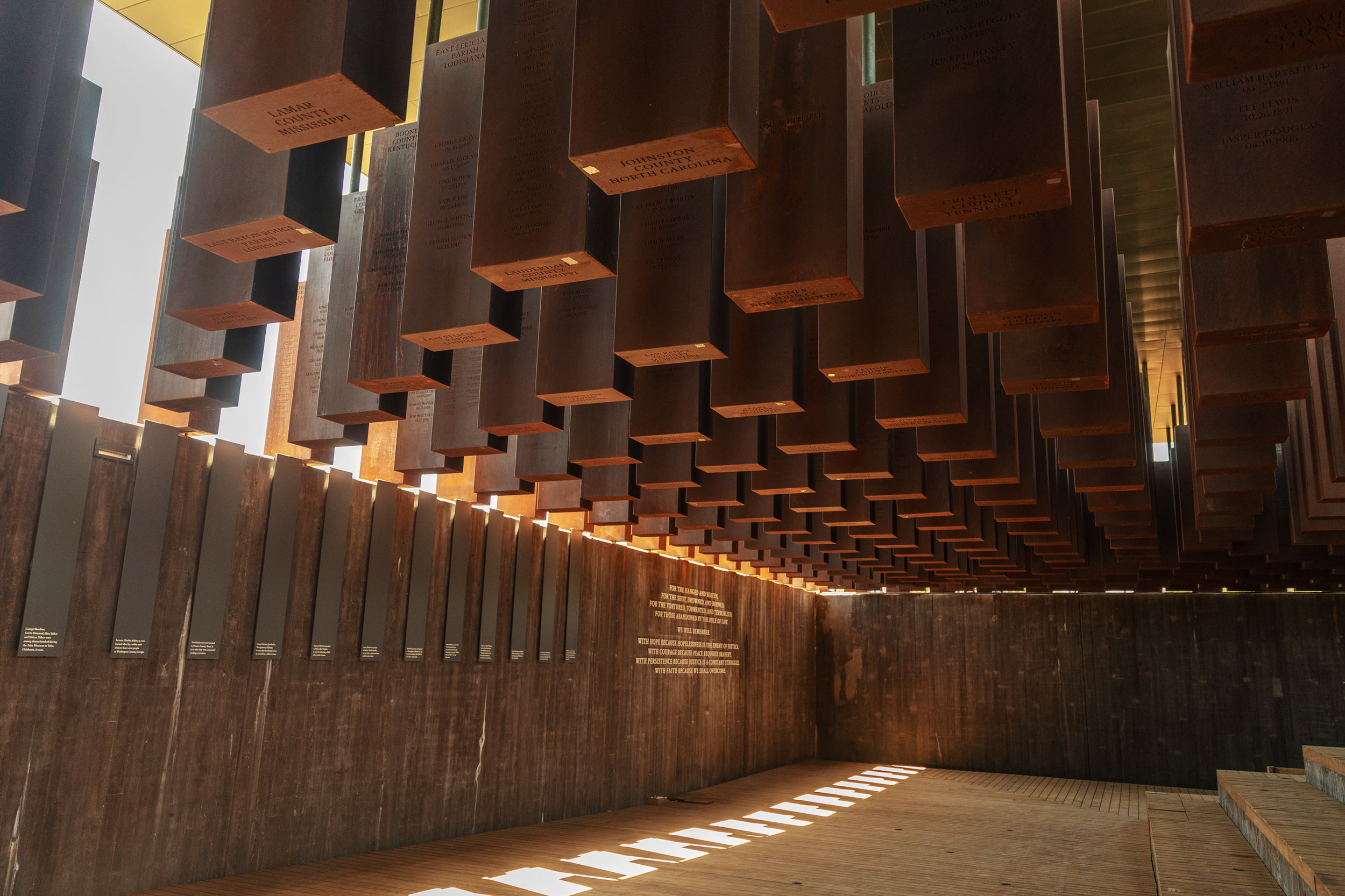 News Sources
New Lynching Memorial Is A Space 'To Talk About All Of That Anguish', by Debbie Elliott, NPR, April 26, 2018
"The memorial houses 800 steel blocks, each 6 feet tall, suspended from above, and arranged in a square surrounding a grassy courtyard. There's a monument for each county where racial killings occurred, including one from Carroll County, Miss., "where nearly two dozen people were lynched," Stevenson says."
The first national lynching memorial is open. What are the next steps?, by Brian Lyman, USA Today, April 29, 2918
"The memorial Thursday won unanimous praise from visitors but also triggered a range of reactions, which some of the first people to see the memorial and Legacy Museum were still processing. During a symposium organized by the Equal Justice Initiative, the filmmaker Ava DuVernay — who has family in the River Region — was asked how the monument might help push the country toward 'redemption.'"
EJI lynching memorial: A place of healing in the Heart of Dixie, by Andrew J. Yawn, Montgomery Advertiser, April 30, 2918
"One-hundred and fifty-seven years later, the Equal Justice Initiative has opened the Legacy Museum, a converted 19th-century slave warehouse Russell once walked past that traces the narrative of racial bias from slavery to modern day mass incarceration. Jars of soil from lynching sites bear victims' names. Holograms of enslaved men and women behind bars describe being separated from their children. Virtual phone booths put visitors in front of inmates recounting the vestiges of slavery that exist in American prison systems today."
'Death Penalty Is Lynching's Stepson': Bryan Stevenson on Slavery, White Supremacy, Prisons & More, Democracy More, May 1, 2018
Extended conversation with Bryan Stevenson, the founder and executive director of the Equal Justice Initiative, the nonprofit behind the National Memorial for Peace and Justice, the country's first-ever memorial to the victims of lynching in the United States.
The Legacy of a Lynching, by Robin Washington, The Marshall Project, May 3, 2018
"In Montgomery, the National Memorial for Peace and Justice (a gentler, more forward-looking name than "National Lynching Memorial," which people tend to call it nonetheless) is more than a single edifice; the total complex includes sculpture gardens, a contemplative memorial square, and a massive structure with rusted steel monoliths engraved with names hanging from the ceiling."
Lynching memorial leaves some quietly seething: "Let sleeping dogs lie", by Sam Levin, The Guardian, April 28, 2018
"While celebrities and civil rights icons lauded the memorial as a powerful symbol of America's shame and a turning point toward healing, some conservatives in Alabama rolled their eyes at the project, saying they were more concerned with saving Confederate monuments, now under threat from leftwing activists."
Questions to Consider
What is lynching?
Why should lynching be memorialized in a museum? Is knowing history a way to right injustice?
Does this museum evoke negative reactions? Do Confederate museums tell a different story?
How is lynching a symbol of "extra-legal" actions?
What happens when people take the law into their own hands?
What constitutional rights are violated in a lynching?
Why did Congress fail to pass an anti-lynching law in 1930's?
What is reconciliation?
Why might it be important to talk about past wrongs?
How might the lynching memorial open up conversations about past and present injustices?
Why is the memorial located in the South?
In what ways is this museum similar to the Holocaust Museum?
What is the Equal Justice Institute? Who is Bryan Stevenson?
What is mass incarceration? Do the challenges to the current criminal justice system connect with lynching?
Is casual use of the word lynch disrespecting the violations of lynchings?
From Teaching Activities for: 'A Lynching Memorial Is Opening. The Country Has Never Seen Anything Like It.'
What is different about the memorial, and why does the article say, "There is nothing like it in the country. Which is the point."*
Who is Bryan Stevenson and what does his organization do, and why?*
What inspired Mr. Stevenson to create the new memorial?*
What is the significance of each steel column in the memorial, and how and why would duplicates of the columns be requested and disseminated around the country?*
What is "just mercy," and how does Mr. Stevenson see its role for the white America whose brutality is chronicled by the memorial?*
Why does Mr. Stevenson say that people do no want to admit wrongdoing in America, and what is his goal for the country?*
How does the Legacy Museum, a companion piece to the memorial, end with a nod toward the future and a "jarring expression of confidence in the possibility of change," according to the article, and why?
Background and More
The National Memorial for Peace and Justice, Equal Justice Initiative (EJI)
"The Memorial for Peace and Justice was conceived with the hope of creating a sober, meaningful site where people can gather and reflect on America's history of racial inequality."
Anti- Lynching Law in U.S. History, by Robert Segal, NPR, June 13, 2005
"The United States Senate today took up a rare resolution expressing remorse. The Senate is apologizing not for something it did, but for something it failed to do. It never approved a law against lynching. To say that the resolution comes late in the day is an understatement."
Ida B. Wells, "Lynch Law in America", Blackpast.org
"Beginning in 1892 with the destruction of her newspaper, the Memphis Free Speech, Ida B. Wells for the next forty years was the most prominent opponent of lynching in the United States.  What follows is a speech she made to a Chicago audience on the subject in January 1900."
The Shame of America, History Matters
"During November, 1922, the NAACP ran this full-page advertisement in the New York Times and other newspapers, pressing for passage of the Dyer anti-lynching bill. Passed in the House of Representatives by a two-to-one majority, the anti-lynching bill was subsequently filibustered and defeated in the U.S. Senate. Despite the NAACP's vigorous efforts through the 1930s and the introduction of several subsequent anti-lynching bills, the U.S. Congress never outlawed lynching."
CLP: Primary source
At what point does crying 'lynching' trivialize the word?, AJC, May 4, 2018
"The tactical use of lynching references over the past few days by celebrities under fire is generating disgust among historians and others who have studied the ghastly killings and mutilation of thousands of black people in the U.S. in the 19th and 20th centuries."
Not So Breaking News: Racism Still Alive in America, M Lifestyle, June 3, 2017
"On Wednesday, May 31, a noose was found hanging at the National Museum of African American History and Culture. This was the second noose found in a week. The Friday before on May 26th, another noose was found hanging from a tree on the surrounding grounds. A noose is symbolic of the painful part of history in America, and a reminder to every African American of how not much has changed;A reminder that every day their lives are at danger."
Lesson Plans
Legacy of Lynching, EIJ
CLP: High School, 2 units (Lynching and Racial Terror, The Legacy of Lynching)
Domestic Terror: Understanding Lynching During the Jim Crow Era, OPB
CLP: High School
Teaching Activities for: 'A Lynching Memorial Is Opening. The Country Has Never Seen Anything Like It.', The Learning Network, The New York Times
CLP: Middle & high school; video, graphic, and good questions!
Lynching in America, Gilder Lehrman
CLP: Middle & high school; primary source document
Constitutional and Legal Connections
Due Process, Legal Information Institute
14th Amendment, Legal Information Institute
History: 14th Amendment ratified, lynchings protested, by Jerry Mitchell, Clarion Ledger, July 28, 2015
Donald v. United Klans of America, Southern Poverty Law Center
Oregon & the Northwest
When Portland banned blacks: Oregon's shameful history as an 'all-white' state, by DeNeen L. Brown, The Washington Post, June 7, 2017
"In 1848, the territorial government passed a law making it illegal for any "Negro or Mullatto" to live in Oregon Country. In 1850, under the Oregon Donation Land Act, "whites and half breed Indians" were granted 650 acres of land from the government. But any other person of color was excluded from claiming land in Oregon. In 1851, Jacob Vanderpool, the black owner of a saloon, restaurant and boarding home, was actually expelled from Oregon territory."
A short Oregon coast black history lesson, by LeeAnn Neal, The Oregonian, February 27, 2008
"February is Black History Month, not that there's much evidence of it here on the Oregon coast.
It isn't that we don't know it's Black History Month. … After all, we do read the papers, surf the web, watch and listen to Oregon Public Broadcasting and occasionally even travel. …
It's just that we have so few African American neighbors on this strip of land between the Pacific Ocean and Coast Range."
Oregon State Social Science Standards
8.8 Evaluate information from a variety of sources and perspectives.
8.14 Explain rights and responsibilities of citizens.
8.21 Analyze important political and ethical values such as freedom, democracy, equality, and justice embodied in documents such as the Declaration of Independence, the United States Constitution, and the Bill of Rights.
8.26 Examine a controversial event, issue, or problem from more than one perspective.
8.27 Examine the various characteristics, causes, and effects of an event, issue, or problem.
8.28 Investigate a response or solution to an issue or problem and support or oppose, using research.
HS.1 Evaluate continuity and change over the course of world and United States history.
HS.9 Identify historical and current events, issues, and problems when national interests and global interest have been in conflict, and analyze the values and arguments on both sides of the conflict.
HS.24 Analyze and critique the impact of constitutional amendments.
HS.35 Examine the pluralistic realities of society (e.g., race, poverty, gender, and age), recognizing issues of equity, and evaluating need for change.
HS.57 Define, research, and explain an event, issue, problem or phenomenon and its significance to society.
HS.58 Gather, analyze, use and document information from various sources, distinguishing facts, opinions, inferences, biases, stereotypes, and persuasive appeals.
HS.59 Demonstrate the skills and dispositions needed to be a critical consumer of information.
HS.60. Analyze an event, issue, problem, or phenomenon from varied or opposing perspectives or points of view.
HS.61 Analyze an event, issue, problem, or phenomenon, identifying characteristics, influences, causes, and both short- and long-term effects.
HS.63. Engage in informed and respectful deliberation and discussion of issues, events, and ideas.
We the People Lesson Connections
Middle School, Level 2
Unit 5, Lesson 26: How does the Constitution safeguard the right to equal protection of the law?
Unit 6, Lesson 29: What are the rights and responsibilities of citizenship?
High School, Level 3
Unit 5, Lesson 31: How do the Fourth and Fifth Amendments protect against unreasonable law enforcement practices?
Unit 6, Lesson 35: How have civil rights movements resulted in fundamental political and social change in the United States?
Unit 6, Lesson 37: What key challenges does the United States face in the future?