What does the move of the U.S. embassy to Jerusalem mean to the Middle East and globally? Find out more with CLP's Current Event.
Brought to teachers by Susie Marcus, CLP consultant, with CLP staff.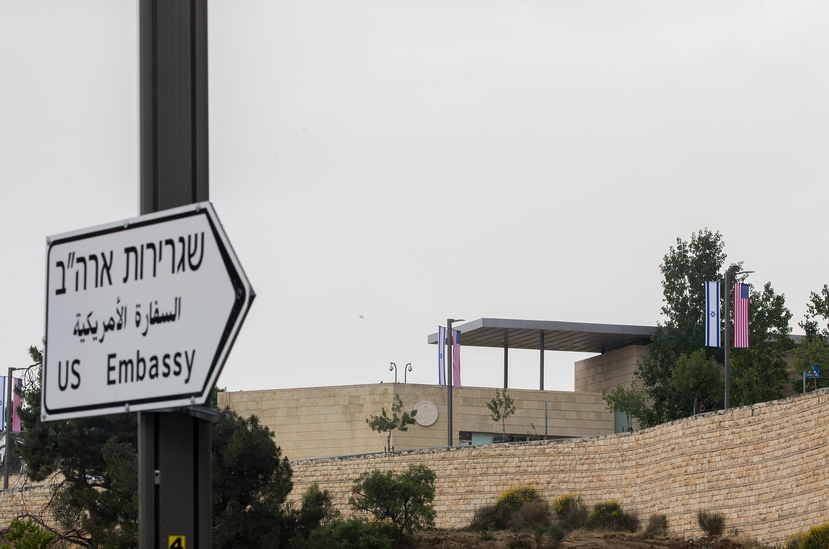 News Sources
Paraguay opens embassy in Jerusalem, after U.S. and Guatemala, by The Associated Press, Politico, May 21, 2108
"President Horacio Cartes dedicated the embassy, making Paraguay the third country to transfer its diplomatic mission in Israel from Tel Aviv to Jerusalem. Romania, the Czech Republic and Honduras have said they are also considering doing the same."
After U.S. Embassy Move, What Actually Changes For Israelis and Palestinians?, by Gail Austin, NPR, May 20, 2018
"But have these developments really changed anything in the Israeli-Palestinian conflict? Demands have stayed the same, impasses between the different sides have been highlighted and the United States' role in future peace talks appears to be shifting."
Gaza buries its dead as death toll from protest at fence with Israel rises to at least 60, by Omri Ariel, Jerusalem Online, May 9, 2018
"Monday's killings more than doubled the number of Palestinians slain in Gaza during six weeks of demonstrations, dubbed the "March of Return." More than 2,700 people were injured, the Palestinian Health Ministry in Gaza said, about half of them from live ammunition."
Jerusalem and Gaza – A world apart, by Oren Liebermann, CNN, May 15, 2018
"In Gaza, 35,000 Palestinians protested in 12 different locations, burning tires, hurling stones, and flying burning kites. In Jerusalem, American and Israeli flags were projected on the walls of the Old City with the message 'Thank you President Trump.'"
European diplomats to skip Jerusalem US embassy opening, by Loveday Morris and Ruth Eglash, The Washington Post, May 15, 2018
What are Israel and Palestine? Why are they fighting?, by Zack Beauchamp, Vox, May 14, 2018
"Israel is the world's only Jewish state, located just east of the Mediterranean Sea. Palestinians, the Arab population that hails from the land Israel now controls, refer to the territory as Palestine, and want to establish a state by that name on all or part of the same land. The Israeli-Palestinian conflict is over who gets what land and how it's controlled."
9 Things to Know About Jerusalem as U.S. Embassy Opens, by Isabel Kershner, The New York Times, May 13, 2018
"For many Jewish Israelis, the move is a long overdue expression of reality in the city. But the recognition upends decades of American foreign policy and an international consensus that holds that it prejudges negotiations over the final status of the city. Palestinians claim East Jerusalem, with its holy sites sacred to Christians, Muslims and Jews, as the capital of a future Palestinian state and vehemently oppose the American decision."
Questions to Consider
Where is Jerusalem?
What does Jerusalem mean to Israel? To the Palestinians?
What does the US Embassy move to Jerusalem mean? Why is the recognition of Jerusalem as the capital of Israel controversial?
What does the proposed moving date to coincide with the 70th anniversary of the state of Israel mean?
What is an embassy? What does the location of an embassy mean?
What does President Trump's comment "Jerusalem is off the table" mean?
Is recognition of Jerusalem a block to the peace process or the recognition of history? Or both?
What are the reasons to acknowledge Jerusalem as the capital of Israel? What are the reasons to delay establishing a US Embassy in Jerusalem?
Is recognition of Jerusalem a part of a larger struggle for influence in the Middle East? Future of Gaza and the West Bank? Egypt-Israel relationship? Competition between Iran and Saudi Arabia for influence? Threat of war in the region?
Is the embassy move a "partisan" issue in the United States?
What is the progress of the peace process between Israel and Palestine? Do unemployment in Gaza and little recognition from the Arab world create a population that is desperate for help?
Is there a connection between the opening of the American Embassy in Jerusalem and a path to peace in the Middle East? 
Do the dignitaries at the opening ceremony have a special responsibility to calm the situation? What is bigotry?
From Teaching Activities for: 'Trump Recognizes Jerusalem as Israel's Capital and Orders U.S. Embassy to Move,' The New York Times
Why is President Trump's recognition of Jerusalem as Israel's capital such a significant move in the history of American foreign policy?
According to Mr. Trump, why did he decide to formally recognize Jerusalem as Israel's capital? What evidence did he provide to support his decision?
How have Arab and European leaders, China and Pope Francis reacted to Mr. Trump's announcement? How do they believe it will affect the Middle East?
How does Europe think the status of Jerusalem should be resolved?
Who has been conducting peace talks between Israel and Palestine on behalf of the United States? How is this approach different from past administrations? How have these talks progressed so far?
What contributes to Jerusalem's status as "one of the world's most fiercely contested swaths of real estate"?
How do Middle East experts think the United States' recognition of Jerusalem will influence negotiations between Israelis and Palestinians?
What do you think about Mr. Trump's decision? Does it have the potential to advance decades-long negotiations, as his administration says? Or, as Middle East experts and other world leaders claim, will it jeopardize peace in the Middle East? Will it change anything at all?
Background and More
Mapping Palestine Before Israel, by Mimi Kirk, CityLab, May 21, 2018
What it means for the U.S. to name Jerusalem as Israeli capital but not move the embassy, by Adam Taylor, The Washington Post, December 6, 2017
"The United States has never had its embassy in Jerusalem. However in 1995, Congress passed a law that calls for one to be established there. Every president since Bill Clinton has signed a waiver twice a year that cites national security concerns. Trump issued a similar waiver in June, but he missed a Monday deadline for such a waiver this week."
How to Move the U.S. Embassy to Jerusalem, by Scott R. Anderson & Yishai Schwartz, Foreign Policy, November 30, 2017
"When one state locates its embassy to another state in a particular territory, this generally indicates that the former state recognizes that territory as being within the latter state's sovereignty. This recognition of sovereignty in turn brings with it a basket of rights and obligations under international law that the latter state may exercise in controlling that territory."
What is a U.S. Embassy?, Discover Diplomacy
An embassy is the headquarters for U.S. Government representatives serving in a foreign country.  It is normally led by an ambassador, who is the U.S. President's representative to the host country. An embassy is normally located in the capital city.  It may have branches, known as consulates, in other cities.
Do embassies still matter?, The Interpreter
"Embassies — and their derivatives, high commissions and consulates — are significant instruments of government, and as for all such instruments the ways they are used have changed over time and continue to change. Carefully arranging staff in predetermined locations made sense once. But global issues no longer work like that. Mostly, when Australia is bedeviled by global concerns, they are not traceable to the intended actions of Westphalian states. Instead, the increased intensity of global interactions in trade, finance, environment and migration has created issues that transcend the old order."
CLP: Debate over relevance of and necessity for embassies in today's world.
Lesson Plans
Teaching Activities for: 'Trump Recognizes Jerusalem as Israel's Capital and Orders U.S. Embassy to Move', The Learning Network
CLP: Middle & high school
Lesson Plan: Understanding History, Religion, and Politics in Jerusalem and Beyond, POV, December 13, 2001
CLP: Middle & high school; older resource so be sure to preview movie and materials!
Jerusalem: History of the Holy Land, Discovery Education
CLP: Middle School
Jerusalem: A Holy City, Geoalliance
CLP: Middle school; basic information about Jerusalem as center for three world religions
Constitutional and Legal Connections
Should America 'Speak With One Voice' on Israel, by Garrett Epps, The Atlantic, June 8, 2015
"The legislation that Bush approved , among other things, required the State Department to offer U.S. citizens born in Jerusalem the choice of listing "Israel" on their U.S. birth record (a document proving citizenship) and U.S. passport under 'place of birth.'"
US Supreme Court to re-examine 'born in Jerusalem' passport case, Israel Hayom, April 22, 2014
"Court to hear for second time a passport dispute over whether Jerusalem-born Americans can list "Israel" as birthplace • White House: Taking sides could 'critically compromise the ability … to work with Israelis, Palestinians and others in the region…'"
Oregon State Social Science Standards
8.8 Evaluate information from a variety of sources and perspectives.
8.21 Analyze important political and ethical values such as freedom, democracy, equality, and justice embodied in documents such as the Declaration of Independence, the United States Constitution, and the Bill of Rights.
8.26 Examine a controversial event, issue, or problem from more than one perspective.
8.27 Examine the various characteristics, causes, and effects of an event, issue, or problem.
8.28 Investigate a response or solution to an issue or problem and support or oppose, using research.
HS.1 Evaluate continuity and change over the course of world and United States history.
HS.9 Identify historical and current events, issues, and problems when national interests and global interest have been in conflict, and analyze the values and arguments on both sides of the conflict.
HS.27. Examine functions and process of United States government.
HS.31. Describe Untied States foreign policy and evaluate its impact on the United States and other countries.
HS.33. Explain the role of government in various current events.
HS.35 Examine the pluralistic realities of society (e.g., race, poverty, gender, and age), recognizing issues of equity, and evaluating need for change.
HS.57 Define, research, and explain an event, issue, problem or phenomenon and its significance to society.
HS.58 Gather, analyze, use and document information from various sources, distinguishing facts, opinions, inferences, biases, stereotypes, and persuasive appeals.
HS.59 Demonstrate the skills and dispositions needed to be a critical consumer of information.
HS.60. Analyze an event, issue, problem, or phenomenon from varied or opposing perspectives or points of view.
HS.61 Analyze an event, issue, problem, or phenomenon, identifying characteristics, influences, causes, and both short- and long-term effects.
HS.63. Engage in informed and respectful deliberation and discussion of issues, events, and ideas.
We the People Lesson Connections
Middle School, Level 2
Unit 6, Lesson 28: What is the relationship of the United States to other nations in the world?
High School, Level 3
Unit 4, Lesson 23: What is the role of the president in the American constitutional system?
Unit 6, Lesson 37: What key challenges does the United States face in the future?
Unit 6, Lesson 38: What are the challenges of the participation of the United States in world affairs?