CLP Current Event: September 18, 2018
Fires have made major headlines the last couple of years. The government's response and a citizen's responsibility are front and center. Learn more about this complex issue in this week's CLP Current Event.
Brought to teachers by Susie Marcus, CLP consultant, with CLP staff.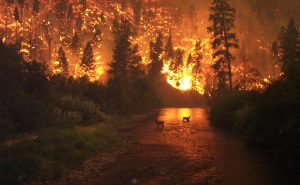 Wild fires have been very dangerous this year and they continue to spread. Many of the elements of this catastrophe refer to good decision making, caring for our natural resources, taking care of others who are impacted by natural disasters, planning ahead to avoid additional outbreaks and appreciation of fire fighters who are on the front line. As the response to Hurricane Florence continues, we will also be covering the government response and citizen responsibility.
News Sources
For Rural Communities, Wildfire Brings Economic Help, Hardships, by Courtney Flatt, NWPB/EarthFix, September 18, 2018
"Wildfire represents both risk and reward for some small communities in Washington. Walking the line between a "good fire" and a "bad fire" can be tricky."
Oregon Now Has A Hypoxia Season, Just Like A Wildfire Season, by Kristian Foden-Vencil, OPB, September 17, 2018
"'We can now say that Oregon has a hypoxia season much like the wildfire season…Every summer we live on the knife's edge and during many years we cross the threshold into danger – including the past two years. When oxygen levels get low enough, many marine organisms who are place-bound, or cannot move away rapidly enough, die of oxygen starvation.'"
Senators Call To Bring Back Spanish Fire Training Manuals, by Emily Cureton, OPB, September 18, 2018
"U.S. Senators Ron Wyden and Jeff Merkley of Oregon, with Kamala Harris and Dianne Feinstein of California, fired off a letter to the National Interagency Fire Center in Boise, Idaho on Tuesday. "Given that a significant number of these brave wildland fire crew speak Spanish as their native language, it would be wiser and safer to provide bilingual training materials," the senators' letter states."
I-5 Reopens With Restrictions in Fire-Ravaged California, by Michael McGough, Transport Topics, September 11, 2018
"The blaze, which started Sept. 5 about 10 miles north of Redding near Lakehead, has burned 49,874 acres and was 5% contained as of 7:58 p.m. Sept. 10, according to the U.S. Forest Service's Shasta-Trinity National Forest unit. The blaze is expected to be fully contained by Sept. 22."
Explosive Delta Fire in California triples in size, human-caused, officials say, by Travis Fedschun, Fox News, September 6, 2018
"The Delta Fire has now exploded to 15,294 acres near the Oregon state line as of 11:30 a.m. ET, prompting mandatory evacuations and showing 'extreme fire behavior,' the U.S. Forest Service said in a statement."
Lack of Spanish Training Manuals Poses Issues For Wildfire Crews, by Emily Cureton, OPB, August 28, 2018
"And to some firefighting instructors, the materials are essential. Jaime Pickering works for MQ Franco, one of the largest Hispanic-owned contractors in the Northwest. He trains about 500 new firefighters every year, the vast majority speak Spanish as their first language."
CLP: A different kind of challenge to fighting forest fires: language.
Smoke from California's wildfires is reaching Washington and Baltimore, by Jason Samenow, The Washington Post, August 16, 2018
"The National Weather Service's smoke report Wednesday said the fires in both the western United States and western Canada were producing 'tremendous amounts of smoke with an enormous area of varying density' over much of Canada and the Lower 48, except for parts of the South."
We're Putting More Homes On Wild Lands And In The Paths Of Wildfires, by Ashley Ahearn, OPB, August 15, 2108
"Wildfire has always been a part of this dry, forested landscape — as it has in many parts of the West — but as more people have moved in the wildland-urban interface over the past century, federal and state agencies have aggressively suppressed fires that would have otherwise burned at lower intensity and cleared out the underbrush that builds up in a forest over time."
A Big Wildfire Season And A Summer Of Drought Await The Northwest, by Tony Schick, OPB, June 25, 2018
"Many decades of suppressing fires has built up an unnaturally high amount of fuel for fires. Scientists say that now means more of the fires that escape suppression efforts are burning under extreme conditions."
CLP: Includes short video describing how wildfires are fought. Some great vocabulary!
Questions to Consider
What is a "wildfire"?
How is fire a useful tool?
How is fire a dangerous enemy?
What laws should be made to avoid forest fires?
Whose responsibility is it to issue a declaration of emergency?
Who decides on a required evacuation order for citizens in danger?
How do budget limits affect forest fire responses?
Is climate the cause of forest fires? What might be other causes?
As more homes are built in the wildland-urban interface, how are communities attempting
to work together to stay safe? Should there be restrictions on building in areas near forests?
What are the economic effects of wildfires?
What are the health effects of wild fires? What is unhealthy air quality?
What are the international aspects of fire control?
Who are the people who fight fires? What is their training? What are their challenges?
What responsibility do citizens have to protect their property from fire?
How might a community respond to the challenge of wildfires?
What might we learn from the Eagle Creek fire about the enormous consequences of a wildfire and the responsibility we all have to prevent fires?
What is "reckless burning"? What is arson?
Does the aftermath of hurricane Florence mirror the effects of wildfires? Is the role of government to be the backup for people in distress?
Background and More
Behind Most Wildfires, a Person, and a Spark: 'We Bring Fire With Us', by Tim Arango, The New York Times, August 20 2018
"One began with a spark from a flat tire. Another when someone hammered a fence post amid dry vegetation. Still another was allegedly ignited by a conspiracy-minded recluse who had sent a text message to a local firefighter warning the place "is going to burn." The suspect, Forrest Gordon Clark, is being held on $1 million bail and faces the possibility of life in prison, after being charged with setting the Holy Fire in Cleveland National Forest in Southern California."
Nearly two million acres on fire in the United States, Science Daily, August 20, 2018
"The West Coast of the United States is shrouded in smoke from the 110 large fires (this does not include smaller fires within each complex of fires) that have erupted across the region during this fire season. Over 1.9 million acres are or have been ablaze. Six new large fires were reported in Idaho, Nevada and Oregon over the weekend and eight large fires have been contained including the Ferguson Fire near Yosemite National Park in California."
Prepare for Wildfire, Cal Fire
CLP: Evacuation steps
Wildland Fire Program, National Park Service
Lesson Plans
Wildfire Lesson Plans, Department of Ecosystem Science and Management, Penn State
CLP: Grades 5-8
Forest Fires, Discovery Education
CLP: Grades 9-12
STEM: Living with Fire, Project Learning Tree
CLP: PreK-8
Constitutional and Legal Connections
Legal Frameworks for Forest Fire Management: International Agreements and National Legislation, Forest Service
Oregon Connections
Wyden bill would fund temporary housing for people forced out by wildfire smoke, by Kale Williams, The Oregonian, August 31, 2018
"The bill, called the Clean Air Refugee Assistance Act, would allow residents to seek financial relief from the the Federal Emergency Management Agency if they live in areas where air quality is deemed unhealthy for three consecutive days because of smoke from a wildfire that's been declared a disaster by either the state's governor or the president."
Oregon plans meetings on proposed controlled burn rules, Associated Press, August 21, 2018
"The state is seeking feedback on rules that would make it easier to conduct controlled burns as a way of reducing the threat of major wildfires. The burns would still be required to follow certain state and federal air quality standards."
Merkley, Wyden Announce Critical Wildfire Management, Prevention Funding In Spending Bill, Jeff Merkley, August 2, 2018
Governor Brown Invokes the Emergency Conflagration Act in Response to the Graham Fire, Governor's Office, June 22, 2018
About the Fire Program, Oregon Department of Forestry: Fire
Oregon State Social Science Standards
8.8 Evaluate information from a variety of sources and perspectives.
8.14 Explain rights and responsibilities of citizens.
HS.28 Evaluate how governments interact at the local, state, tribal, national, and global levels.
HS.33 Explain the role of government in various current events.
HS.59 Demonstrate the skills and dispositions needed to be a critical consumer of information.
HS.60. Analyze an event, issue, problem, or phenomenon from varied or opposing perspectives or points of view.
We the People Lesson Connections
Middle School, Level 2
Unit 6, Lesson 29: What are the rights and responsibilities of citizenship?
Unit 6, Lesson 30: How might citizens participate in civic affairs?
High School, Level 3
Unit 6, Lesson 33: What does it mean to be a citizen?