The federal government shut its doors last week. What was that about? Can it happen again? Explore this CLP Current Event to sort it out.
Brought to teachers by Susie Marcus, CLP consultant, with CLP staff.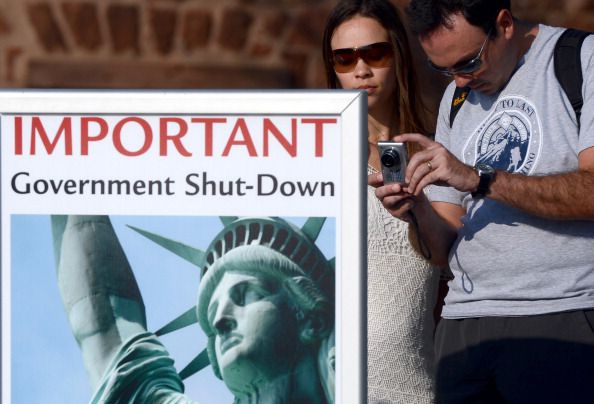 News Sources
What Is a Government Shutdown? 2018 and 2013 Examples, by Kimberly Amadeo, The Balance, Jan. 23, 2018
"…A government shutdown is when non-essential discretionary federal programs close. The president must do this when Congress fails to appropriate funds…"
CLP: Vocabulary heavy but a complete and up-to-date discussion of this 2108 shutdown.
Three Lessons for the Next Government Shutdown, by James Pindell, the Boston Globe, Jan. 23, 2018
"One government shutdown is over. Another one is set to begin in three weeks. Given that the next one will take place with roughly the same contours of this past weekend, it is worth reflecting on what lessons were learned and could be applied next month — should it come to that…"
The Real Reasons Why the Government Shut Down, by Russell Berman, The Atlantic, Jan. 20, 2018
"…No sooner had a midnight deadline passed without congressional action on a must-pass spending bill than lawmakers launched their time-honored competition over who gets the blame for their collective failure…"
CLP: Long but helpful discussion of issues on which the parties disagree.
From Tax Refunds to Restrooms, What the Shutdown Has Shut Down, by Christopher Flavelle, Bloomberg, Jan. 19, 2018
"Visitors to national parks will be prevented from using full-service restrooms… (I)n ways large and small, the shutdown that began at midnight Friday could touch almost every aspect of American life…"
CLP: Student-friendly but not short, so consider dividing sectors among students. Alternatively, find FAQ approaches at CBS News  and the Washington Post.
Questions to Consider
What is a "shutdown" What is a "government shutdown"?
Why does a shutdown happen?
Who suffers during a shutdown?
Who is responsible? Executive branch? Legislative branch? Party leaders? All of the above? Is blame helpful? Is cooperation helpful?
Is compromise helpful? What is the art of compromise? Can compromise be useful on issues considered to be moral concerns? Is bipartisanship needed? What are the Bipartisan Working Group and the Problem Solvers Caucus?
What is a continuing resolution?
What is "regular order"?
What is the connection between approving a federal budget and immigration policy?
Is a short time frame helpful or a block to resolving a government shutdown?
What does the 2018 government shutdown teach us about how government works? About how political parties work? About leadership?
What is the role of the media in a government shutdown?
Will the next deadline provoke another shut down? What issues need to be resolved by February 8? By March 5?
Questions from the Washington Post
What is a government shutdown?
What closes when the government shuts down?
Who keeps working during a government shutdown?
How many federal employees will be furloughed?
Do furloughed employees get back pay?
Which areas could be hit the hardest?
How does a shutdown affect federal employee benefits?
What about members of Congress, political appointees and the president?
What about military personnel?
What about contractor employees?
Will I still be able to visit the national parks and monuments?
How will this affect FEMA natural-disaster cleanup efforts?
Will the shutdown also halt the investigation into Russian meddling in the 2016 election?
Will my mail still arrive?
Will I still receive Social Security or other benefits?
Background and More
This Is What Happens During a US Government Shutdown, by Daniella Diaz, CNN, Jan. 20, 2018
CLP: Nice overview
Lesson Plans
Video Clip: What Happens During a Government Shutdown?, from CSpan, Jan. 19, 2018
"…explanation of how federal agencies and services are impacted by a government shutdown…"
Lesson Plan: How to Create a Balanced Budget — It's a 'Balancing Act', by PBS NewsHour Extra, May 22, 2017
CLP: Not right on but could be adapted
Washington's Closed: The 2013 Government Shutdown, from North Carolina Civic Education Consortium
CLP: 2013 but a very good lesson
Addressing the Government Shutdown With Students, posted by SM Bruner, BrainPop Educators, Oct. 1, 3013
CLP: 2013 but could be updated by students
Constitutional and Legal Connections
Despite the Shutdown, the Government Is Still Operating. Here's How (OPINION), by Hans A. von Spakovsky, Fox News, Jan. 19, 2018
"…A partial government shutdown is not a good thing, of course. It represents a failure of our elected leaders to do the most basic part of their jobs, as required under the Constitution… Article I of the Constitution says that the Treasury Department can't spend money unless it has been appropriated by Congress. The federal Antideficiency Act (ADA) makes it illegal for federal officials to spend money in excess of congressional appropriations and prohibits the government from accepting voluntary services…"
Government Shutdown, the Constitution and the Tea Party, by William B. Bradshaw, Huffington Post The Blog, Oct. 5, 2013, updated Dec. 5, 2013
All of our duly elected officials in Washington and their flunkies need to remember that they are in office in part because of the Great Compromise of 1787. Responsible compromise is necessary for our form of government to work. It's been that way since the writing of our Constitution…"
CLP: opinionated but one route to understand the Framers.
Oregon & the Northwest
How to Stop Government Shutdowns, by Congressman Derek Kilmer, Time, Jan. 24, 2018
"…I'm a member of organizations like the Bipartisan Working Group and the Problem Solvers Caucus, which regularly convene Democrats and Republicans who want to work together to discuss issues and find common ground. What I've learned is that most folks in Congress really do want to get things done…"
CLP: yes, change can happen!
Q&A: How A Federal Government Shutdown Affects The Northwest, by Jeff Mapes, OPB, Jan. 19, 2018
"…Here's a rundown on what to expect in Oregon and southwest Washington…"
Oregon, Washington Leaders Sound Off on Federal Government Shutdown, by KATU Staff, KATU
CLP: quotes from elected officials.
Oregon State Social Science Standards
8.8   Evaluate information from a variety of sources and perspectives.
8.14  Explain rights and responsibilities of citizens.
8.17  Examine the development activities of political parties and interest groups and their affect on events, issues, and ideas.
8.26  Examine a controversial event, issue, or problem from more than one perspective.
8.27  Examine the various characteristics, causes, and effects of an event, issue, or problem.
8.28  Investigate a response or solution to an issue or problem and support or oppose, using research.
HS.2  Analyze the complexity and investigate causes and effects of significant events in world, U.S., and Oregon history.
HS.5  Examine and evaluate the origins of fundamental political debates and how conflict, compromise, and cooperation have shaped national unity and diversity in world, U.S., and Oregon history.
HS.9  Identify historical and current events, issues, and problems when national interests and global interest have been in conflict, and analyze the values and arguments on both sides of the conflict.
HS.27  Examine functions an process of United Sates government.
HS.30  Analyze the roles and activities of political parties, interest groups and mass media and how they affect the beliefs and behaviors of local, state, and national constituencies.
HS.33  Explain the role of government in various current events.
HS.57  Define, research, and explain an event, issue, problem or phenomenon and its significance to society.
HS.58  Gather, analyze, use and document information from various sources, distinguishing facts, opinions, inferences, biases, stereotypes, and persuasive appeals.
HS.59  Demonstrate the skills and dispositions needed to be a critical consumer of information.
HS.60.  Analyze an event, issue, problem, or phenomenon from varied or opposing perspectives or points of view.
HS.61  Analyze an event, issue, problem, or phenomenon, identifying characteristics, influences, causes, and both short- and long-term effects.
HS.62  Propose, compare and judge multiple responses, alternatives, or solution to issues or problems; then reach an informed, defensible, supported conclusion.
HS.63.  Engage in informed and respectful deliberation and discussion of issues, events, and ideas.
We the People Lesson Connections
Middle School, Level 2
Unit 6, Lesson 29: What are the rights and responsibilities of citizenship?
Unit 6, Lesson 30: How might citizens participate in civic affairs?
High School, Level 3
Unit 4, Lesson 21:  What is the role of Congress in the American constitutional democracy?
Unit 6, Lesson 33: What does it mean to be a citizen?
Unit 6, Lesson 34: What is the importance of civic engagement to American constitutional democracy?
Unit 6, Lesson 37: What key challenges does the United States face in the future?