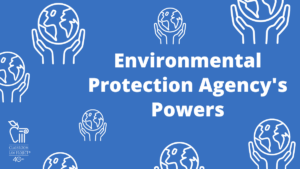 In 1970, then U.S. President Richard Nixon established the Environmental Protection Agency (EPA). In response to growing concerns among the public about the effects of pollution on the environment and public health, President Nixon created the EPA, a federal agency, through executive order. The EPA's primary responsibilities are to enforce laws that protect the environment and regulate industries that have an impact on it. The agency has the power to set and enforce regulations and standards for air and water quality, hazardous waste, and other environmental issues. Additionally, the EPA conducts research and provides grants to help local and state governments address environmental concerns.
Some of the major environmental laws the EPA enforces include the Endangered Species Act, the Clean Air Act, and the Clean Water Act. The Clean Water Act (CWA) sets and enforces water quality standards, regulates the discharge of pollutants into navigable waters, and provides funding for water infrastructure projects. The law was passed by U.S. Congress in 1972 to protect the nation's water resources from pollution and establish a framework to regulate and manage the quality of surface waters and underground sources of drinking water. Throughout the years, the CWA has been amended to include and exclude pollutant regulations under the EPA.
The Clean Water Act is at the heart of the Supreme Court case Sackett v. Environmental Protection Agency, which was heard by the Supreme Court justices in October, 2022.  In the Sackett case, the regulations around navigable waters, in particular, the definition of "wetlands", is of issue. In 2011,  Litigation between the EPA and the plaintiffs, Michael and Chantall Sackett, owners of property near Priest Lake in Idaho began in 2011; the Supreme Court will seemingly put an end to this legal saga. The complicated case, involving water way regulation, will be determined by the court answering the question, "What is the proper test for determining whether wetlands are 'waters of the United States' under the Clean Water Act?"
This week's Current Events resources examine the Clean Water Act, the Environmental Protection Agency and federal agencies roles in the U.S.. The resources shared provide information and context to the details of the Sackett case, as well as how federal courts have approached questions around federal agency regulation in the past.
Essential Questions, Vocabulary & Extend the Resources:
What are wetlands?

What role does the Environmental Protection Agency play in the U.S. and how does the Clean Water Act affect the EPA's actions?

What is the Chevron doctrine and how does it play a role in the Sackett v. Environmental Protection Agency case?

What are the pros and cons of federal agency's regulations?

How would you rule in the Sackett v. Environmental Protection Agency case? Explain.   

In your opinion, is it the Supreme Court's place to determine what are "wetlands"? Explain. 

In your opinion, what long term effects may be caused by the Sackett v. Environmental Protection Agency case? Explain. 
Click here for a hardcopy of the Essential Questions and Environmental Protection Agency Vocabulary
Click here for a hardcopy of Extension Activities CLP suggests implementing with this content
Videos:
Podcasts:
The Clean Water Act Comes Under Attack, Dissent, The Intercept, February 22, 2023
Supreme Court Oral Arguments on Clean Water Act & More, Now This News, October 3, 2022
Limiting the Inevitable Damage, Strict Scrutiny, Crooked, October 10, 2022
What Decision Can We Expect in the SCOTUS Case Sackett v. EPA?, The Sweaty Penguin, Peril & Promise, PBS, February 24, 2023
Background Resources:
Our Mission and What We Do, United States Environmental Protection Agency
Clean Water Act (CWA), Legal Information Institute, Cornell Law School
Sackett v. Environmental Protection Agency (2022), Ballotpedia
Sackett v. Environmental Protection Agency, Oyez
Supreme Court will revisit a wetlands question it has struggled with in the past, Alaska Beacon, September 27, 2022
Chevron deference, Legal Information Institute, Cornell Law School
Recent Articles:

Supreme Court kicks off new term with North Idaho couple's case that could limit reach of Clean Water Act, The Spokesman-Review, October 3, 2022
On New Term's First Day, Justices Hear Case on E.P.A. Power Over Wetlands, The New York Times, October 3, 2022
EPA finalizes contentious water rule despite pending case at U.S. Supreme Court, Reuters, December 30, 2022
EPA's Federal Waters Update Seen Vulnerable at Top Court, Bloomberg Law, January 4, 2023
EPA's authority over wetlands is at stake as justices wade back into regulatory morass, SCOTUS blog, September 29, 2022
Will Sackett v. EPA Clarify the Scope of Federal Regulatory Jurisdiction Over Wetlands?, Reason, October 1, 2022
The Supreme Court could limit federal protection against water pollution, Yahoo! News , September 30, 2022
Recent Editorials:
Sackett Case Unlikely to Trim EPA Wetland Authority, Bloomberg Law, October 12, 2022
Editorial: 50 years later, the Clean Water Act is under assault, Los Angeles Times, October 18, 2022
SCOTUS Sackett case: Clean Water Act is on the chopping block, The Hill, October 2, 2022
Another Round of Speculation about Chevron?, The Regulatory Review, September 26, 2022
Lesson Plans:
Government Regulation of Administrative Agencies: Pros & Cons, and Examples, Study.com
Bell Ringer: The Chevron Doctrine, C-SPAN Classroom
Legal and Institutional Framework of Water, Pacific Institute 
Teacher's Guide to Wetland Activities, Ducks Unlimited
Resources for Younger Students:
You Decide: Supreme Court Cases on Free Speech and Press, Actively Learn
The Supreme Court: Getting It "Right"?, Newsela, September 29, 2019
About Wetlands, National Association of Wetland Managers