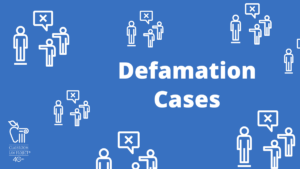 In the aftermath of the 2020 U.S. presidential election, Fox News Channel invited former President Trump allies such as Sidney Powell and others onto its programs to allege that Dominion Voting Systems, a company that produces voting machines, had switched votes and was a cause for former President Trump's election day loss. These allegations were repeated continually for weeks afterward by guests and employees of the news channel. As a response, Dominion sued Fox News for defamation, a legal term used to describe the intentional act of harming someone's reputation through false statements, and now Dominion is seeking millions of dollars in compensation. This defamation lawsuit is not the only such case to be covered in the media in recent years. In 2022, media figure Alex Jones was ordered to pay nearly $1 billion in a defamation suit brought by the parents of children killed at the Sandy Hook shooting. Other cases of note include the Amber Heard/Johnny Depp case, the ongoing Brett Favre case, and the recent Cardi B defamation lawsuit victory. 
Defamation laws are complex and multifaceted in the United States. There are federal statues governing the subject, as well a many state statues, some of which include criminal penalties. Defamation laws are divided into two categories: libel and slander. Libel refers to defamation in written or published form, while slander refers to defamation in spoken form, typically on television, radio, or broadcast via the internet. In order for a plaintiff to succeed in a defamation case, they must demonstrate that the statement in question was false, purported as fact, communicated to a third party, and caused harm to their reputation. Additionally, they must show that the defendant acted with some level of negligence. The degree of negligence depends upon whether those involved are considered public or private members of society, because standards vary for each class.
One of the most important cases involving defamation in the United States is New York Times Co. v. Sullivan. In this case, the Supreme Court established the "actual malice" standard for public officials and figures. This means that for a public official or figure to successfully sue for defamation, they must prove that the false statements were made with actual malice, meaning the defendant knew the statements were false or acted with reckless disregard for the truth.
This week's Current Events resources examine defamation laws and the court cases determining its elements. The resources shared provide information and context to the ongoing debate between the balance of freedom of speech and the protections afforded by defamation laws and lawsuits.
Essential Questions, Vocabulary & Extend the Resources:
What is defamation?

What are the differences between libel and slander? Why does the law draw these distinctions?

What public good are defamation laws designed to protect? Why?

Are defamation laws counter to the idea of free speech? Explain.  

How have defamation laws changed over time?  

In your opinion, do defamation laws need to change to address our modern society?

In your opinion, should their be a different standard for public and private figures in defamation suits? Explain.
Click here for a hardcopy of the Essential Questions and Defamation & Libel Vocabulary
Click here for a hardcopy of Extension Activities CLP suggests implementing with this content
Videos:
Podcasts:
Libel, the Media, and Constitutional Legitimacy, We the People, National Constitution Center, October 11, 2018
Defamation, Disinformation, and the Depp-Heard Trial, Arbiters of Truth, The Lawfare Podcast, June 16, 2022
Fox News Still Broadcasts Election Lies. It Could Cost Them., The NPR Politics Podcast, March 8, 2023
New York Times v. Sullivan Podcast, United States Courts
Should the Supreme Court Reconsider NYT v. Sullivan?, We the People, National Constitution Center, July 22, 2021
Background Resources:
Cases – Libel, defamation, Oyez
Defamation, Cornell Law School
Amdt1.7.5.7 Defamation, Constitution Annotated, U.S. Congress
Libel and Slander, Oregon State Bar
What is a Defamatory Statement, Digital Media Law Project
Defamation, PBS
Recent Articles:

Consequences of Sharing Misinformation, LexisNexis, January 19, 2023
Fox News produced 'zero' evidence to back election lie, defamation case hears, The Guardian, March 9, 2023
Defamation suit against Seattle Councilmember Kshama Sawant dismissed, The Seattle Times, March 10, 2023
Coach sues Folsom Cordova school district for defamation after pedophilia allegations, The Sacramento Bee, March 2, 2023
Ammon Bundy sued for defamation by Idaho hospital, which went into lockdown during protest, The Oregonian, May 11, 2022
Online reviewers in Oregon on notice: Supreme Court declines to offer ordinary people higher media protection from libel suits
, The Oregonian, July 7, 2022
Connecticut jury orders Alex Jones to pay nearly $1 billion to Sandy Hook families, The Texas Tribune, October 12, 2022
Recent Editorials:
How to Restore Balance to Libel Law, Wall Street Journal, March 24, 2021
Why principled conservatives should oppose Florida's defamation bill, Freedom of the Press Foundation, March 8, 2023
Defamation Lawsuits Are a Growing Way to Silence Victims—From Kesha to Amber Heard
, Ms. Magazine, February 27, 2023
Change Defamation Laws and You're Silencing Yourself | Opinion, Newsweek, March 2, 2023

Ron DeSantis Wants To Rewrite Defamation Law, Reason, February 2, 2023
Lesson Plans:
Lesson Plan: Libel Laws and the Press: New York Times v Sullivan., C-SPAN Classroom
Speech and the First Amendment, iCivics
Libel and the Student Newspaper: Making Tough Calls, School Journalism
Freedom of Speech Lesson Plan, National Constitution Center, Duquesne University
Teacher Guide: Can First Amendment Defenses Save Provocateur Alex Jones From The Sandy Hook Libel Suits?, First Amendment Watch, New York University History Education Group
What the First Amendment protects — and what it doesn't, Newsela