Civics Learning Project already has available multiple units of curriculum for teaching the 2020 Election and about voter issues. Check it out and look for updates as we add more content.
This is Part 2 of an Election 2020 Series of Current Event Resources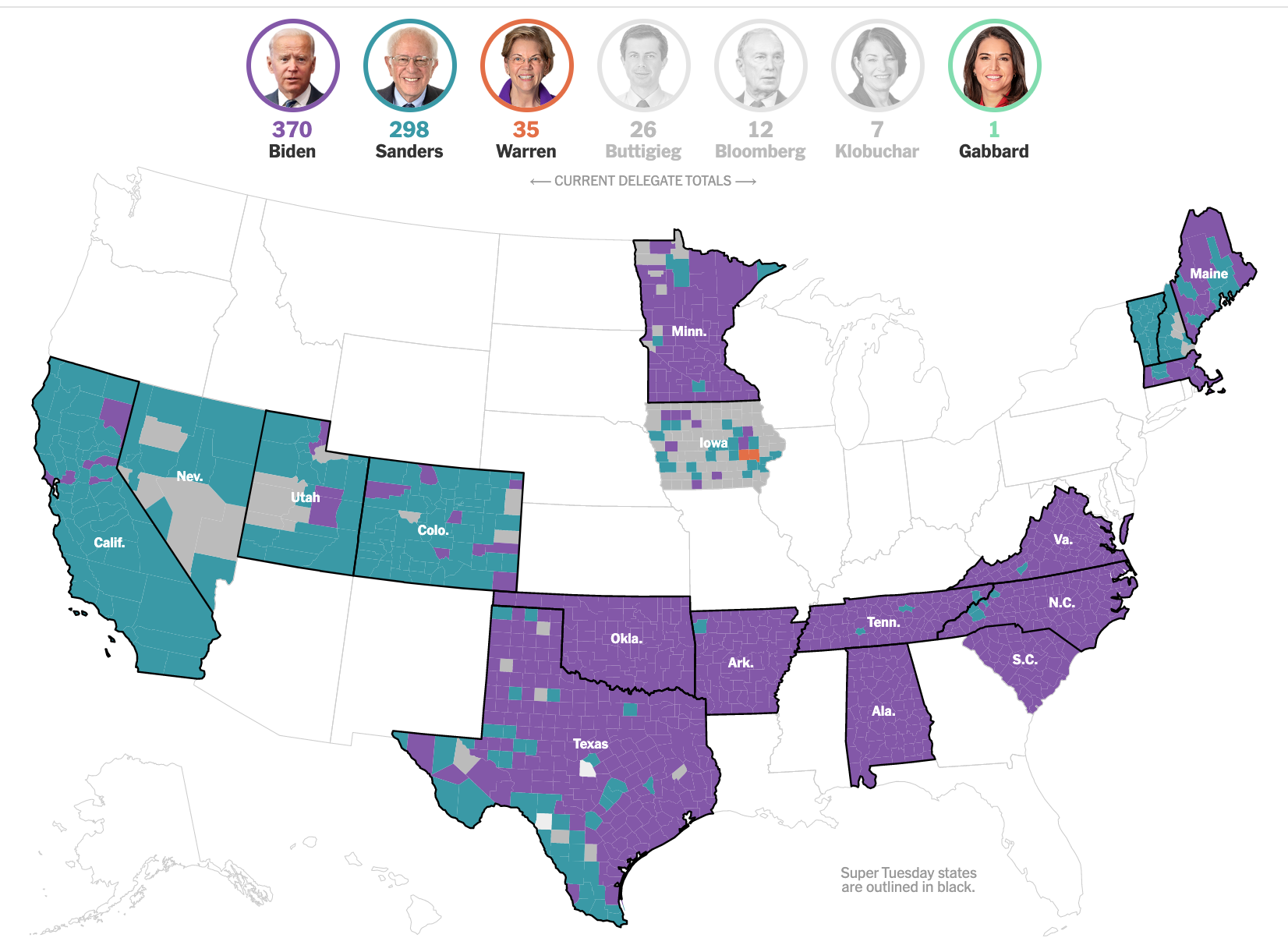 On March 3, 2020, 16 states voted in what is known as Super Tuesday. The day before those primaries, three of the Democratic candidates dropped out of the race: Tom Steyer, Peter Buttigieg, and Amy Klobuchar.  Since Super Tuesday, two more candidates have dropped out: Mike Bloomberg and Elizabeth Warren. The two candidates left in the race for the Democratic Nomination are Bernie Sanders and Joe Biden. On the Republican side, many states have canceled primaries because President Trump is running as an incumbent. No republican challenges won any primaries on Super Tuesday, but all states did have other offices where both political parties have candidates vying for positions such as senators, representatives, and state legislators.
By winning primaries, a candidate collects a percentage of delegates to the Democratic party's convention in July.  As of the publication of this Current Event, Joe Biden is only slightly ahead in the delegate count from Bernie Sanders. You can simply search "2020 Delegate Count" in Google and you will get up to the minute counts!
There are several more multiple-state primary days in March:
March 10: Hawaii, Idaho, Michigan, Mississippi, Missouri, North Dakota, Washington
March 17: Arizona, Florida, Illinois, Ohio
March 24: Georgia
March 29: Puerto Rico
Besides following who is ahead or who is winning/losing, there are other issues to consider when looking into the primary process: do voters have easy access to the polls? Do states have clear reporting on their voting, and do they have ways to recount the ballots if needed? Are people actually turning out to vote? What ages and other demographics are most represented at the voting polls in 2020?
Essential Questions:
What do you think are the most common reasons candidates drop out of the race?
How has this primary season surprised you so far?
Based on Super Tuesday, do you have any predictions for the states who will be voting during the rest of March 2020? What do you base your predictions on?
How do you think voter access or voter suppression is affecting the primary process?
Which of the remaining candidates (in either party) appeals to you most and why?
Videos:
Recent News Articles:
When do polls close for the March 10 primaries? – CBS News, March 9, 2020
Who is strong in Michigan, and other things to watch for during the Tuesday primaries – USA Today, March 9, 2020
What the media missed about Joe Biden's electability – Vox News, March 9, 2020
Sanders, Biden make final push for votes ahead of Michigan Primary – Detroit Local 4 News, March 9, 2020
Party rules could extend Democratic primary race long beyond Michigan – The Detroit News, March 9, 2020
How the Trump Campaign took over the GOP – The New York Times, March 9, 2020
Election Preview: Sanders Is The Underdog In Michigan, But We've Heard That One Before – FiveThirtyEight, March 9, 2020
Candidate Websites:
Democrats:
Republicans:
Endorsements:
Endorsements from Elected Officials Tracker – Politico
Endorsements from Elected Officials Tracker – FiveThirtyEight
Delegate Trackers:
2020 Delegate Count – NBC News
Democratic Delegate Count Tracker – NY Times
Lexile Level – Adjustable Articles (Newsela)
U.S. elections 2020: a guide to the race for the White House – Original Source: The Guardian, Feb. 2, 2020
What is Super Tuesday and why is it important? – Original Source: WA Post, Feb. 26, 2020
Biden bounces back on Super Tuesday; Sanders claims California – Original Source: AP News, March 3, 2020
Related:
Battle for the youth vote begins for 2020 White House hopefuls – Original Source: AP News, Apr. 4, 2019
With teens more politically active, support grows for lowering the voting age to 16 – Original Source: PBS Newshour, Oct. 21, 2018
Iowa Democrats release some caucus results after long delay – Original Source: AP News, Feb. 4, 2020
Iowa caucuses offer students a laboratory for civics education – Original Source: Education Week, Feb. 2, 2020
Maps & Timelines:
Best Resource for an interactive electoral map: 270towin.com
Decision 2020 National Results & Map – NBC News
The 2020 Presidential Primary and Map – Frontloading HQ (academic site)
America's Choice 2020 – Primaries & Caucuses – CNN
Primary Sources for election & voting information:
The American Presidency Project (UC Santa Barbara)
The Federal Election Commission
Look up my Congressional District (census.org)
U.S. Census Voting & Registration
The Library of Congress: Presidential Elections
Lesson Plans on this topic:
What are the Primaries & Caucuses? – PBS Newshour
Primaries and Caucuses – BrainPop
The Iowa Caucuses and Beyond – The Bill of Rights Institute
What are the Presidential Primaries? – Democracy & Me
Lesson Plans regarding Media & News Literacy (general):
Media Literacy Resources – Newseum
News & Media Literacy Lessons – Common Sense
Media Misinformation, Viral Deception, and "Fake News" – University of Wyoming
Evaluating Sources in a 'Post-Truth' World: Ideas for Teaching and Learning About Fake News – New York Times Lessons