Civics Learning Project already has available multiple units of curriculum for teaching the 2020 Election and about voter issues. Check it out and look for updates as we add more content.
This is Part 1 of an Election 2020 Series of Current Event Resources
The 2020 Election Season is now underway with the start of the Iowa caucuses on February 4, 2020. The next contests will be Nevada caucuses on February 22, the South Carolina primary on February 29, and then Super Tuesday on March 3. On Super Tuesday, 16 states will vote, including some with large numbers of electoral votes: California and Texas. The Democratic candidates are vying to be the one nominee of the Democratic Party that will challenge President Trump in November's presidential election. There are very few Republican party primaries occurring this year because many state Republican parties have decided to directly support the re-election of President Trump. So most of the electoral suspense will be with the democrats this Spring. In this initial Elections 2020 Current Event, we will provide guides to the differences between caucuses and primaries, as well as a calendar of the primary season so that students and teachers can begin to follow and keep tally on who may end up being the Democratic challenger to President Trump.
The American system of elections continues to raise controversy, with the use of caucuses, the Electoral College, and representation in the Senate. We will begin to tackle these issues in this first in our Election 2020 Series of Current Event Resources.  Let us know if you and your students have particular election issues you'd like us to cover this Spring or next Fall and we'll work to include those topics in this series.
Essential Questions:
How do we choose candidates for president of the United States?
Do you believe democracy is best protected in our current primary electoral process – why or why not?
What is the difference between a caucus and a primary?
How important do you believe endorsements from elected officials and/or newspapers might be for candidates?
Which candidate currently appeals to you and why?
Videos:
Podcasts: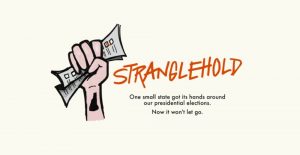 Recent News Articles:
Toward 'Super Tuesday' — momentum, money and delegates – February 16, 2020, The Hill
How do the Nevada caucuses work? – February 14, 2020, CBS News
Presidential caucuses are complicated. Why do some states use them? – January 9, 2020, PBS News Hour
Candidate Websites:
Democrats:
Republicans:
Media Endorsements for major Democratic Primary Contenders:
Joe Biden:
Las Vegas Weekly (co-endorsement w/Amy Klobuchar)
Las Vegas Sun (co-endorsement w/Amy Klobuchar)
Amy Klobuchar:
The New York Times (co-endorsement w/Elizabeth Warren)
The New Hampshire Union Leader
The Mercury News (CA Bay Area)
Bernie Sanders:
The San Francisco Bay Guardian
Elizabeth Warren:
The New York Times (co-endorsement w/Amy Klobuchar)
The Des Moines Register (Iowa)
Endorsements from Individuals
Endorsements from Elected Officials Tracker – Politico
Endorsements from Elected Officials Tracker – FiveThirtyEight
Lexile Level – Adjustable Articles (Newsela)
Iowa Democrats release some caucus results after long delay – Original Source: AP News, Feb. 4, 2020
Iowa caucuses offer students a laboratory for civics education – Original Source: Education Week, Feb. 2, 2020
Related:
Battle for the youth vote begins for 2020 White House hopefuls – Original Source: AP News, Apr. 4, 2019
With teens more politically active, support grows for lowering the voting age to 16 – Original Source: PBS Newshour, Oct. 21, 2018
Maps & Timelines:
Best Resource for an interactive electoral map: 270towin.com
Decision 2020 National Results & Map – NBC News
The 2020 Presidential Primary and Map – Frontloading HQ (academic site)
America's Choice 2020 – Primaries & Caucuses – CNN
Primary Sources for election & voting information:
The American Presidency Project (UC Santa Barbara)
The Federal Election Commission
Look up my Congressional District (census.org)
U.S. Census Voting & Registration
The Library of Congress: Presidential Elections
Lesson Plans on this topic:
What are the Primaries & Caucuses? – PBS Newshour
Primaries and Caucuses – BrainPop
The Iowa Caucuses and Beyond – The Bill of Rights Institute
What are the Presidential Primaries? – Democracy & Me
Lesson Plans regarding Media & News Literacy (general):
Media Literacy Resources – Newseum
News & Media Literacy Lessons – Common Sense
Media Misinformation, Viral Deception, and "Fake News" – University of Wyoming
Evaluating Sources in a 'Post-Truth' World: Ideas for Teaching and Learning About Fake News – New York Times Lessons