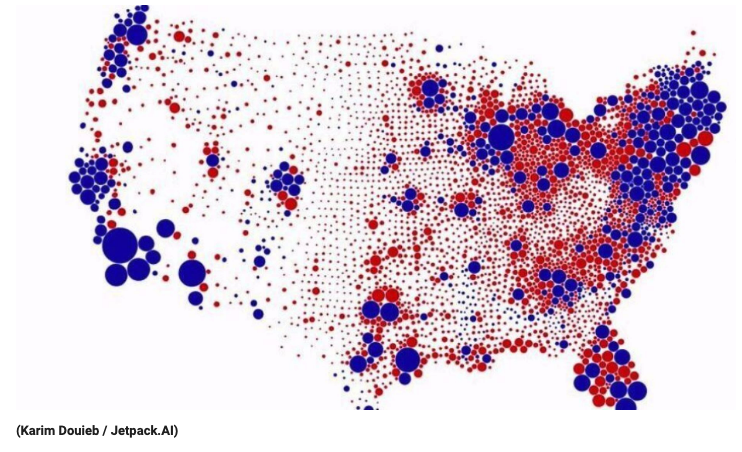 The 2020 Election is still in process of having voting totals counted and finalized. As with every election year, it can take up to several weeks for a full tally of votes to be counted in all the states. This year, a clear winner did not emerge until the morning of Saturday, November 7, 2020 – a full four days after Election Day. President-elect Joe Biden and Vice President-Elect Kamala Harris both made history in their own ways: with the highest number of popular votes ever cast for a candidate in a US presidential election, and by elevating the first woman (and first biracial Black and South Asian) to the White House in American history. While votes are still being counted, this week's current event resource surveys the issue of the Electoral College – its history, impact, and the controversy over whether the United States still needs this system of determining presidential winners. One aspect you may want to consider is how does the process of the Electoral College meet or not meet the goals of the Constitution's Preamble?
Essential Questions
How did the rules of the Electoral College impact the announcement of the winner this year?
What are the pros and cons of the Electoral College system of electing a president?
Who might be for keeping the Electoral College and who might be against it?
How do you think the elections of 2000, 2016, and 2020 might impact the debate about continuing the Electoral College system?
Videos About the Electoral College

The Electoral College, Explained
Audio & Podcasts About the Electoral College

Interactive 2020 Electoral College Maps & Timelines
Electoral College Timeline – National Archives
270towin.com – Live updated Electoral College Maps
The Road to 270 – CNN Interactive Map
The Electoral College: a 2020 Timeline – Congressional Research Service
Live updated Electoral College Map – ABC News
Articles about the 2020 Election & the Electoral College
What's next? Saturday's election verdict isn't last step – Associated Press, Nov. 8, 2020
Biden's win was more decisive than you think – CNN, Nov. 9, 2020
The Electoral College Is Close. The Popular Vote Isn't. – New York Times, Nov. 6, 2020
US Election 2020: Can you only vote Trump or Biden and other questions – BBC News, Nov. 6, 2020
How the electoral college works and how the president will be selected this year – Business Insider, Nov. 2, 2020
Editorials about the 2020 Election & the Electoral College
Editorial: Why we should retire the Electoral College – Eugene Register Guard, Nov. 9, 2020
Opinion/Editorial: Why America should do away with the Electoral College – The Milford Daily News, Nov. 8, 2020
Editorial: Electoral College interferes in votes of Americans – Everett Herald, Nov. 8, 2020
OPINION: In Defense of the Electoral College – The Collegian, Oct. 4, 2020
Opinion: The Electoral College will destroy America – New York Times, Nov. 8, 2020
The electoral college has its issues. So do the alternatives. – The Washington Post, Sept. 28, 2020
Is the Electoral College systemic racism? Some advocates and experts think so. – The Colorado Sun, Sept. 23, 2020
Is the electoral college racist? – Boston Globe, Sept. 1, 2020
The Electoral College is a vestige of a racist past – Hartford Courant, August 23, 2020
Editorial: Electoral College is vital – The Augusta Chronicle, May 18, 2020
Newsela – Reading Level Adjustable Articles about the 2020 Election and the Electoral College
Biden wins White House, vowing new direction for divided U.S. – Associated Press, Nov. 8, 2020
Who determines the winner? After millions vote, 538 electors decide – Washington Post, Oct. 29, 2020
PRO/CON: Should we abolish the Electoral College? – Tribune News Service, April 25, 2019
Primary Documents & Sources
Article II, Section 1 of the United States Constitution – Establishing the Electoral College
Federalist 68 – The Mode of Electing the President, Alexander Hamilton – The Federalist Papers
Collection of Electoral Primary Documents – DocsTeach
Lesson Plans
Lesson Plan: Decode the Electoral College and predict the next president – PBS NewsHour Lessons
Electoral College 101 – Common Sense Education
The Electoral Process – iCivics
Lesson Plans regarding Media & News Literacy (general):
Media Literacy Resources – Newseum
News & Media Literacy Lessons – Common Sense
Media Misinformation, Viral Deception, and "Fake News" – University of Wyoming
Evaluating Sources in a 'Post-Truth' World: Ideas for Teaching and Learning About Fake News – New York Times Lessons