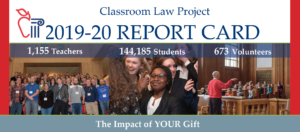 Our 2019-2020 year brought exciting new opportunities for students, as well as unexpected challenges to the academic community. This year was marked by the emergence of the COVID-19 pandemic, and the impact on Civics Learning Project programs was not insignificant.
Beginning in mid-March, all in-person programming was canceled and staff began working on virtual alternatives. While some programming saw a decrease in participation as schools closed and quarantine began, others, such as Summer Institute, saw record participation with teachers from around the country.
Check out our Impact Report Card for the key highlights from the year.