for
Elevating Voices, Expanding Participation
Join us for the annual Law Day Student Civics Conference at the University of Oregon Law School on April 17, 2020:
Conference Schedule for Eugene Law Day:
9:15 am – 9:45:  Check-In
9:45 – 10:45: Workshop #1
11:00 – 12:00: Workshop #2
12:00 – 12:45: Lunch
12:45 – 2:00: Panel Sessions
Workshop Choices:
Know Your Rights Training: How to exercise your voice and rights if confronted by the law or justice system
When Youth Take the Lead: Climate Change Advocacy as a Model for Increasing Youth Participation in the Political Process
Anatomy of a Protest: How music, song, and poetry can be used for social and political change
Give Peace a Chance: How to use non-violent communication to be heard
What is Restorative Justice?
Should 16-year olds have the Right to Vote?
Afternoon Panel Sessions (Choice of 1):
100 Years Later: How Women are Changing Law and Politics
How to Identify Bias and Disinformation in the Media
Students must attend as a class and with a teacher. Civics Learning Project requests a minimum of 1 chaperone per 10 students.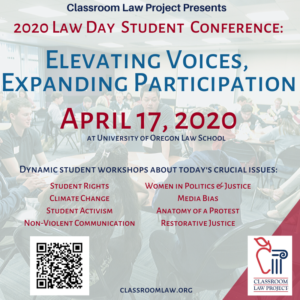 For questions or more information, contact Dennis Gerl at [email protected]