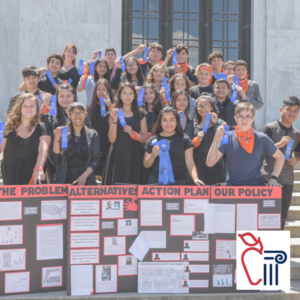 The Project Citizen program was adopted by Civics Learning Project in 1993; as educational standards have changed over the ensuing 30 years, CLP staff worked to adapt the core curriculum to meet the needs of Oregon's teachers, creating the Community Action Projects (CAPs) program now being used in classrooms throughout the state. Students identify a problem in their community, research solutions, and present their plan portfolio to panel of community leaders.
CAPs is an inquiry-based student action program that can be adapted to suit the needs of each classroom. Every year thousands of students around the country research and collaborate to develop new policies around issues that are important to them in their own communities. Teachers use proven student engagement methods, helping Community Action Projects transform civic engagement for all types of learners.
"One of my goals with CAPs was to show my students that they have a voice, and they can impact local government. My students often said they didn't like politics because all everyone does is argue… they didn't feel that anyone was listening to them. Their project was a very powerful experience – the mayor, a city commissioner, and a city councilor attended their final presentation to hear their ideas and ask questions. Students walked away from the experience feeling heard and empowered to make change in their communities, and CLP made that possible." -Susan Kernutt, Ridgeview High School (Redmond, OR)
As CLP celebrates 40 years, we continue to be dedicated to providing the most effective and engaging programs and professional development to teachers and students throughout the state. Adapting and updating curriculum to changing needs and educational standards is just one of the ways we continue to serve our constituents.