This month we are shining the spotlight on Alison Brody, a CLP program alum, parent of a current CLP student, and longtime volunteer We the People coach and Courthouse Experience Tour guide. Get to know Alison and learn about her involvement in civics and civics education below!
What Civics Learning Project programs have you participated in – as a student, coach, and volunteer?
As a student, I participated in the We the People and Mock Trial teams. This is my 24th year coaching Lincoln High School's We the People Constitution Team and I've lead Courthouse Experience Tours for the past six years. I've been a CLP parent as well, watching my daughter grow through the We the People and Mock Trial programs.
How did you first get involved with CLP? 
I was on the 1988-89 Lincoln Constitution Team, coached by the legendary Hal Hart. I loved every moment of it and, at age 15, decided that I was going to go to law school, move back to Portland, and help coach the team. I graduated from law school in the spring of 1999 and started coaching at Lincoln that fall. Other than parenting, it is the most satisfying thing I've done in my adult life.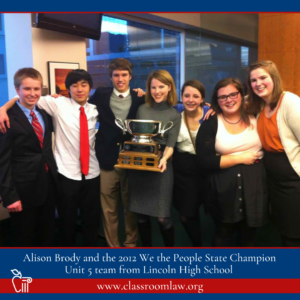 What's your favorite CLP program, and why?
It's got to be We the People because that's the program that changed my life my sophomore year. I had never been pushed so hard academically or spent time with so many intellectually curious peers. The combination of high-level research and analysis and team camaraderie was magical as a teenager and remains a joy to behold as a coach. I am a huge walker and one of my walking partners is from my high school We the People team. She's someone I never would have met without the program and we're still discussing history and policy 35 years later.
What do you do when you aren't volunteering for CLP?
I am the mother of a high school senior, serve on the Oregon Advisory Committee to the U.S. Commission on Civil Rights, and work with the Fordham Institute to advise states on civics education. I'm also a longtime volunteer for Yale University with a focus on programs that bring students and alumni together.
Why should young Oregonians care about civics education? 
Civics education gives young people tools to advocate for their communities and themselves. You can't impact what you don't understand.