Civics Learning Project is excited to celebrate our 40th Anniversary. Each month in 2023, we'll take a look at the programs and people that make up our rich history.
This month, we take a look at the programs that introduce students to crucial legal concepts and engage them with legal professionals and situations.
Courthouse Experience Tours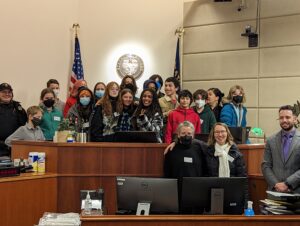 Students grades 5-12 see the law come alive during Civics Learning Project Courthouse Tours. Nothing can come close to the real-life interactions students will observe between judges, attorneys, and their clients in these courthouses. The Courthouse Experience Tour provides students and teachers with topics to discuss long after this field trip is over – and we hear from teachers frequently that students bring what they learned over the day home to their families as well.
One of our most popular programs, Courthouse Experience Tours have been held in Multnomah County for nearly 20 years, and are now available in Jefferson and Jackson Counties as well as through a Virtual Tour Experience.
"The Courthouse Experience Tours were a huge success – in more ways than one. Not only did the students have exposure to our legal system, including ample opportunities to talk to judges and others, but they had their first field trip in years… I have heard from many teachers and parents that the kids have been talking about it at home and at school – it really got their minds working. Even those who were reluctant at first took something away from it. THANK YOU, CLP!" – Elizabeth Autio, The Ivy School
Street Law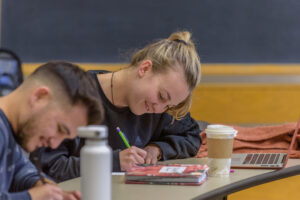 Civics Learning Project partners with Lewis & Clark Law School to bring the Street Law programs to classrooms in the Portland Metro and surrounding areas. Each semester, law students enroll in the Street Law seminar, where they practice learner-centered teaching methodology and learn relevant legal topics for high school students. After a few weeks, the law students are placed in a high school classroom where they typically teach in government, psychology, sociology, and elective law classes.
Dating back to CLP's beginnings, this rich program exemplifies our commitment to building bridges between the legal and education communities.
Law Day Conference for Students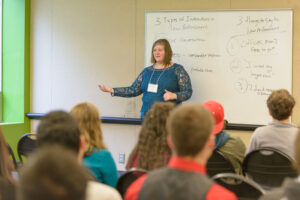 The Law Day Conference for Students is an annual event for high schoolers focusing on legal, social, and political issues concerning and of interest to youth. Presentations and workshops are provided by experts, scholars, and activists to provide a cohesive and engaging experience for students. Building on the interest in and success of our 2022 virtual Law Day events, CLP will be hosting in-person Law Day Conferences in Bend Medford, Eugene, and Portland this year.