Through September 4, 2020, Civics Learning Project is participating in the community project #PDXFoodFriday with Portland museums and organizations taking turns posting recipes that represent or connect with a variety of cultures, ethnicities, and communities. Thank you to the Oregon Jewish Museum and Center for Holocaust Education for hosting this community effort. As OJMCHE notes, during times of social and political upheaval, food has functioned as a way to bring people together and bridge the understanding of different perspectives. Although we cannot safely gather together to cook in each other's kitchens, we hope that the recipes shared in the #PDXFoodFriday community inspire you to try something new!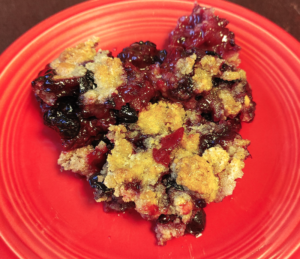 This week, Civics Learning Project is sharing a recipe invented by our own Beth Madsen Bradford! We are calling it "Oregon Crumble" and we are excited to see what you do with it. If you make it, please take pictures and share it with us on our Facebook and/or Instagram pages! We talked about what recipe we wanted to share that would connect to our mission to bring Civic Education to Oregonians. A major part of that mission is building Civic Community around this state and sharing together in our joint efforts to create a more just world for all. We decided the best way to represent that was with Oregon itself and our love for this land. We are grateful and humbly acknowledge that all Oregonians live on the original territories of hundreds of indigenous tribes and peoples. To show our gratitude, we share this recipe that lifts up the fruits of Oregon that come from the land upon which we are so privileged to live.
The main ingredient is the Oregon Marionberry. Though it was not born in the wild, it is made up of the heart of Oregon. It is named for the county in which it was born and is a mix of Chehalem and Olallie blackberries. Bred by George Waldo at OSU, it was released in 1956, and has become the representative berry of Oregon – the most popular berry grown throughout the state. It's not only delicious, but it doesn't grow to take over everything like its blackberry cousins! Because of its earthy sweetness, it's the perfect berry for pies and cobblers – and we thought it truly represented the multiple beauties of Oregon and its people.
Additionally, our Oregon Cobbler includes the famous Oregon Hazelnut (though it's optional for those of you who have nut allergies!). Designated as the State Nut of Oregon in 1989, some people call it the filbert (probably named after St. Philbert). The Hazelnut has a long and ancient history, going back to China, recorded in 2838 BCE where it was recorded that the Hazelnut was one of the five sacred nourishments God bestowed on human beings. We give the Hazelnut an honored place in our cobbler to recognize the many cultures that make up Oregon today and how we are all sharing community together.
We hope you enjoy making our Oregon Crumble with your family and it becomes one of your favorite recipes!
Oregon Crumble
From Civics Learning Project for #PDXFoodFriday
Filling:
4 c Marionberries*
1 T lemon juice
¼ c sugar
Pinch of salt
1 T corn starch
Topping: 
1 large egg
1 c sugar
3/4 c flour
¼ c ground hazelnuts**
1 t cinnamon
5 T melted butter
Preheat oven to 375°. In a bowl, lightly mix Marionberries, lemon juice, sugar, salt and cornstarch; place in a lightly greased 8-inch square baking dish. Stir together egg, sugar, flour, ground hazelnuts, and cinnamon in a medium bowl until mixture resembles coarse meal. Sprinkle over fruit, and drizzle melted butter over topping. Bakefor 40-45 minutes or until lightly browned and bubbly. Let stand 10 minutes. Serve warm with whipped cream or vanilla ice cream.
* If Marionberries are unavailable, substitute blackberries, blueberries, and/or raspberries.
** Optional – sub extra flour, or another kind of nut, if desired.