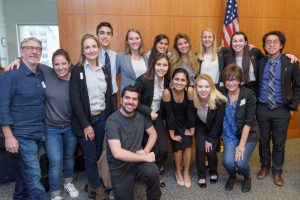 The 32nd annual Oregon Mock Trial state competition was fiercely competitive this year, with eighteen high school teams traveling from as far away as Vale to hold trials at the Mark O. Hatfield Courthouse in downtown Portland. Two days and three rounds winnowed the competition down to two finalists: Lincoln High School (Portland) and West Linn High School's Gold team. St. Mary's Academy (Portland) came in third, and West Linn proved the strength of their program with a rare second appearance in the top four from their Green team.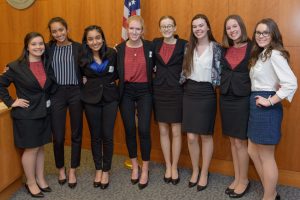 The competition was strong throughout the day, with all eighteen teams turning in impressive performances. The students clearly enjoyed the opportunity to show off what they've learned about the judiciary and the legal system through the mock trial process. One student from Cascades Academy in Bend observed, "It's intense competing with teams from all around the state, but we feel really good about our skills and teamwork. Plus – it's a lot of fun!"
First place was decided in a winner-take-all final round, with the teams flipping a coin to decide who would represent the prosecution (Lincoln) and the defense (West Linn). The students tried a fictional criminal case –  State of Oregon v Dannie DeLuca –  which deals with important issues like distracted driving and texting. After a two-hour long final trial, Lincoln was victorious, with West Linn coming in second. The Lincoln team will now represent Oregon at the National High School Mock Trial Competition in Reno, Nevada, May 10 – 13.
For more details, read the full press release here.