When Shelley Larkins joined Civics Learning Project's Board of Directors in 2009, she was already immersed in our work with students and teachers. While practicing at Davis Wright Tremaine, Shelley was part of the team – along with attorney Tim Volpert and teacher Diane Thelen – that started the We the People Constitution team at Grant High School. By the time Shelley joined our Board, that Grant team, which she still coaches today, had become a force to be reckoned with. Angela DiPasquale, the Grant teacher who teaches the We the People content and coordinates the team, reflects on Shelley's contributions.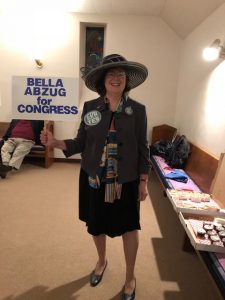 "Shelley has taught me a lot about government and the Constitution over the past 3 years and how to keep a team united and organized. She is an incredibly kind and witty coach and students love her.  Shelley is dedicated to teaching students how to research, develop their ideas and grapple with challenging issues of the day. She engages with students in a truly authentic way and encourages them to become their best.  She is the heart and soul of the Grant High School Constitution Team. She will even dress up as a favorite historical figure for a Halloween celebration. She is one of a kind."
From the beginning, Shelley brought her passion for civic education, understanding of the law, and love of teachers and students to her role as a Board member. She became chair of the Legal Citizen Award committee in her first year, and has helped lead that committee in building Oregon's premier legal gathering. Under her leadership, the annual dinner has honored such luminaries as Hon. Tom Balmer, Hon. Nan Waller, Gov. Ted Kulongoski, Congressman Earl Blumenauer and more. One honoree, fellow Grant coach Jim Westwood, has this to say about Shelley.
"My fondest memory of Shelley is from about 15 years ago, in the relatively early days of the Constitution team. Even then the coaches had established a tradition of adjourning to a nearby watering hole after our weekly evening meeting with the team. On this particular occasion it was my birthday. I don't make a big deal of birthdays; I didn't even think any coaches knew about it. But when Shelley showed up, she had with her a cake complete with a portrait of George Washington on it. It's well known to all who'll listen that I think Washington is perhaps the greatest mortal who ever lived, let alone the greatest American. Shelley's thoughtfulness and generosity were touching, but of course it's entirely in character. Shelley is one of those people you aren't ashamed to say you love."
It's worth noting that there have been many years when Shelley wasn't able to attend the dinner she helped organize since she was in Washington, DC with the Grant Constitution team at Nationals! Civics Learning Project Board Chair Rob Aldisert remarks about her dedication, "Shelley has been an exemplary Board member embodying the kind of civic engagement we teach our students. Through her coaching of the Grant We the People team, co-facilitation of the book club for teachers, and her leadership through the years making our Legal Citizen of the Year dinner a premier event for the Oregon legal and educational community, she has been hands on with our programs in an invaluable way."
The book club is a great example of Shelley's collaborative spirit. Working with Civics Learning Project staff and long-time volunteer and former Board member Susie Marcus, Shelley helped launch and facilitate the monthly book club for teachers. Susie and Shelley not only exchanged numerous emails with discussion question ideas but met for lunch to have their own seminar discussion in preparation. Susie relied on Shelley to add relevant constitutional issues and Supreme Court cases for the discussion. As retired Civics Learning Project Executive Director Marilyn Cover observed, "Susie loved having Shelley as a thought partner. Shelley doesn't just talk she carries out tasks thoroughly. We could always rely on her." Retired Program Director Barbara Rost added, "If you Google 'walk the talk', I'm sure you'll find Shelley. No one did it better."
With an unflappable demeanor and a fierce dedication to equality, Shelley has helped make the landscape of civic education in Oregon stronger. As Executive Director Erin Esparza notes, "Shelley has been a perfect bridge between staff and Board, a testament to her skills as a communicator and collaborator. I would say we'll miss her when she leaves the Board, but we know she'll always be nearby, helping to improve the lives of students and teachers."
Thank you for your service, Shelley, and best wishes on your next adventures!