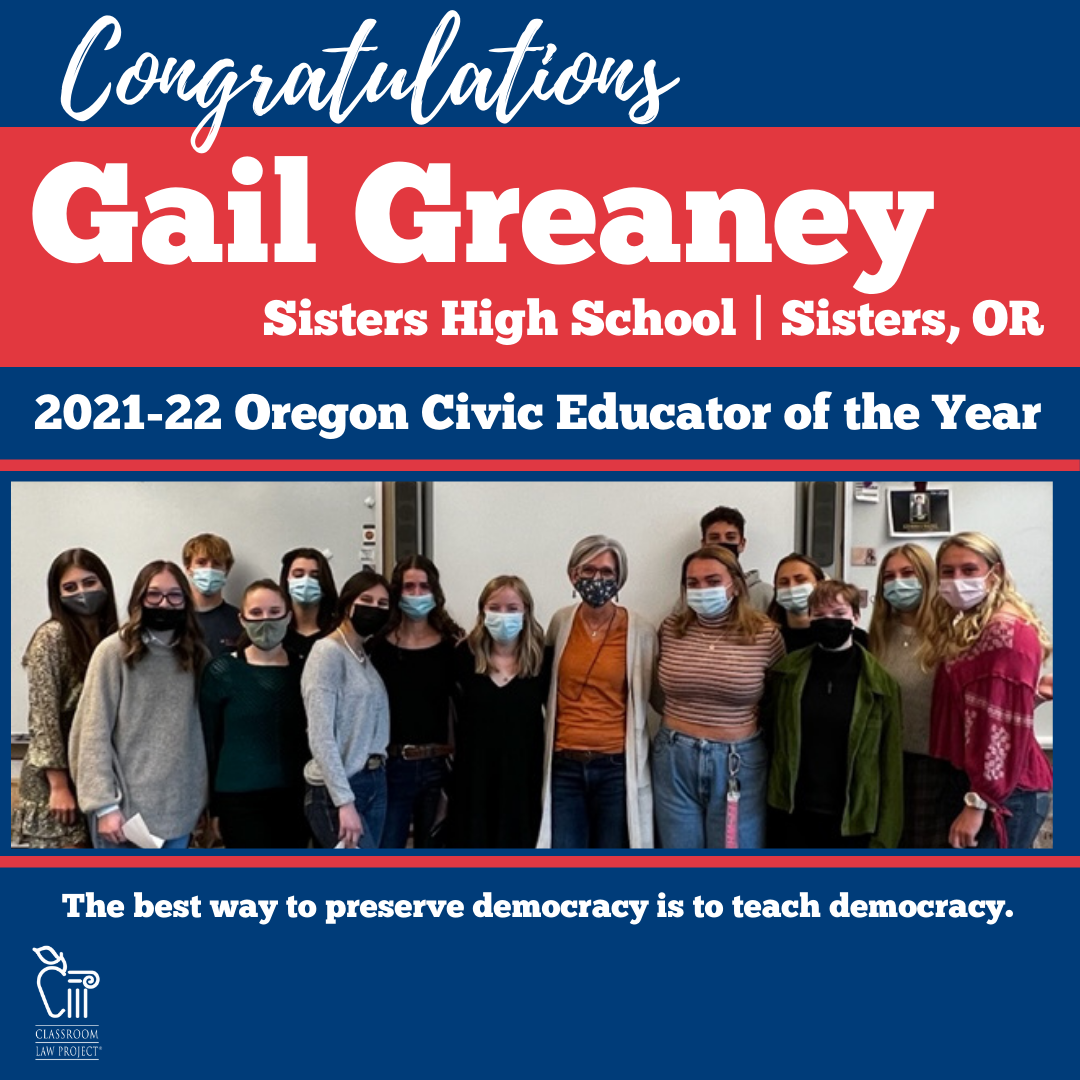 We are delighted to announce that Gail Greaney, a teacher at Sisters High School in Sisters, OR has been selected as the Oregon Civic Educator of the Year for the 2021-22 school year.
Gail is in her is 16th year teaching English Language Arts and Social Studies at Sisters High School. This year Gail took on the role of All Students Belong Coordinator where her work centers on inclusion and equity for the district. Gail and her husband have lived in Central Oregon since 1995, where they have raised 10 children – all of whom Gail taught in her own class.
You can read The Sisters Nugget's recent profile of Gail and her designation as the 2021-22 Civic Educator of the year. The Nugget also highlighted Gail's work in the classroom in this article from February 2021. Congratulation, Gail!
The Civic Educator of the Year Honoree:
Is a K-12 educator in Oregon
Has participated in Civics Learning Project programs for at least 5 years
Has participated in training other educators or assisting other educators with resources & regularly shares their expertise to help others in their professional community
Actively collaborates with colleagues, students, families, & other stakeholders to create a strong culture of Civic Education & Engagement
Has the respect and admiration of students, parents, colleagues, and the community
Inspires creativity, critical thinking, active learning, and civic participation
Is nominated by a colleague, administrator, community member, or participant of a Civics Learning Project program
Is Honored at the annual Oregon Civics Conference in December and at Civics Learning Project's Legal Citizen of the Year Awards Dinner