After a national search, the Civics Learning Project Board of Directors has announced that Samuel Kang will become Executive Director on August 1, 2023, succeeding outgoing ED Erin Esparza.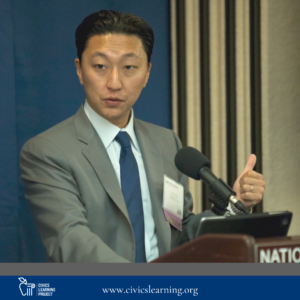 About Sam Kang
Over the past 15 years, Sam has served in a variety of leadership and executive roles in government, politics, tech, organized labor, and nonprofit organizations. Prior to joining CLP, Sam was the political director of the largest independent labor union on the west coast, general counsel of The Greenlining Institute, and led government affairs in Lime's largest North American markets. He has led numerous successful policy and legislative campaigns on economic equity, environmental justice, transportation access, and consumer protection. He also has a decade of experience advising and working on local, congressional, and gubernatorial races.
As a lawyer, Sam has successfully litigated dozens of cases before regulatory agencies, saving billions of dollars for consumers. He has testified before Congress and regularly testified before state legislatures to defend the rights of underserved communities. Sam has been quoted in hundreds of media outlets across the country on issues ranging from energy to small business opportunities to media consolidation. Due to his community leadership, Sam was appointed to serve on various boards and commissions at the county, regional, and state levels.
Prior to law school, Sam was a Coro Fellow in Public Affairs in New York City and helped provide disaster relief after the 9/11 attacks. He also worked at the United Nations to facilitate delivery of humanitarian assistance in the Middle East following the first Gulf War.
According to Board Chair Marjorie Elken, "Sam impressed us with his passion for our mission, his experience leading teams and strategy across different sectors, and his creative energy and enthusiasm. We are excited to work with Sam as CLP celebrates 40 years of excellence and continues to build its statewide programs."
"Oregon has always stood out as a unique and innovative laboratory of the great American experiment,» said Kang. «For 40 years, CLP has played an indelible part of that history by inspiring and fostering the next generation of leaders in the pursuit of a more perfect union. I am humbled to take the helm of such an incredible organization, and I'm excited to steward the engagement of our young leaders in the living laboratory of Oregon's great democratic experiment."
About Civics Learning Project
After 40 years as Classroom Law Project, Oregon's leader in civics education is proud to move forward as Civics Learning Project. Our mission is to equip students with the knowledge, essential skills, and motivation to become active, engaged, and informed participants in democratic society. Civics Learning Project's core belief—that "the best way to preserve democracy is to teach democracy"—inspires hundreds of Oregon teachers and thousands of students to participate in CLP offerings each year, from classroom lessons and curriculum to experiential learning opportunities such as Courthouse Tours to competitive programs like Mock Trial and We the People. In addition to numerous professional development events throughout the year, Civics Learning Project also offers an annual Summer Institute for civics teachers. Through the generous support of the Oregon State Legislature and the Oregon Department of Education, Civics Learning Project also hosts the Oregon Civics Conference in Salem each December.