From the very inception of Civics Learning Project, the role played by volunteers has been vitally important to the success of our mission: equipping students with the knowledge, essential skills, and motivation to participate in our democracy.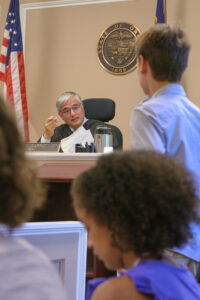 Civics Learning Project got its start in the early 1970s when the Oregon State Bar convened a volunteer task force to look into how members could support civics education in our state. From that process, the Tri-County Law Related Education Project emerged, and began the work of ensuring that young people in Oregon knew how to participate in the state's distinctive model of direct democracy. By 1976, the Oregon State Bar had created an Ad Hoc Committee on Law Related Education that partnered in this work.
Over the years, volunteers have been essential to the success of many of our flagship student programs, including Courthouse Experience Tours, Mock Trial, and We the People. Volunteer tour guides have led thousands of students through the Multnomah, Jackson, and Jefferson County Circuit Courts to watch first-hand how the justice system works, while volunteer Mock Trial and We the People coaches have poured hundreds of hours into guiding their teams. Volunteer competition judges dedicate their time and expertise to create meaningful, enriching experiences for students.
Professional development for teachers has benefitted from the work of volunteers as well – master teachers, attorneys, civic leaders, subject matter experts, and public servants from all branches of government have offered their insight and passion for civics, law, and government as speakers at workshops and events every year.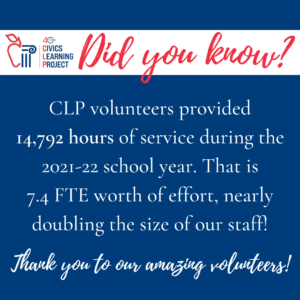 CLP volunteers exponentially increase the reach and quality of the critical work we do in civics education – and directly impact the lives of students throughout Oregon.
If you would like to get involved, please visit our Volunteer page. You'll find instructions on how to register for our new volunteer management system, and gain access to all of our current volunteer opportunities.
Please get in touch if you have any questions about volunteering for Civics Learning Project.