CLP Current Events: September 4, 2018
Should plastic straws be banned? What about other plastics? States and countries are starting to examine this problem more and more. Learn more about these efforts in this week's CLP Current Event.
Brought to teachers by Susie Marcus, CLP consultant, with CLP staff.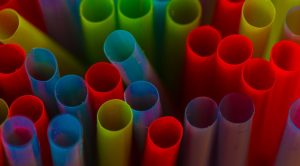 News Sources
Lego Wants to Completely Remake Its Toy Bricks (Without Anyone Noticing), by Stanley Reed, The New York Times, August 31, 2018
"The challenge is designing blocks that click together yet separate easily, retain bright colors, and survive the rigors of being put through a laundry load, or the weight of an unknowing parent's foot. In essence, the company wants to switch the ingredients, but keep the product exactly the same."
Latin America wakes up to the problem of plastic straws, UN Environment, August 29, 2018
"For the time being, Antigua and Barbuda is the only country in Latin America and the Caribbean with a national ban on single-use plastics, including straws. Belize approved a similar measure that will come into force in 2019 and Costa Rica has pledged to become single-use plastics-free by 2021."
CLP: Important look at how other parts of the world are dealing with the issue.
Kroger to ban plastic checkout bags by 2025. CEO Rodney McMullen says 'The plastic shopping bag's days are numbered.', by Alexander Coolidge, Cincinnati.com, August 23, 2018
"America's largest supermarket chain said it will transition from single-use to reusable bags and ultimately eliminate 123 million pounds of garbage annually sent to landfills. That would quadruple the amount of plastic the retailer currently recycles."
Is the party over for balloons? Impact on environment raises a possible ban, by Jorge L. Ortiz, USA Today, August 22, 2018
"Balloons don't present nearly as big a pollution problem as plastics, which are estimated to make up 85 percent of the world's marine debris: Items like beverage bottles, bags, cutlery, plates, straws and balloon sticks litter beaches, seas and waterways far and wide. But the inflatable party staples have drawn more attention with the increased awareness of what happens to products released into the environment."
Worst types of litter: Plastic straws not even in top 5, by Ashley May, USA Today, August 9, 2018
"Plastic straws didn't even make it into the organization's top five most common forms of litter, according to the group's latest national study. Cigarette butts, paper, food wrappers, confections and napkins/tissues topped the list."
A giant floating trash collector will try to scoop up the Great Pacific Garbage Patch, by Elizabeth Weise, USA Today, August 7, 2018
"The purpose of this bizarre gizmo is as laudable as it is head-scratching: to collect millions of tons of garbage from what's known as the Great Pacific Garbage Patch, which can harm and even kill whales, dolphins, seals, fish and turtles that consume it or become entangled in it, according to researchers at Britain's University of Plymouth."
Disney to Eliminate Single-Use Plastic Straws, Stirrers, by Pam Wright, The Weather Channel, July 27, 2018
"By the middle of next year, all Disney locations will operate without single-use straws and stirrers, which will eliminate more than 175 million straws and 13 million stirrers annually, the company said in a statement, noting that the move is part of the company's 'long-standing commitment to environmental stewardship.'"
Why People With Disabilities Want Bans on Plastic Straws To Be More Flexible, by Tove Danovich & Maria Goody, NPR, July 11, 2018
"A spokesman for Seattle Public Utilities confirmed to NPR that the city's new plastic straw ban does include a waiver allowing restaurants to give disposable, flexible plastic straws to customers who need them for physical or medical reasons. But Carter-Long and Bickley say there doesn't seem to be widespread awareness of the exemption."
6 Plastic Items That Have a Bigger Environmental Impact Than Straws, by Kyli Rodriguez-Cayro, Bustle, July, 2018
"While the uptick in straw bans and other measures is certainly a well-intentioned attempt to help Mother Earth, this kind of legislation has a few drawbacks. Many disability advocates have pointed out that straw bans don't take into account the needs of disabled people, for whom plastic straws are an important accessibility tool."
Here are the U.S. cities that have banned plastic straws so far, by Melissa Locker, Fast Company, June 1, 2018
"While the movement is still growing in the U.S., it's in full swing around the world: Vancouver banned straws, Scotland plans to be rid of plastic straws by 2019, and Taiwan is banning single-use plastic items, including straws, cups and shopping bags, by 2030."
Questions to Consider
Are plastic straws bad for the environment?
Are plastic straws needed by certain populations, e.g. people with disabilities?
What might replace plastic straws?
Would the removal of plastic straws negatively impact some groups?
Would removing plastic straws make a difference for the environment?
What else needs to be done to protect our environment?
Are straws a symbol of how to think about the environment? What other actions need to be taken to keep a healthy environment?
How does money impact action on environmental issues?
How can kids take the lead in environmental awareness?
Should there be laws regarding straw use? What should be an appropriate penalty?
Does the ban on plastic grocery bags indicate support for the elimination of all plastic in our landfill? What else needs to be eliminated?
Might balloons be as damaging to the environment as straws?
How many straws end up in the ocean?
How many plastic straws are in the ocean?
How many plastic straws are used each day?
How long do straws take to decompose?
What inventions can be used to remove plastic in the ocean?
What can a citizen do to preserve a healthy environment?
Background and More
Americans use 500 million plastic straws per day, by Chrissy Sexton, Earth.com, July 30, 2018
"Plastic straws have been the focus of many recent campaigns that are addressing the worldwide issue of plastic pollution. According to the National Park Service, Americans use 500 million drinking straws every day."
Banning plastic straws is a cosmetic policy that risks doing more harm than good, by Camille Cross, The Telegraph, July 27, 2018
How the Campaign to Ban Plastic Straws Got Its Start, by Stacey Vanek Smith, NPR, July 19, 2018
Disposable America, by Alexis Madrigal, The Atlantic, June 21, 2018
Plastic World, by Athena Lee Bradley, Northeast Recycling Council, November 7, 2017
"For years, the growing Chinese economy provided a reliable market for recycled plastics and other materials. However, in large part because of changes in domestic recycling practices, U.S. exports to China (and other countries) of "recyclable material" increasingly contained dirty and poorly sorted materials, or even materials contaminated with hazardous substances such as lead or mercury. In 2013, China went on the offensive to clean up these imports with its "Operation Green Fence.'"
Straws: Why They Seriously Suck, One Million Women, July 14, 2017
Plastic Straws: A Life Cycle, by Gaelle Gourmelon, World Watch, September 23, 2015
Lesson Plans
Student Reporting Labs STEM Lesson Plan: Talking Trash and Your Environment, PBS Newshour, October 3, 2016
CLP: Grades 7-12, science connections!
Plastic Pollution Primer and Action Toolkit, Earthday.org, April 22, 2018
CLP: Options for grades K-12!
Investigate the Plastic Problem: Engineering for Good, PBS
CLP: Grades 5-9, 13+
Plastic Pollution Curriculum and Activity Guide
Constitutional and Legal Connections
Why we can't ban plastic straws completely, by Robin Shreeves, Mother Nature Network, July 5, 2018
Sending Waiters to Jail for Offering Plastic Straws, by Katherine Timpf, National Review, January 26, 2018
"Reason reports that it isn't exactly clear how many straws actually end up in waterways — which is the specific reason for this proposed policy — but that the California Coastal Commission estimates the number of straws and stirrers collected on the annual Coastal Cleanup Day at around 835,425 since 1988, which is only about 4.1 percent of the trash that's been collected on those days since 1988."
CLP: Opinion
Proposed California Law Would Prohibit Restaurants from Offering Unsolicited Plastic Straws, by David Emery, Snopes, January 27, 2018
"A grassroots movement to curtail or ban the use of plastic straws has been picking up steam all around California. The cities of Davis and San Luis Obispo passed straw restrictions in 2017. Encinatas and Berkeley are considering similar measures, and more than 100 restaurants in San Diego have signed onto a voluntary program to reduce plastic straw wastage in that city. Similar efforts are afoot in other parts of the country."
How the U.S. Protects the Environment, From Nixon to Trump, by Robinson Meyer, The Atlantic, March 29, 2017
"A little less than 50 years ago, President Richard Nixon united with a Democratic Congress to pass laws that altered the everyday experience of almost everyone living in the United States. These laws arose from a flurry of legislating—nearly all emerged in the same two-year period—and they had astonishingly large goals. They sought to restrict toxic air pollution nationwide, clean up hundreds of streams and rivers, and erect a permanent, federally empowered Environmental Protection Agency."
Oregon Connections
Portland moves ahead with likely ban on plastic straws, by Gordon Friedman, The Oregonian, June 20, 2018
"Many Portland businesses are already a step ahead of the council. More than 100 local bars and restaurants have over the last two years voluntarily stopped serving drinks with plastic straws, favoring paper straws, metal straws or a straw-on-demand policy. One of the first was Widmer Brothers Brewery; a company representative testified Wednesday that customers approve of the no-straw policy."
Oregon State Social Science Standards
8.8 Evaluate information from a variety of sources and perspectives.
8.14 Explain rights and responsibilities of citizens.
8.26 Examine a controversial event, issue, or problem from more than one perspective.
HS.28 Evaluate how governments interact at the local, state, tribal, national, and global levels.
HS.33 Explain the role of government in various current events.
HS.59 Demonstrate the skills and dispositions needed to be a critical consumer of information.
HS.60. Analyze an event, issue, problem, or phenomenon from varied or opposing perspectives or points of view.
We the People Lesson Connections
Middle School, Level 2
Unit 6, Lesson 29: What are the rights and responsibilities of citizenship?
Unit 6, Lesson 30: How might citizens participate in civic affairs?
High School, Level 3
Unit 6, Lesson 33: What does it mean to be a citizen?
Unit 6, Lesson 34: What is the importance of civic engagement to American constitutional democracy?