How should we deal with controversial names and monuments as our country grows and changes over time? From schools to monuments, this has become a topic across the country. This week's current event looks at regional and international situations.
Brought to teachers by Susie Marcus, CLP consultant, with CLP staff.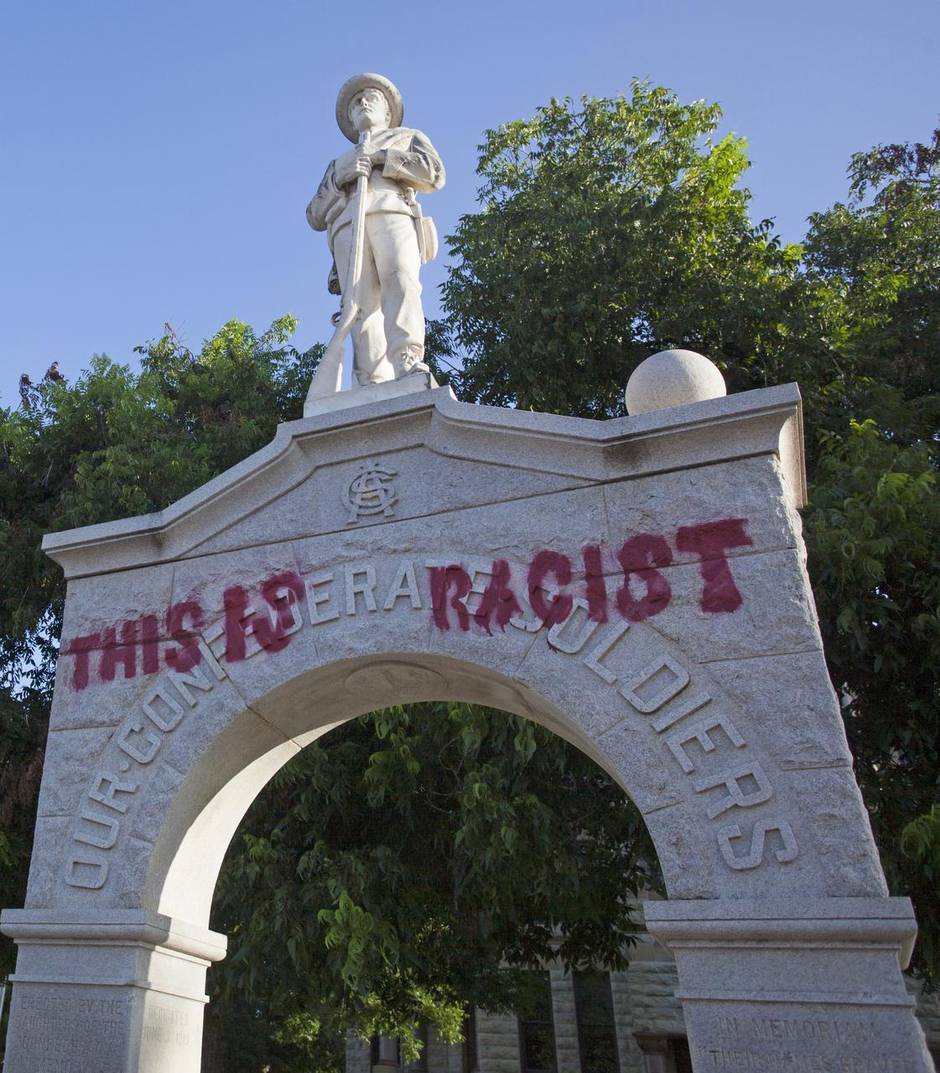 "Above all else, the First Amendment means that government has no power to restrict expression because of its message, its ideas, its subject matter, or its content. To permit the continued building of our politics and culture, and to assure self-fulfillment for each individual, our people are guaranteed the right to express any thought, free from government censorship."
— US Supreme Court Justice Thurgood Marsh
News Sources
Judge Orders Tarps Removed From Confederate Statues in Charlottesville, by Matthew Haag, The New York Times, February 27, 2018
"The judge's order was a small but significant development in a nearly yearlong legal battle over the future of the two statues, which were erected in separate public parks in the center of Charlottesville in the early 1900s."
Renaming committee seeks input from university community, by Kate Chesley, Stanford, February 23, 2018
"In their draft recommendations, committee members outline how the process of reconsidering the name of a building or site should be initiated and the factors to be considered, including any harm caused by retaining the name and any harm of renaming."
New committee on renaming appointed, by Claire Dinshaw, The Stanford Daily, February 1, 2018
"The committee has been asked to finish its work by the end of winter quarter, after which a second committee will be appointed to consider the renaming of buildings and sites bearing the name of Junipero Serra, a Spanish colonizer and Catholic missionary now controversial for his and the mission system's treatment of Native Americans."
CLP: Good reminder that this is a national issue, not one limited to one region of the country.
This Virginia Confederate-Named Middle School Will Be Renamed After Hampton Slave & Revolutionary Hero, Cesar Tarrant by Michael Calderone, Blavity, February, 2018
The debate on whether the school should be named (along with another campus named after fellow confederate Robert E. Lee) went on for about two years. During a public hearing in 2016, 10 voted in favor for renaming the buildings while 31 voted against it. But, then the Charlottesville rally happened, changing the political and racial climate in a significant way.
Humboldt Neighborhood Association to Hold Community Meeting on Renaming Jefferson High School, by The Skanner News, January 12, 2018
"The good news is that real and substantive conversations to address these challenges are taking place—many on a bipartisan basis. Multiple proposals are being discussed on Capitol Hill, and the White House has unveiled a plan that includes a path to citizenship for the Dreamers, increased border security, and other provisions."
CLP: Short article reviewing situation in Portland Public Schools
No Traveling for New York's Columbus Statue, Mayor Decides, The New York Times, January 12, 2018
"Mr. de Blasio said in a written announcement on Friday that he would keep the Columbus Circle statue where it is, while placing 'new historical markers in or around Columbus Circle explaining the history of Columbus and of the monument itself.'"
CLP: New York City's approach to controversial monuments of historical figures. More background in earlier article below.
PPS to create procedure for renaming schools, mascots, by Shasta Kearns Moore, Portland Tribune, January 5, 2018
The move could have implications across the city as conversations continue over controversial namesakes — from Woodrow Wilson High School to Harvey Scott K-8 School. Several of the city's approximately 80 schools are named after local or national historical figures with controversial track records.
In race for Virginia governor, selectively playing the 'Trump Card', by Linda Feldman, Christian Science Monitor, November 6, 2017
"Then there's the issue of Confederate statues. Gillespie, originally from New Jersey, favors keeping the monuments up, but Northam – a native Virginian whose family history intersects with the Civil War and slavery – has taken evolving positions. Initially he called for their removal, but now he says it should be a local decision."
CLP: Impact of renaming and/or removing monuments on races for office.
" 'All of Our Leaders Have Flaws.' White House Defends John Kelly's Comments on Robert E. Lee", by Tessa Berenson, Time, October 31, 2017
" 'All of our leaders have flaws,' Sanders told reporters. 'That doesn't diminish their contributions to our country, and it certainly can't erase them from our history. General Kelly was simply making the point that just because history isn't perfect, it doesn't mean it's not our history.'"
Oxford University college where Aung San Suu Kyi studied removes portrait of her after Rohingya crisis, by Staff Reporter, Independent, September 30, 2017
"Ms Suu Kyi, whose position as state counsellor does not give her authority over the military, has faced international criticism for her failure to speak out against alleged human rights abuses, including mass killings, gang rapes and the burning of villages."
Panel Will Devise Guidelines for Addressing Monuments Deemed Offensive, by William Neuman, The New York Times, September 8, 2017
"But in doing so, the mayor seemed to backtrack from his initial vow: Instead of conducting a full review of hateful iconography, the commission would merely "develop guidelines on how the city should address monuments seen as oppressive and inconsistent with the values of New York City," according to a news release."
Baltimore Confederate monuments removed: A timeline of how we got here, by Sean Walsh, The Baltimore Sun, August 16, 2017
"Wednesday's removal of four statues came one year to the day after a city commission issued a report on how to move forward with monuments to the Confederate era in Baltimore."
CLP: Examines the shift in public perspective following Charlottesville.
Questions to Consider
What does a name mean?
Can a name promote pride?
Can a name create hurtful memories?
Does naming honor a person?
Does naming reflect history? How do we reconcile historical events and modern sensibilities? What actions do we take to recognize injustice?
What are the alternatives to renaming a monument, school, street when there is a recent look at the honoree?
Do some historical monuments belong in museums rather than being renamed?
Should renaming be accompanied by an educational campaign which honors various points of view?
Is there any difference between naming a monument, a building, a school and an athletic team?
Does renaming allow us to feel that we have confronted injustice? Do we take an in depth look at injustice as an historical mandate? Why is this so complicated? Is it 'TOO EASY TO FEEL INNOCENT'?
How is "harm" a relevant concept in deciding the way forward?
What are the arguments that opponents of renaming make?
Is facing difficult history our responsibility? Why or why not?
What is the meaning of a monument?
What is the history of Confederate monuments? When were the Confederate monuments installed?
How can monuments be used to teach the history of African Americans in the United States? Is it important for all Americans to be aware of the history of slavery and civil rights and police-minority relations? Why?
How can monuments be used to learn history? Where should monuments be placed to provide reminders of the past? Why do monuments mean different things to different people?
Does removing monuments remove feelings of hate and fear? What actions can be taken to promote dialogue?
What do people say about the value of monuments?
What is racism?
What is media literacy? Why is literacy important in understanding the monument issue?
Should school boards consider renaming schools with Confederate names? Why or why not?
Who has jurisdiction over monuments: federal or state governments?
Are there special considerations for naming or renaming schools?
What is a fair process for deciding which names should be replaced? What are other options to deal with names that evoke pain and unjust behavior?
Why is renaming such an emotional issue? How can renaming also be a rethinking moment?
Discussion Questions
Essential question: Why is media literacy, including reading multiple sources, important when discussing sensitive current events?
How does President Trump's view of the events in Charlottesville conflict with multiple media reports? Why do you think the majority of Americans including members of the Republican Party were disappointed in Trump's reaction to what took place in Charlottesville?
While the events in Charlottesville were tragic and have shaken many people's idea of where we are as a country, a resilient spirit and determination to hold true to America's democratic values of liberty and equality have also been exhibited over the last week. Do you think tragedies like Charlottesville may create an opportunity to discuss the effects of slavery in American history, including racism and the rise of white supremacy groups, in classrooms across the country? Explain your answer.
If you are not sure about the history and meaning of white nationalism or the rise of white supremacy groups, there is a good chance that other students in your class may not be either. What questions would you like to ask about this issue? If your teacher is not sure how to answer a specific question, which could be the case given the sensitivity of the topic, what could he or she do so that your class could continue a healthy dialogue?
Background and More
In Germany, monuments reflect the nation's values, by Susan Neiman, Miami Herald, September 7, 2017
"What was at stake was never the past, but the present and the future. When we choose to memorialize a historical narrative we are choosing values to defend, and pass on. The question is not whether those monuments offend some of our neighbors, but whether they express the ideas we want our children to believe. The ideas embodied in those statues are simply wrong, and in "terrible self-contradiction," as James said, to the ideals on which the nation was founded."
Croatia removes plaque with WWII salute from near camp site, by The Associated Press, ABC News, September 7, 2017
"The «For the homeland — Ready!» salute was used by the pro-Nazi puppet regime that was established in Croatia during World War II. Tens of thousands of Jews, Serbs, Roma and Croat anti-fascists were killed in Jasenovac and other camps. The salute has since resurfaced among nationalists and right-wingers."
After Charlottesville, some rally to take Confederate name off schools, by Moriah Balingit & Emma Brown, The Washington Post, August 18, 2017
"School officials and community members across the country have invoked the Charlottesville events — which left three people dead — to call for renaming schools in Dallas and Oklahoma City. The movement is resonating especially in Virginia, the scene of much of the Civil War."
Lots of Americans Aren't Sure If We Should Take Down Confederate Statues, by Clare Malone, FiveThirtyEight, August 18, 2017
"But some Americans — those who are unsure of what to do or who don't want to make a change from the status quo — appear to still be pondering whether history is history, for better or for worse. Perhaps some regions of the country with fewer Confederate monuments – the Northeast, West and Midwest aren't as fluent in the debate over whether these statues are racist symbols or vestiges of a fraught history that has something to teach us."
Opinion: Don't Take Down Confederate Monuments. Here's Why., by Sophia Nelson, NBC, June 1, 2017
"But here is my point: In America, we pride ourselves on free thought. Free expression. Freedom to worship as we believe. Freedom to speak our minds without terrorizing or harassing others (hate speech is not free speech as defined by the US Supreme Court). Freedom to associate with groups and have ideas that may differ from each other, even if they are the "wrong" ideas."
CLP: Opinion piece
'Sanitizing History': Condoleeza Rice Slams Attempts to Remove Slave Owners' Monuments, by Matthew Balan, Mediaite, May 8, 2017
"On Monday's Fox and Friends, Condoleezza Rice criticized efforts to tear down statues and monuments to U.S. historical figures who owned slaves.
"When you start wiping out your history — sanitizing your history — to make you feel better, it's a bad thing," Rice said."
Report outlines principles for renaming campus buildings, Yale News, December 2, 2016
"Erasing names is a matter of special concern, because those names are, in part, a catalog of the people whom the university has thought worthy of honor. Removing such names may obscure important information about our past," says the report. "To change, however, is not always to erase. Indeed, change is indispensable in a university that has evolved over more than 300 years. … A university's ongoing obligation is to navigate change without effacing the past."
CLP: Offers suggested principles for renaming building.
In Debate Over Names, History and Race Relations Collide, by Andrew Duehren & Daphne Thompson, The Harvard Crimson, January 19, 2016
" 'Faust said student input and the recent conversations about race on campus demand nuanced evaluation and consideration."I think we need to be aware of language, actions that threaten, that undermine, that demean," she said. "At the same time we want to create graduates who are resilient and ready for a world in which safety is not guaranteed outside these walls. So how do we build a place that is safe enough to create resilience but demands enough resilience so as not to require special provisions of safety in the long term?'"
Lesson Plans
The Struggle Over Symbols of Hate, Morningside Center for Teaching Social Responsibility
CLP: A series of quotes and discussion questions
History in Dispute: Charlottesville and Confederate Monuments, The Choices Program
CLP: Middle & high; videos and prompts
National Monuments Lesson Plan, Study.com
Confederate Monuments and Their Removal, Anti-Defamation League
CLP: High school
Teaching with Monuments and Memorials, Teaching History
Teachers Share Resources for Addressing Charlottesville Hate Rally in the Classroom, Teaching Now
CLP: Great list of resources!
Constitutional and Legal Connections
Should Confederate Symbols be Banned in the United States?, by Monique Judge, The Root, August 15, 2017
"On Monday, Black Lives Matter Chicago took to Twitter and called for all Confederate symbols to be made illegal, much like the Germans banned all Nazi symbols after World War II."
Confederate monuments debate heads to the courts, by Scott Bomboy, Constitution Daily, January 30, 2018
"At least four lawsuits about the monuments involve alleged conflicts with state and local laws about the protection of war memorials and property rights. But another one is in federal court, and several scholars believe the monuments' existence touches on broader constitutional issues."
Professors: It's Legal to Take Down Confederate Monuments, by Mary Wood, University of Virginia School of Law, August 31, 2017
" 'Does a Virginia statute bar Charlottesville from taking down or moving a statue of a Confederate general erected in 1924? There are certainly some ambiguities in the law, but this central question can easily be answered in the negative.'"
Oregon & the Northwest
South Albany moves forward on possible Rebel change, by Jennifer Moody, Albany Democrat Herald, February 6, 2018
"South Albany High School is moving forward with its effort to explore changing the «Rebels» name and imagery.Greater Albany Public Schools has hired consultant John Lenssen to assist with the mascot discussion. He will work with groups of no more than 75 people each at three community input sessions to gather input to share with the superintendent and district office."
CLP: Examines what happens when a name is changed, including the financial cost.
What's In a Name? Portland Neighborhood Questions Historic High School Name, by Erica Morrison, OPB, January 29, 2018
"The school district does have a name changing policy in place, but a recent complaint about the team name at Benjamin Franklin High School, the Quakers, has prompted the board to consider a sweeping review of the names of schools, school facilities and teams."
Wyden rips into Trump for defending Confederate statues, by Gordon Friedman, The Oregonian, August 17, 2017
"The president's statements drew ire from U.S. Sen. Ron Wyden, who on Thursday criticized Trump for being too engrossed with justifying memorials to the Confederacy to work on infrastructure and economic policies."
Lynch elementary schools will lose the 'Lynch' due to racial implications, by Janaki Chadha, The Oregonian, July 21. 2017
"Lynch Meadows, Lynch Wood and Lynch View elementary schools will shed their «Lynch» before the upcoming school year in response to growing concern about the word's racial connotations."
Oregon State Social Science Standards
8.8 Evaluate information from a variety of sources and perspectives.
8.26 Examine a controversial event, issue, or problem from more than one perspective.
8.27 Examine the various characteristics, causes, and effects of an event, issue, or problem.
8.28 Investigate a response or solution to an issue or problem and support or oppose, using research.
HS.1 Evaluate continuity and change over the course of world and United States history.
HS.2 Analyze the complexity and investigate causes and effects of significant events in world, U.S., and Oregon history.
HS.9 Identify historical and current events, issues, and problems when national interests and global interest have been in conflict, and analyze the values and arguments on both sides of the conflict.
HS.27 Examine functions an process of United Sates government.
HS.33 Explain the role of government in various current events.
HS.57 Define, research, and explain an event, issue, problem or phenomenon and its significance to society.
HS.58 Gather, analyze, use and document information from various sources, distinguishing facts, opinions, inferences, biases, stereotypes, and persuasive appeals.
HS.59 Demonstrate the skills and dispositions needed to be a critical consumer of information.
HS.60. Analyze an event, issue, problem, or phenomenon from varied or opposing perspectives or points of view.
HS.61 Analyze an event, issue, problem, or phenomenon, identifying characteristics, influences, causes, and both short- and long-term effects.
HS.63. Engage in informed and respectful deliberation and discussion of issues, events, and ideas.
We the People Lesson Connections
Middle School, Level 2
Unit 5, Lesson 23: How does the Constitution protect freedom of expression?
Unit 6, Lesson 29: What are the rights and responsibilities of citizenship?
Unit 6, Lesson 30: How might citizens participate in civic affairs?
High School, Level 3
Unit 5, Lesson 29: How does the First Amendment protect free expression?
Unit 6, Lesson 37: What key challenges does the United States face in the future?